Leica Teams Up with Watch Maker Valbray, Creates a Beautiful Timepiece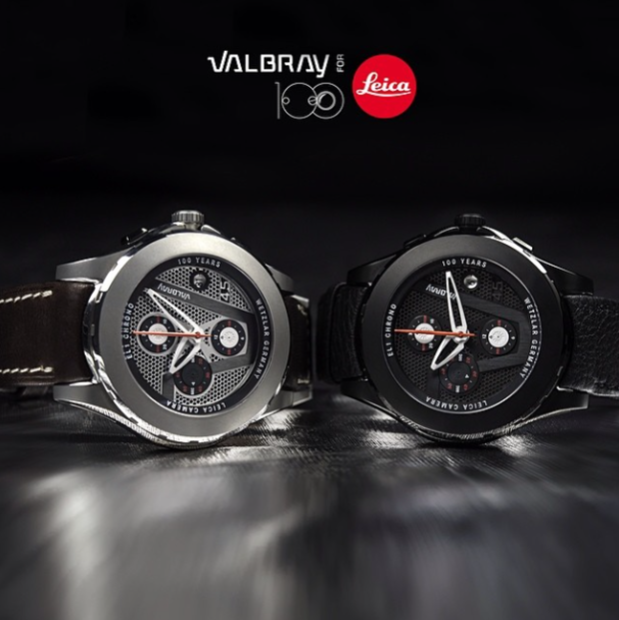 Leica recently decided to bring its photography heritage to the world of timekeeping by making an extremely limited edition watch.
Of course, Leica doesn't know anything about the sublime art of watch making, and so the company reached out to independent Swiss watch maker Valbray, and commissioned the making of 100 pieces of the special edition "EL1 Chronograph" in celebration of Leica's 100th anniversary.
Identical to the standard edition of the "EL1 Chronograph" mechanically and structurally, the differences between it and this Leica edition are hidden in the details. While the band and face color make a change in this limited run, what truly sets it apart from its comparatively bland counterpart is a unique "iris-style dial."
Deemed the "Oculus diaphragm system," this detailed feature uses 16 individual matte black blades that open and close when you turn the bezel. This mechanically-meticulous detail, which was obviously taken straight from the idea of an aperture opening and closing, transform the watch face from classic and complex, into modern and minimal, something Leica has been trying lately.
Beyond the aperture-esque styling of the iris diaphragm system, its bezel and the accompanying text along the inside bears a striking resemblance to the view you would have if you were looking at a lens head on, making it even more appealing to the photography crowd.
What initially seems like an unlikely partnership, is in fact a great collaboration between two companies with unwavering quality, design, production and functionality standards in their respective fields. And all of that, of course, comes at a price.
The Leica Valbray EL1 Chronograph timepiece will cost interested parties $24,700, and you'll be able to pick one up at select Leica and Valbray stores, granted your wallet can take the hit.
(via Forbes)