Why Buying a $14,000 Lens Made Sense for Me
When Nikon announced the new Z 400mm f/2.8 TC lens, lots of people asked if I was going to buy one. My answer? "No way, I'd be crazy to spend $14,000 on one lens." So I guess I'm crazy, because now I have one. Here's what happened that changed my mind.

I owned Nikon's older 400mm f/2.8 lens and its 500mm f/4 lens, and I bought the
Z 800mm f/6.3 VR S lens
when it came out. However, I found myself not using the 400mm and 500mm lenses as much as I should because of their weight.
Don't get me wrong – they were great. But to haul them into baseball or football games, then run around the stadium with them, was exhausting. And the 800mm? Man, I loved, really loved that lens. It's amazing for bird and wildlife photography. But I tried using it for sports and found myself saying something I never thought I would, that it was just TOO much lens.
So I started to ask myself: could this new Z 400mm f/2.8 lens (which has a built-in 1.4x teleconverter) possibly replace all three of them? Which meant it was time for a little research.
First, I looked into size and weight. My old 400mm weighed 10 lbs, and the 500mm tipped the scales at 8.5 lbs. The new Z 400mm f/2.8 TC was 6.5, about a pound heavier than the Z 800mm (which I usually shot hand-held). At that weight, I knew I could hand-hold it for at least some photography (mostly birds), and it would lighten my load hauling gear around the college and pro sports that I cover.
Next was finding out how other photographers were rating its sharpness. Looking at two that I trust, they wrote that at f/2.8 the sharpness was amazing and that with the built-in 1.4x teleconverter (making it a 560mm f/4 lens), darn near just as sharp. But what really convinced me to go ahead and buy it was their experiences when adding Nikon's Z 2X teleconverter. Still very sharp! For anyone who's used long lenses and teleconverters, this is very impressive. Adding a teleconverter always degrades sharpness a bit (and also slows the autofocus somewhat). But they were saying that in this case, that loss of sharpness was nearly imperceptible. That sealed the deal for me.
Yes, $14,000 is a lot of money to spend on a single lens. But I don't think of it like that. I think of it as $14,000 for three lenses. Yes, it's a 400mm f/2.8, but then with the flip of a lever, I immediately have a 560mm f/4. And by adding the Z 2X teleconverter (it costs around $600), that same lens is now an 800mm f/5.6. Oh, and even then I can flip in the internal teleconverter, making it 1120mm at f/8 (which is still pretty darn sharp). So for one lens, yes, that amount of money is hard to justify. But to replace three fast-aperture telephoto lenses (four if you count the last one)? Not bad at all. At least that's what I tell myself.
Has it lived up to my expectations? Yes. My first assignment with it was the NFL AFC Championship game, and since then Major League Baseball, NFL Pro Day at Kansas State, and lots of birding. It's been a real joy to use, and I shoot it in all four configurations all the time. Any regrets? Just one – I should have bought it sooner!
Here are some of the photos I've made with it since getting the lens in January: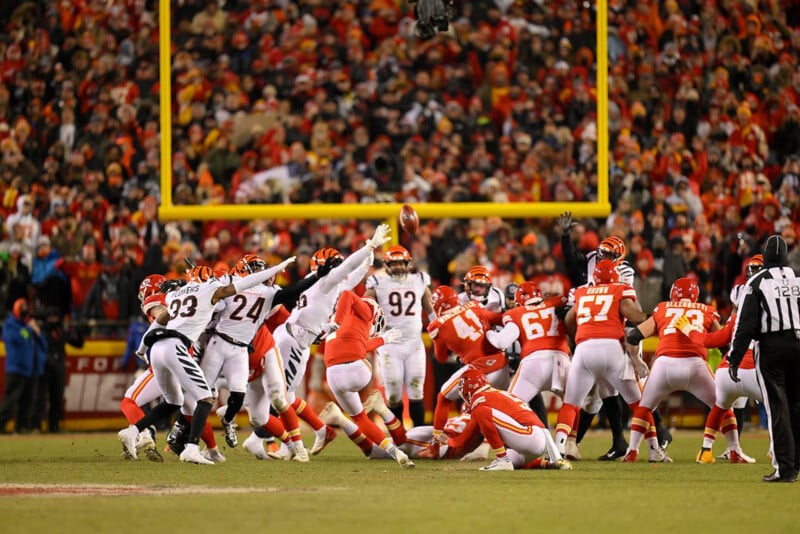 Here's a great example of the benefit of having that 1.4X teleconverter built in. This was the field goal that won the AFC Championship for the Chiefs over the Bengals. I shot the kick, then before the ball sailed through the uprights, flipped the teleconverter in for the next photo.
That gave me this view of Kansas City Chiefs placekicker Harrison Butker being lifted into the air by punter Tommy Townsend after that kick won the game for them.
For wildlife photography, I'm almost always using the lens with one or more teleconverters. This was before sunrise on the Platte River in Nebraska, at 560mm, as deer crossed the river while Sandhill Cranes lifted off in search of food: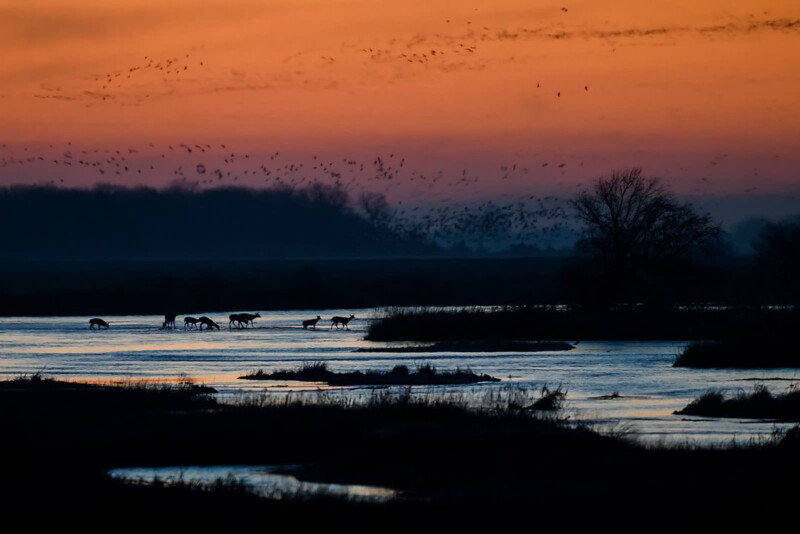 With bird photography, more lens is almost better. So most of the time I'm using the lens with the 2X teleconverter attached, and hand-holding it. Now I've got 800mm, but still at a relatively fast aperture of f/5.6. That's exactly what I used for these Yellow-crowned Herons a couple of weeks ago:
And even with the 2X teleconverter attached to the lens, I can still flip the lever and add the 1.4X teleconverter, which now gives me a whopping 1120mm of lens at f/8. That's how I photographed these Trumpeter swans earlier this year at Loess Bluffs National Wildlife Refuge:
Of course, the main reason to have a 400mm lens with an aperture of f/2.8 is to be able to shoot high shutter speeds in low light. That was the case as I covered Kansas State's NFL Pro Day, and defensive lineman Felix Anudike-Uzomah catching a pass indoors at the team's practice facility:
But being able to add the extra reach (with the 1.4X teleconverter engaged), of course, lets me shoot from further away, and take advantage of different angles. That's how I made this photo of Texas Rangers relief pitcher Dane Dunning throwing against the Kansas City Royals, shooting from the concourse level of the stadium.
An added bonus? That f/5.6 aperture, combined with 560mm, means the netting I'm shooting through doesn't show.
And, of course, the other thing about a fast aperture, long telephoto lens, is how "clean," or out of focus, the background can be when the lens is used wide open. That's the case here, as the signage and people in the outfield are so soft they're not distracting.
That wide aperture also allows me to shoot at a lower ISO, meaning a higher-quality image (less noise). So two big advantages here.
---
About the author: Reed Hoffmann is a photographer and photography instructor who has been in the photo industry for decades and who has used every Nikon DSLR (and taught most of them). The opinions expressed in this article are solely those of the author. Follow along with Hoffmann's latest workshops here. You can also find more of Hoffmann's work and writing on his website, Facebook, Instagram, and Twitter. This article was also published here.