Canon Patents First-of-Its-Kind 200-800mm Full-Frame Zoom Lens
While patents are not guaranteed to result in actual products for customers to buy, some new Canon lens patents are nonetheless sure to excite photographers, especially wildlife and sports photographers.
As AsobiNet reports, Canon has filed patents in Japan for three new zoom lens designs, two of which are full-frame lenses.
Perhaps the most exciting of the bunch is a patent for a 200-800mm f/5.8-9.2, presumably equating nominally to f/5.6-9. The patent application showcases an optical design that comprises about 20 elements, including an image stabilization (IS) group. The application also describes a "compact and lightweight zoom lens," which sounds ideal for handholding.
A 200-800mm telephoto zoom lens would be the first of its kind. It would also be the second 4x telephoto zoom in Canon's RF lens lineup, joining the popular Canon RF 100-400mm f/5.6-8 IS USM lens, which at just $649 is an excellent value option for enthusiastic wildlife and sports photographers on a tighter budget.
Canon's current longest RF lens is the RF 1200mm f/8L IS USM, but its eye-watering $19,999 price tag puts it out of reach for nearly every photographer. Canon's RF 800mm f/11 IS STM lens is much more accessible, thanks to its $999 price, but it is limited by its fixed focal length and slow f/11 aperture.
The 200-800mm focal length is also reminiscent of an old SLR lens, the Sigma 300-800mm f/5.6 EX DG APO IF HSM. Of course, a significant difference between the Sigma zoom and the patented Canon lens comes down to the aperture.
The patented 200-800mm zoom lens may split the difference between the two extremes of a slow and affordable telephoto lens and a fast, hefty, and expensive professional lens.
Alongside the 200-800mm full-frame zoom lens, Canon has also filed a patent application for a 100-600mm f/5.8-9.2 telephoto zoom lens. With a bit less reach than a 200-800mm lens, the 6x zoom optic should also feature a compact, lighter design.
Like the 200-800mm patent application, the included figure for the 100-600mm lens shows an IS group. Like the 200-800mm focal length, a 100-600mm lens would also be new. Although similar, the Sigma 150-600mm f/5-6.3 DG OS HSM Sport lens and Canon RF 100-500mm f/4.5-7.1 L IS USM are slightly different and do not deliver as much focal length versatility as Canon's proposed new zoom.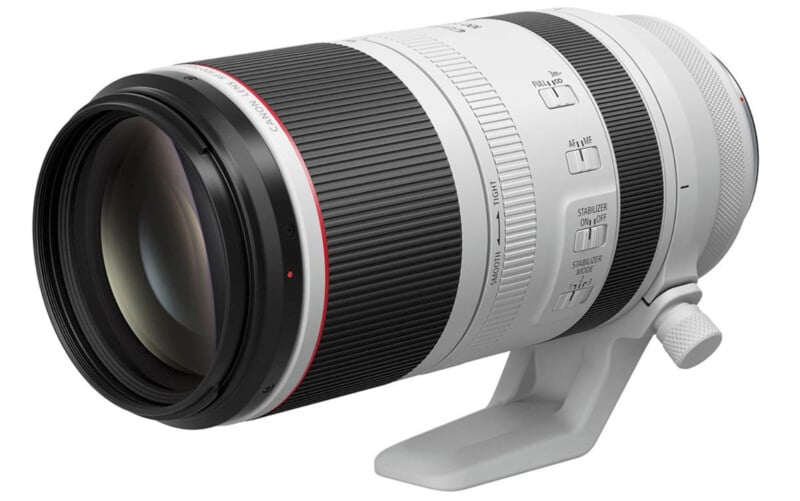 Rounding out the prospective lenses is an APS-C zoom with a 20-150mm focal and f/4.1-8.1 aperture range. An APS-C lens like this would offer an equivalent focal length of about 32-240mm, which would be a useful all-in-one travel zoom lens.
Canon Rumors notes that this APS-C lens "would not be used on the RF mount or even the EOS-M mount," so it remains unclear what the lens would be for. Canon Rumors speculates that it could be for a PowerShot camera, although the PowerShot line has not received much attention from Canon in recent years.
To reiterate, while these patented optics are interesting and potentially very exciting to Canon photographers, there are many examples of patented lenses remaining in the annals of patent filings forever. Just because Canon has filed patent applications does not mean that the company intends to produce and sell any of the proposed lenses.
With that said, it is also worth considering how mirrorless cameras and advances in optical technologies have enabled lens designers to develop never-before-seen focal length ranges. Canon itself has already demonstrated this with the RF 100-500mm lens, which is new to Canon's EOS R mirrorless platform.
Likewise, Nikon has shown that the Z mount enables innovation through its new Z 180-600mm f/5.6-6.3 VR lens and its remarkable Nikkor Z 58mm f/0.95 S Noct prime.
---
Image credits: Patent images via J-PlatPat