You Can Now Actually Buy TTartisan's 27mm f/2.8 for Sony E and Nikon Z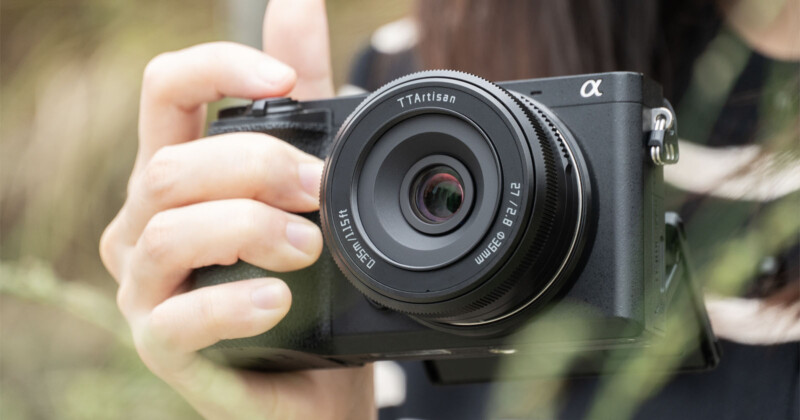 TTartisan has announced that its autofocus-equipped 27mm f/2.8 prime lens for APS-C cameras is now available for Nikon Z and Sony E-mount.
Originally launched for Fujifilm X-mount last October, the lens is now available for Nikon and Sony mirrorless APS-C, crop-sensor cameras. The lens was announced to be coming earlier this year and is now actually purchasable.
Described as the ideal compact prime lens, TTartisan says that the lens stands out thanks to its compact design and "versatile" 41mm equivalent focal length (56-degree angle of view) that works well in most everyday shooting situations.
The TTartisan 27mm f/2.8 is constructed of six elements arranged into five groups and features a close-focusing distance of 0.35 meters (about 13.8 inches). It features an aperture range of f/2.8 through f/16 via a seven-bladed diaphragm. Aperture is also controlled manually on the exterior of the lens, but toggling that dial all the way past f/16 to the "A" setting allows the aperture to be controlled digitally through the attached camera. TTartisan does state that this feature doesn't necessarily work with all cameras, though, and photographers should check the company's compatibility page to determine if their specific model is supported.
The ultra-portable pancake lens features an autofocus system driven by a stepping motor, but TTartisan also notes that it does have a manual focus override for those who might want to take more direct control over their photography. The company is confident enough in the speed, accuracy, and smoothness of its autofocus system to say that it supports eye-autofocus on all of the supported cameras.
TTartisan also says that the lens works in tandem with a camera's in-body sensor stabilization, should the camera be equipped with such a feature.
As is the case with many lenses now, the 27mm f/2.8 includes a USB-C port that can be used to connect the lens to a computer and upload any firmware updates in the future. On that note, TTartisan has updated the 27mm f/2.8 for X-mount twice since launch: once to add the ability to address distortion and vignetting and another time to address some issues with high-speed continuous shooting and single-point autofocus on specific camera models.
The TTartisan 27mm f/2.8 is available starting today for Sony E and Nikon Z-mounts for $149.