TTArtisan is Bringing its 27mm f/2.8 AF Lens to Sony E and Nikon Z Mounts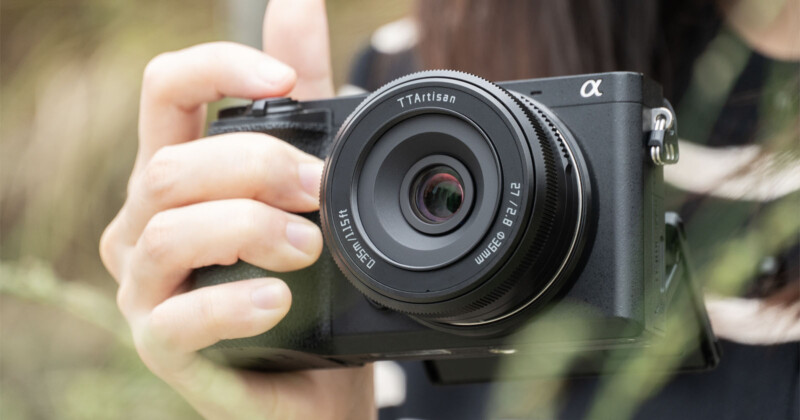 TTArtisan has announced that it is bringing its 27mm f/2.8 autofocus lens currently available for Fujifilm X-mount to both Sony E and Nikon Z-mount cameras.
The 27mm f/2.8 was TTArtisan's first autofocus lens for Fujifilm X-mount cameras and was released last October for $149. It was originally advertised as a compact pancake-style design with a 41mm equivalent focal length (on 35mm cameras) that was designed for everyday shooting. As such, it's quite lightweight and (under 93 grams) and measures about an inch long.
The lens features a construction of six elements arranged into five groups and its aperture range of f/2.8 through f/16 is operated via a seven-bladed diaphragm. That lens arrangement includes two high-refractive index elements that can help suppress color differences and control spherical aberration.
None of that is changing with the added Z and E-mount support, although the exact weight of the lens will vary between 88 and 100 grams depending on which mount is selected.
The lens still has a 56-degree angle of view which the company has said helps produce a distinct visual style that is ideal for still-life, close-up, and travel photography.
As before, the lens features autofocus which is powered by a stepping motor (STM). More specifically, the company says it adopts a "STM plus leading screw" design that it says allows it to be compact enough to fit into the small lens but is still powerful enough to provide smooth autofocus capability. TTArtisan also says it is silent and works in tandem with cameras that have in-body image stabilization to allow it to work for both stills and video use.
TTArtisan goes so far as to say the motor is fast and accurate enough to work with a camera's eye-autofocus. The lens was originally designed for Fujifilm cameras, so it remains to be seen if it is good enough to support Sony cameras which have a significantly more complex autofocus system.
Photographers can toggle between manual and autofocus via a physical switch and the aperture is also controllable via either the dial on the lens or through the camera when the dial is set to "A." Of note, not all Fujifilm cameras supported automatic control of the aperture. and TTArtisan hasn't released a full list of supported cameras for either Nikon or Sony.
Sample photos captured with the lens can be found in PetaPixel's coverage of the Fujifilm X-mount release.
TTArtisan tells PetaPixel that it has not yet determined when the new lens mounts will be available, but does confirm that the price will remain constant at $149. Expect the new camera mount options to be added to TTArtisan's product page for the lens soon.