Insta360 Flow Review: Great Promise, Big Hype, Major Problems
The Insta360 Flow is a gimbal for smartphones that, on paper, looks like the perfect solution for vlogging, YouTube creators, and social media influencers. The Insta360 Flow's promise is artificial intelligence (AI) tracking in a compact gimbal that can be folded and taken anywhere.
For this use, the Insta360 Flow is an excellent device, and had it been sold as a tabletop-slash-tripod-mountable camera with excellent AI tracking, it would be a good solution.
Unfortunately, in my testing, I found the Insta360 Flow so burdened by flaws that it's impossible to recommend. While the AI tracking works well — almost at the level of today's mirrorless cameras — the form and function are so poorly executed that the Insta360 Flow is often more burdensome than helpful.
Good as a Tracker, Bad as a Gimbal
Insta360 calls this alternately a gimbal and a "stabilizer," While these are interchangeable terms, much of their marketing material shows the device used in casual situations—the website displays the device on its built-in stand, tracking people.
One of the best features is the ability to use the app in the background for tracking while making a video call. The Insta360 Flow software will continue following while other apps are being used, making for a powerful solution for framing a shot during a call.
The website shows a family using their phone for a FaceTime call, and the camera continues to track the father and daughter as they move around the frame. Most gimbal software is only active while the application is in use, so this alone would make this a solution for remote workers.
AI-tracking works very well for someone doing tutorials or how-to videos and can track someone as they move around. I can see this being used by cooking channels, woodworkers, and any outlet that needs to follow a creator where there's no actual ability for the creator to change camera angles.
But the device is designed for and sold as a gimbal, and all the AI tracking in the world can't compensate for limited functionality.
To see if other users were having the same issues, I watched several YouTube videos from well-known creators, all of which had nothing but great things to say about the Insta360 Flow. Unsurprisingly, these videos were all sponsored by the company.
I extended my search to smaller channels and found multiple people encountering the same issues as I had, confirming that I didn't have some fluke problematic unit.
Body Issues
The Insta360 Flow's promise and, as it turns out, most significant weaknesses come from its design. There are some very clever things in the device's industrial design, but each has flaws.
The unit folds into a compact package, small enough to fit into a jacket pocket. The Insta360 Flow unfolds quickly, has an excellent magnetic mount to hold a smartphone, and has an excellent array of buttons and indicators.
It also has a built-in selfie stick and a built-in tripod. This clever design makes the gimbal convenient, but some things could be improved.
Starting with the device's body, though, it just feels off. The main body is tiny, and even my medium-sized hands make gripping it challenging. It's not just the diameter that feels small but also the height of the Insta360 Flow.
The tripod segment can be extended to provide a bigger grip surface, but it generally feels awkward. An included rubberized grip makes the use more comfortable, but not by much.
The controls have the same problem as most gimbals; they're positioned precisely in the center. This is to accommodate both left-hand and right-hand shooting, but any control designed to be used by a thumb should be off-center; otherwise, it's necessary to shift one's grip to reach the controls.
In fairness to the Insta360, this is a general ergonomic problem on devices designed for dual-hand use, so it's not different from most gimbals. However, using a touch-sensitive panel on the control face to toggle between follow modes is different.
In theory, this is a great idea, but in practice, the surface isn't sensitive enough, and it's hard to change modes, and a simple button would be better.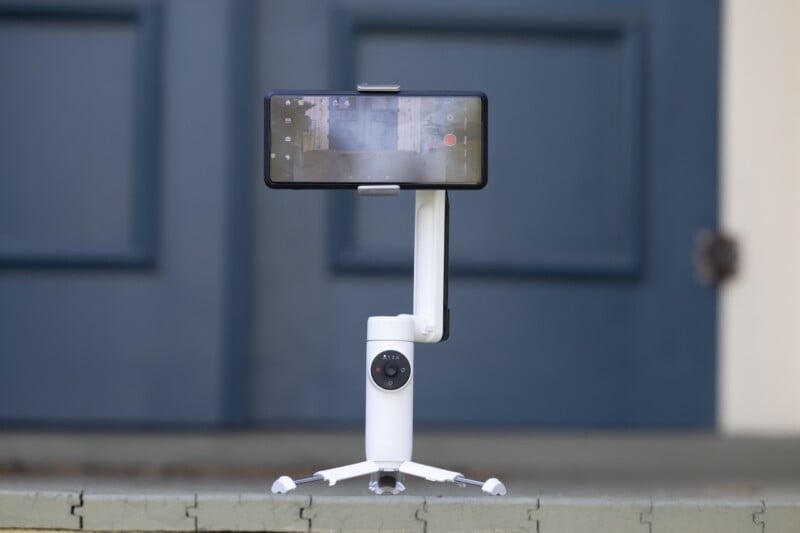 The tripod, which is cleverly tucked into the handle, is flimsy. It will hold up the Insta360, but the device should be on a stable surface, as any movement makes the gimbal wobble. Is better to attach the gimbal to a tripod using the tripod adapter at the bottom of the unit.
There are a few more clever design features, including a built-in cold shoe to mount a microphone and a spotlight. The cold shoe is on the front of the unit and is perpendicular to the camera, which means it's only handy to mount a lav mic pickup unit, as any microphones attached to the shoe would point at a right angle to the creator. This oversight should have been caught in the design stage, but it's nice to mount a receiver on the device and wire it directly into the phone.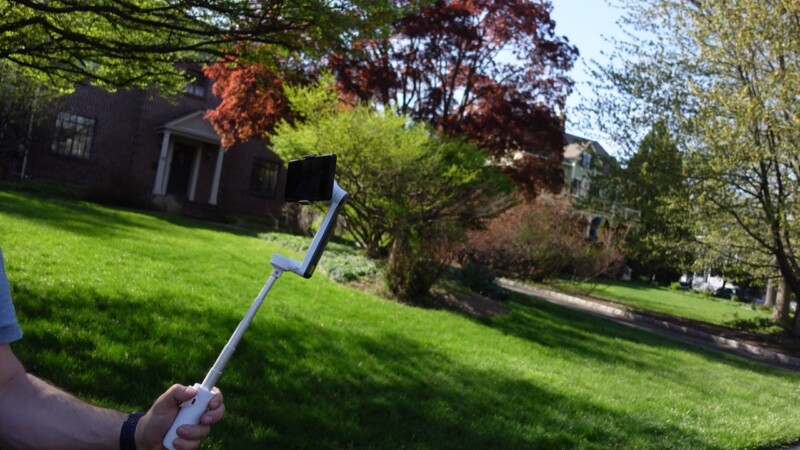 It Don't Mean A Thing If It Ain't Got That Swing
By far, the biggest issue with the Insta360 Flow is the minimal amount of tilting it can do. Tilting is crucial when holding the gimbal up or holding it low, but it's also needed when the phone is at arm's length.
With most gimbals, as you pivot the device away from the horizontal (like you were chopping with a cleaver), the camera will tilt in order to remain at the same angle. The Insta360 Flow, however, does not. It has a claimed tilt angle of 180 degrees, which is technically accurate, but there's a much smaller functional tilt.
I measured the tilt, and it was about 20 degrees. If the gimbal is moved below the horizon line, it can only pivot within that range and then loses lock on a subject. Even worse, if the gimbal is held above your head with the selfie stick extended, it can only tilt downward enough that your face is on the bottom of the frame. It can't tilt forward enough to maintain the subject in the middle of the frame.
This isn't the only smartphone gimbal with a limited tilt range, but it's the most limited range I've seen. Insta360 refers to this as a stabilizer in most of their literature (as does DJI, incidentally), but a gimbal is a gimbal.
Keep It Steady, Keep It Smart
A takeaway is that the Insta360 Flow is limited from a movement standpoint, perhaps too limited for most creators.
From an image-stabilization perspective, the Insta360 Flow does an excellent job reducing movement, and this stability and the superb app are the primary draws of this unit.
Even when running or riding something like a skateboard, the footage has much less movement than even the active stabilization mode on an iPhone. It rivals some cameras with built-in stabilization.
The Insta360 Flow also boasts intelligent shooting modes to help with composition and creativity. While most full-time creators are unlikely to use the built-in composition suggestion tools, for a casual creator, it's great to have a system that walks you through the steps needed to make good-looking footage.
The camera has modes including outdoor, family, seaside, sports, home, food, and holidays. When activated, the app gives instructions for capturing video for those particular subject types, and then the Insta360 Flow runs through the corresponding movements.
There's also intelligent AI recognition of subjects for specialized image capture. A basketball mode can watch a court and record footage only when someone makes a basket, eliminating hours of footage of the ball rebounding off the backboard.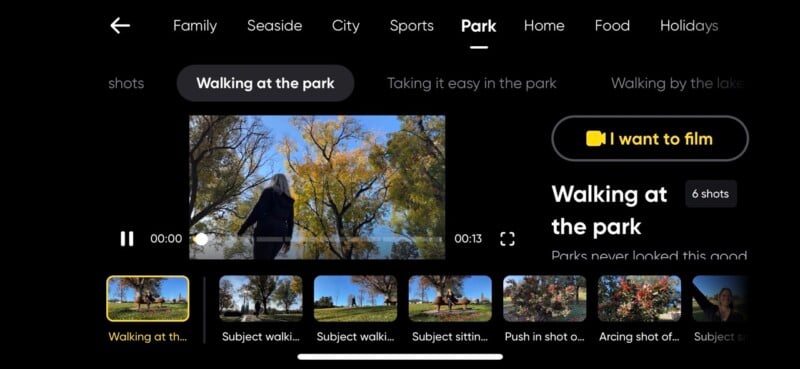 The software also has AI-based video editing and takes the best parts of clips and stitches them together for videos that are typically more creative than many creators could make in a video editing app. Editing in the Insta360 Flow app is much faster than in many other tools.
Face recognition and tracking are excellent and are as "sticky" as many modern cameras. It can follow a face or subject even as it is obscured and re-acquires quickly when the subject enters the frame again.
As I mentioned, tracking is an excellent solution for the creator looking to record footage without a camera operator. I've already started to use this when shooting unboxing videos. I recently got in a 3D printer to test, and usually, I'd set up a camera with a wide angle and crop my footage to stay on me as I move around getting tools and putting parts together.
With the Insta360 Flow on a tripod, I can compose a tighter shot and have it track all of my movements.
The software also has some standard creative tools like timelapse and pano, with the timelapse allowing users to pick a range of motion and duration, with the Insta360 Flow moving slowly through the path.
Looks and Limitations
The Insta360 Flow software can record different "looks," like pre-graded footage to simulate the color grading often associated with higher-end video editing. This is another feature most video editors would likely skip, but it's an excellent way to create a mood with nothing but a smartphone.
It's a shame the software can't capture HDR footage or 10-bit. The wide dynamic range of the iPhone and many Android devices is a significant reason creators turn to these tools instead of (or in addition to) their traditional cameras.
The only reason I can think of limiting the bit rate and dynamic range is processing power. Still, with something as powerful as an iPhone or Google Pixel, there should be more than plenty of processing power to enable higher dynamic range processing.
So Close, But So Far
I want to love the Insta360 Flow and have the kind of glowing reaction to it that many reviews I watched on YouTube did. Alas, the Insta360 Flow is a solution to a problem that introduces more problems.
Insta360 needed to either design and market this as a tabletop (or tripod) device to track creators as they move around a frame or improve the actual gimbal performance to make a successful tool.
I hope Insta360 listens to users' feedback and comes out with a revised model because the software is so good and the AI tracking so competent that it seems a shame to have something so capable.
Are There Alternatives
There are plenty of smartphone gimbals on the market at a similar price as well. The Insta360 Flow is $159, the same price as DJI's Osmo 6 smartphone gimbal. I've tested the Osmo 6, and the physical components (tilt, pan, etc.) are better than the Insta360 Flow. Zhiyun, another Chinese drone manufacturer, also makes the Smooth 5 gimbal at the same price point. I have not tested this gimbal, but I have used their drones, and they are very good.
Should You Buy It
No, there are too many limitations and issues with the Insta360 Flow to use it as it was intended to be used.