The Insta360 Flow is a Smartphone Stabilizer with AI Smarts
Insta360 is probably best known for its compact cameras but it's deviating from its core competencies with the launch of the Flow, a smartphone stabilizer that promises silky smooth video thanks to artificial intelligence (AI) tracking.
The Insta360 Flow is advertised as the most advanced AI-tracking smartphone stabilizer on the market. It features auto-tracking, 3-axis stabilization, and a built-in selfie stick. It weighs 13 ounces (369 grams) and folds down to 3.1 by 6.4 by 1.4 inches, making it easy to travel with. It is capable of holding smartphones that weigh between 4.6 and 10.6 ounces. It is compatible with a host of iOS devices as well as multiple Android-powered smartphones.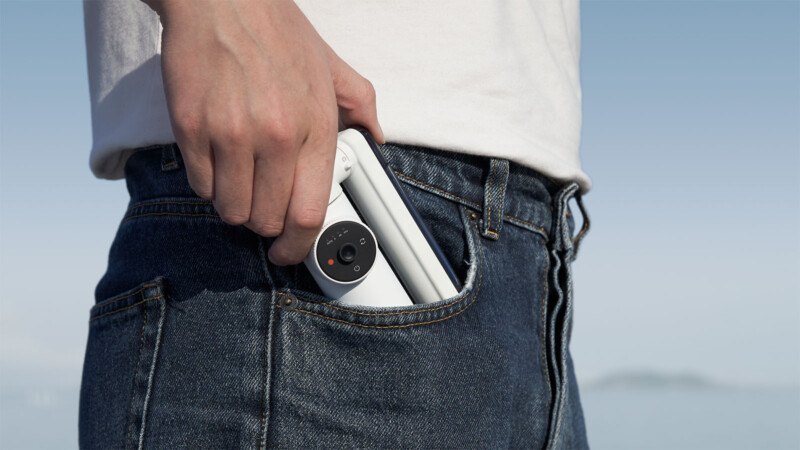 "Whether you're running after your kid or traveling to the next stop on your bucket list, Flow's mechanical stabilization guarantees shake-free shots in any scenario. It excels where a smartphone's electronic stabilization often fails, such as filming in low light and when zooming in," the company boasts.
"Flow's stabilization and convenient handheld design also means creators aren't limited to simply setting up the device in a stationary position to track themselves. Creators can take Flow wherever their inspiration strikes, and always be assured of getting perfectly stable shots."
The Flow's secret sauce, so to speak, is in its stabilization system that is paired with Insta360's AI tracking technology called Deep Track 3.0. The company says that the technology enables the gimbal to follow subjects in real time and rotate to follow their movement to allow a shot to be framed automatically.
Deep Track 3.0 allows Insta360 to make three main claims. First, the company says that its gimbal is more accurate than any other smartphone stabilizer on the market. It uses what the company calls "Person Re-Identification" to continue tracking the same person throughout a recording even if they're blocked from view. It also has "All-Angle Tracking" to continue tracking as the subject's shape changes.
Second, Insta360 says the Flow is more versatile than other options thanks to Zoom Tracking, Slow Motion Tracking, and Live Mode — the latter is for tracking while video calling or live streaming in another app like FaceTime, Instagram, and TikTok.
Third, and finally, Insta360 says the FLow is more reliable because it features what it calls Tracking Recovery. When a subject moves out of frame, Flow can keep tracking it by zooming in or following the direction it is moving.
Additionally, Flow responds to gesture controls, so it can be set on a tripod and controlled even when the creator is in front of the camera.
The Flow includes a telescoping selfie-stick in the base, a tripod that extends from the handle, features a built-in 2,900mAh power bank that can charge a smartphone while it is recording, and a cold shoe to allow for the attachment of optional accessories like a microphone.
The Insta360 Flow is a lot like DJI products in that it is packed with "smart" features as well. It has multiple recording modes — like Panorama which can even be used to shoot 360-degree photos — as well as a 12-hour battery life.
The Insta360 Flow is available immediately for $160.
---
Image credits: Insta360