Really Right Stuff Pan-Tilt Head Review: Really Expensive, Really Good
Really Right Stuff is a company that is well-known for producing some of the highest-quality tripod and accessories for creatives, and the recently updated PG-02 MK II Pan-Tilt Tripod Head is no exception.
While pan-tilt tripod heads are not as commonly seen as they once were thanks to advancements in both camera and post-processing technology, for those who care about "getting it right" in camera, Really Right Stuff's updated head is a very exciting development as it offers a wide range of features ideal for full-frame, medium, and large format systems using super-telephoto lenses. The Really Right Stuff PG-02 MK II Pano-Gimbal Head, which costs anywhere between $750 to $950, is designed for photographers who need to be able to quickly and easily adjust the pan and tilt of their camera while taking large batches of images, and the system more than delivers.
I had the pleasure of using the PG-02 MK II pan-tilt head (paired with the Versa mk2 Tripod and TA-3-LB Series 3 tripod leveling base) for a few weeks (in between storms) and I was honestly very impressed with its build and performance. Once assembled, the head is insanely smooth and easy to use and is able to handle most professional photographers' gear without any issues. During my testing, I used the system with both my wide-angle and telephoto setup (70-200mm sadly, I definitely wish I had a larger zoom lens to have messed with while testing this head), and regardless of the lens combination, the pan head was able to maintain a perfectly stable balance every time.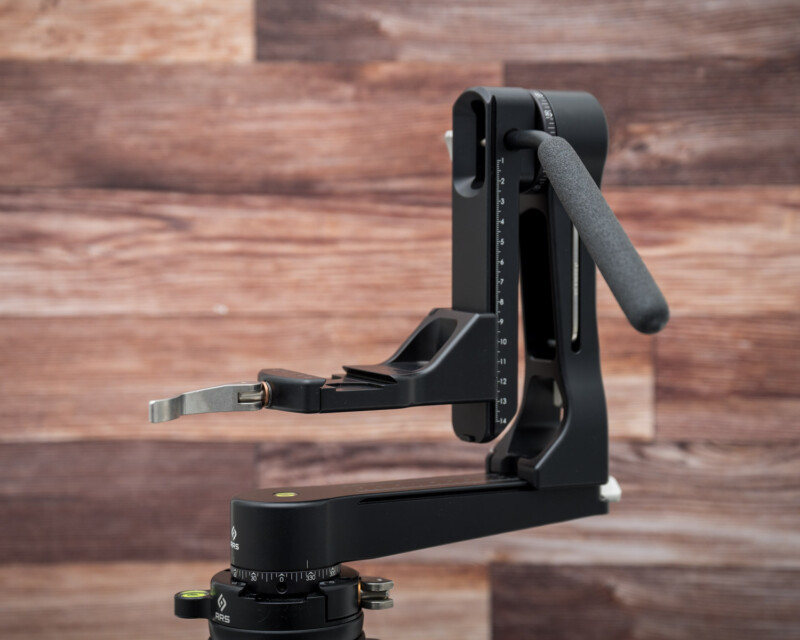 During my testing with I used the PG-02 MK II Pano-Gimbal head with the Versa MK2 Tripod and TA-3-LB Series 3 Tripod Leveling base along with my Nikon Z6ii and a variety of lenses including the Sigma 70-200mm f/2.8 F-mount lens and FTZ adapter and the Nikkor Z 17-28mm f/2.8 Wide Angle lens.
RRS PG-02 MK II: Design And Build Quality
Made of CNC-machined aluminum and brass components that are both manufactured and assembled in the United States, the pan-tilt head features a number of innovative design elements that make it easy to use and travel with. This includes a single-hand simultaneous pan and tilt lock, an integrated dovetail in the horizontal base, and a bubble level that has been repositioned for better visibility.
The pan head has (effectively) four main components: a horizontal arm, a vertical arm with drop rail, a cradle clamp, and a control arm which can all fit neatly inside of the included softshell case for easy travel and transport. The whole system assembles and comes apart in just seconds, making it impressively easy to set up and tear down if you're in a hurry.
The device itself is built to hold a maximum load capacity of 50 pounds and can be used with practically any camera system and mounts including Arca-Swiss, Gitzo, and Manfrotto. The head's pan and tilt locks are designed to enable practically any drag level desired with an incredibly easy-to-identify "no parallax point" allowing for perfect alignments.
The small silver lever on the end of the arm allows for about 90 degrees of movement from the locked to the unlocked position to allow for completely smooth panning motion or completely static and secure (unmoving) positions.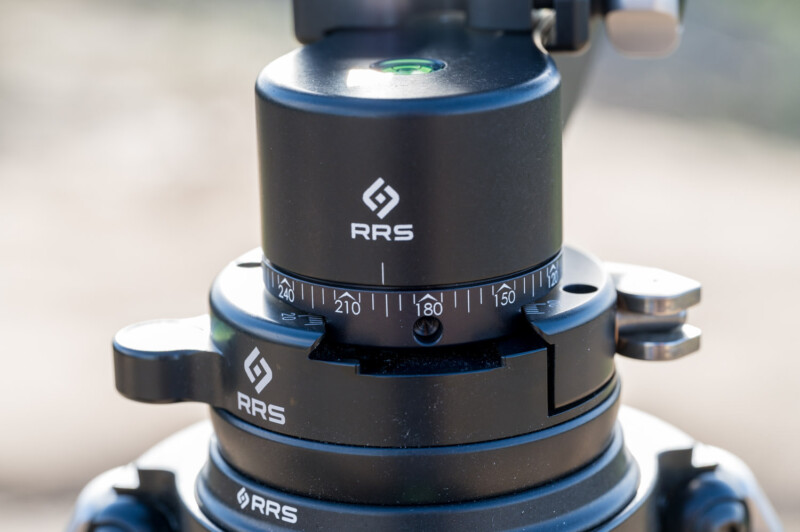 The vertical arm, which clamps onto the horizontal arm using a screw-lock Arca-Swiss compatible clamp, features another set of laser-etched measurements for position tracking, as well as a series of 1/4-inch holes that can be used for a variety of additional camera accessories, like mounting a monitor and microphones for video production, or even an additional camera.
The vertical arm's tilt lock knob was replaced by a lever, which is meant to make it easier to adjust the tilt tension with one hand. The pan-tilt head also includes an integrated dovetail in the horizontal base that allows for direct mounting to a clamp as well as a 3/9-inch socket for mounting to traditional tripods.
In addition to these changes and improvements, the bubble level (found on the horizontal arm) has been repositioned from the first generation of the head for easier visibility and is meant to act as a nodal point index. This arm can be mounted directly to a tripod or clamped into the quick-release clamp of a ball or leveling head. What makes this particular system enjoyable is the locking and unlocking of the pan and tilt are separate devices/levers, meaning it is effectively a two-step process where you adjust one axis at a time.
According to Really Right Stuff, one of the main goals of this Mk II redesign was to reduce the overall size and weight of the System which they have done by about 10 to 12% compared to the Mk I and Mark 1.5 Pan heads. The latest version weighs about 1.45 kilograms or 3.25 pounds. This reduction in size and weight may not be massive, but it is still worth enough to make it fit a little better in most camera bags and should help when decision-making about how much gear to pack with you on a particular trip.
RRS PG-02 MK II: Performance and Usability
Combining all these features gives users a surprisingly easy-to-assemble and navigate system (even without following the instructions) that allows for incredibly precise image-stitching for panoramic shots, making the edges practically invisible. You can see in the two examples below — other than me not being properly "level" the edges and traditional bowing you would expect from creating a panoramic from multiple frames — the edges are practically perfect.
Basically, when you set the pan-tilt head up properly and balance your lens properly in the system, there should be no edge distortion when creating panoramics as the camera will be pivoted at the lens. This leaves you with a perfectly parallel, straight stitch for your images when capturing large panoramics, hopefully leaving you with no wasted pixels that have to be cropped away.
As you can see in the image below, when creating a panoramic using a traditional tripod, the shot will often leave you with a large crescent or warped shape where the edges curve in relation to the center of the image, leaving you with a lot of wasted pixels even after you align them or stretch the image in post.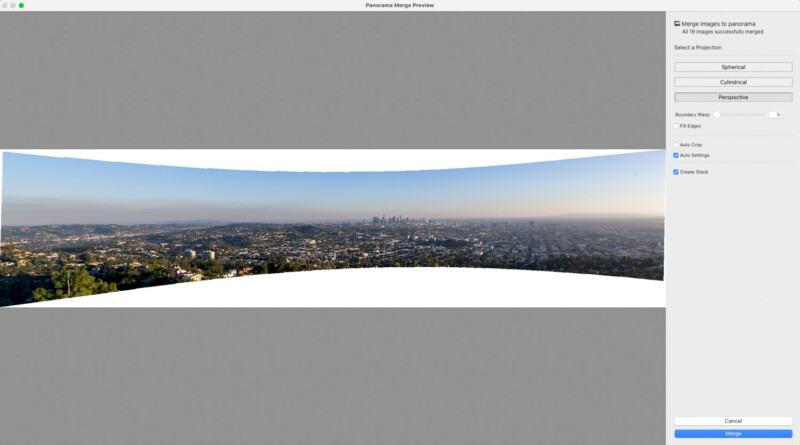 Below is the assembled pano, cropped to avoid the curved edges:

And here it is again, captured using the Really Right Stuff PG-O2 pan head:
As you can see, you can fit a lot more detail into a level shot without much Photoshop having to be involved.
Something I really did enjoy using was the Control Arm that inserts into the drop-rail of the system. The arm, most frequently used for video shooters, will help users make much smoother pan and tilt movements during video shoots, as well as make more precise micro-adjustments for still work.
Here are a few more panoramic shot using the Really Right Stuff PG-02 MK II Pan-Tilt Gimbal Head:

Below is a panoramic assembled from nearly 300 individual shots, just because going excessive was incredibly easy with this setup:

A Necessity For Long-Lens Video, Panoramas, and Action Shots
The Really Right Stuff PG-02 MK II Pan-Tilt Gimbal head is definitely one of the most expensive gimbal heads on the market, but, it is also one of the most top-quality and performing systems as well, arguably making it worth the investment.
The PG-02 MK2 Pano-Gimbal Head ($750 to $950), Versa mk2 Tripod ($1,100 to $1,245), and Series 3 TA-3-LB tripod leveling base ($220 to $340) will run you a total of about $2,070 to $2,535. That positions this setup at what I would call the "Rolls-Royce" level of tripod and gimbal heads.
But that price isn't for nothing. The setup is more lightweight and easier to travel with than its predecessor and comes with more accessories and additional features for a wider array of uses.
It has been nearly six years since the last time I used a gimbal head like this and this beast re-inspired me to get back out and shoot more landscape and adventure images thanks to its ease of use and relatively small size and weight. For professionals where getting it right in camera is critically important, the PG-02 MK II is an incredibly well-built piece of gear that is meant to last a very long time, and every serious wildlife, landscape, and action photographer should give it some serious consideration.
Are There Alternatives?
While not exactly a hot item to find on the current market, there are some very solid, and much more affordable contenders in the Pan-Tilt tripod head game. Granted, the cheaper versions offer less weight capacity, and most have far fewer options and features. On the other side, there are more expensive options that bring in some interesting perks.
On the more expensive side we have the $1,970 Arca Swiss C1 Cube Geared Tripod head which is more suited towards architecture photography and is considered by many to be best option available. Next, the $1,225 Proaim Spin-3 Motorized Pan-Tilt head can support 33 pounds of gear, which is impressive. Additionally, we have the $1,971 Foba ASMIA Q Dual Tilting Head that can support up to 44 pounds of gear, or the $829 Manfrotto VR & Pan Pro Head that can support about 11 pounds of gear.
Diving into the more affordable side of things we have the $499 Sirui PH-30 Gimbal Head, the $434 Benro GH5C Carbon Fiber Gimbal Head, the $180 Movo Photo GH800 Gimbal Head, or the $99 Neewer Gimbal Tripod Head. Bear in mind, the cheaper you go, the more concessions you'll have to make.
Should You Buy It?
Yes, if you are a professional Landscape, Wildlife, Architectural, or Adventure photographer. The RRS PG-02 MK II Pan-Tilt Gimbal head is definitely worth the investment, but if you're a hobbyist or even semi-professional, I'd have to say this is a "probably not" option since the cost of the setup is very much on the high side.