The X-Aircross F38 Travel Video Tripod is Remarkably Well-Designed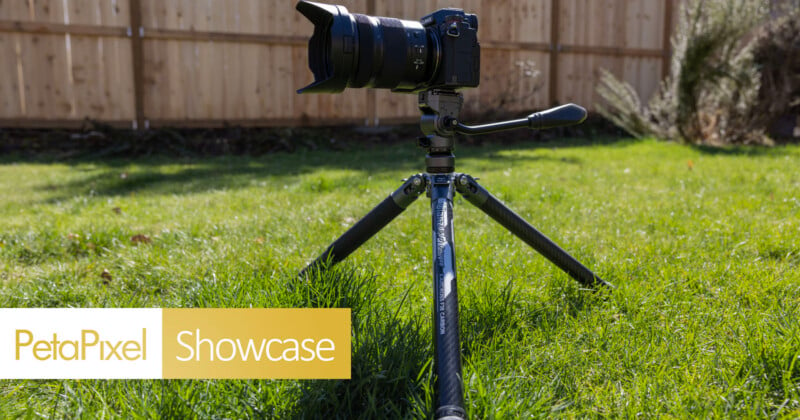 I just don't get excited about tripods anymore. Sure, there are some clever designs every now and again, but they all basically play on the same ideas. But with the X-Aircross F38, I was giggling with joy because this tripod is just so darn cool.
The X-Aircross F38 is a travel video tripod collaboration between Ulanzi and Fotopro, and on the surface, it doesn't appear to be all that special. Out of the box, it looks and feels basically like any other compact carbon fiber tripod I've ever used, but that quickly changed.
Design and Build Quality
First, it's remarkably light. Usually, carbon fiber tripods of this size are light, but not to a major degree more compared to using aluminum. When you shrink down a tripod's size, the weight savings versus the cost of going to carbon fiber over aluminum give increasingly diminishing returns.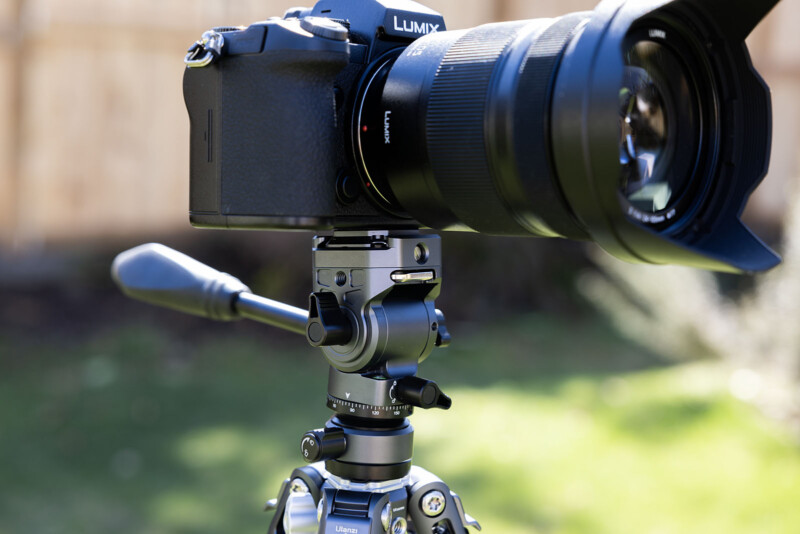 Also, tripods typically hold much of their weight in the head. So no matter how much you reduce the weight of the legs, you'll eventually hit a wall. But this time, the tripod felt so light I thought it had to be made of plastic or some other cheap material.
But no, the entire thing is metal or carbon fiber but is so light because the entire pan-tilt head and associated parts have been miniaturized. They're so small, I can fit the head — sans the pan-tilt arm — comfortably in my closed fist. It's smaller than a baseball.
Somehow, Ulanzi and Fotopro have managed to include everything I'm looking for in a good pan-tilt video tripod head into this tiny size without sacrificing any functionality. It still has beautifully smooth pan-tilt actuation and there is still a ball head right above the legs so that it can be flattened out on uneven terrain.
Even more, there is an included Allen wrench hidden in a magnetic slot on the front of the head for making sure the quick-release plate is securely attached to your camera.
Overall, the quality of materials used here is top-notch. Everything feels high quality and is made of either metal or carbon fiber, with the exception of the smartphone clip which feels like it's a type of ruggedized plastic combined with metal parts. Even that feels really high quality, though.
Oh, yeah, there is also a quick-release system that has been expertly sized down so that it is secure when you want it to be but easily lets you remove an attached camera in seconds.
The center shaft can be unscrewed and removed if you want to get the tripod super close to the ground, and that whole center column can even be fully inverted if you want to hang the camera above a subject as well. As mentioned, there is even a really nice smartphone clip deftly hidden inside that center shaft so you can use the tripod with your iPhone or Android device at a moment's notice.
The only downside I can see to the miniaturization of all these parts is that they might not be the easiest to handle in the cold. All of the screws and joints are very small and made of aluminum, so they're not going to be easy to grab when wearing gloves and they might hurt if you have to keep twisting and untwisting them with bare hands in sub-zero temperatures. Those of you with bigger hands and fingers will feel this the most.
That said, talk about a minor complaint. If I'm out in the wilds, I'm a lot more grateful for not having to lug a giant tripod with me than I am upset that these small parts can be a bit tricky to handle.
Smartly Designed Legs
The X-Aircross F38 can get as low to the ground as 2.5 inches but can extend to a maximum height of 57.28 inches. It is in that height extension that the video tripod hides another neat feature: the locking mechanism for the legs.
Typically, tripod legs are either a clip-type or a twist-lock type, and both versions have their fans for various reasons. Ulanzi and Fotopro went a different route and while it is technically a twist-lock variant, it's done in a way I've never seen before.
Instead of you needing to twist and lock each leg segment twisting individually as is the norm, one leg can be extended and retracted all at once. The base of the leg is rubberized and easy to grip, and by twisting left to unlock, the segments all unlock together and can be tightened into place by twisting right.
I have never seen this before and while I'm not sure if this is the first tripod to do it, it is the first time I've encountered it and it's amazing. While you can lock and unlock each segment individually if you want to by twisting each segment by itself, it's clearly designed to be deployed and retracted all at once. At this, it excels.
I recognize that the convenience that this design affords isn't without some drawbacks. First, once fully deployed it can be a bit of an annoyance to make minor height adjustments to any leg since you have to reach down so far to do it. I also am not sure if this design will hold up to dust, sand, and grime quite as well as traditional locking legs will. That said, it doesn't seem difficult to take apart and clean. The feet also are not interchangeable, which means if you want spikes on them, you're out of luck.
Still, for a tripod this small and lightweight, I'm willing to make some sacrifices and the ones Ulanzi and Fotopro ask me to make are minor compared to the benefits of the full package.
There is Some Real Innovation Here
While I have tipped my cap to brands like Peak Design for innovating a way to make the whole tripod package more compact, that tripod wasn't any more usable in other aspects of its design. In fact, I argue that tripod sacrifices usability in exchange for portability.
While the X-Aircross F38 doesn't compact down quite as small as Peak's Tripod, it is remarkably lightweight at just over two pounds total and doesn't ask me to sacrifice any usability that I would expect from a full-size video tripod. That fact alone is extremely impressive. Ulanzi and Fotopro managed to create a tripod that shows sparks of real innovation in the stabilization space, which is quite the rarity these days outside of adding electronics into the equation.
When I first took this tripod out to test, I found myself constantly laughing at how many neat little touches it had. From the included Allen Wrench and hidden smartphone clip to the ingenious design of the twist-locking legs and the incredibly functional tiny pan-tilt head, I was legitimately excited about how gosh-darned cool this little tripod is.
Perhaps more surprising is the price: it's just $260. That's not very much at all for what you get here, and I honestly am not sure how they're getting it to be that cheap yet this well made — it's seriously awesome.
---
Welcome to a PetaPixel Showcase, in which our staff gives you a hands-on with unique and interesting products from across the photography landscape. The Showcase format affords manufacturers the opportunity to sponsor hands-on time with their products and our staff, and it lets them highlight what features they think are worth noting, but the opinions expressed from PetaPixel staff are genuine. Showcases should not be considered an endorsement by PetaPixel.