ZY Optics' 65mm f/1.4 is the Fastest Prime Lens for Hasselblad X Cameras
Zhong Yi (ZY) Optics is making its Mitakon Speedmaster 65mm f/1.4 lens originally designed for the Fujifilm GFX available for Hasselblad X, which will make it the fastest lens option for the medium format system.
The manual focus lens provides a 35mm equivalent focal length of 50mm. ZY Optics says Mitakon Speedmaster 65mm f/1.4 is set to become the first f/1.4 lens option for Hasselblad X, which also makes it the fastest lens available for the system. It is worth noting that just like the focal length, the equivalent aperture is also wider than f/1.4.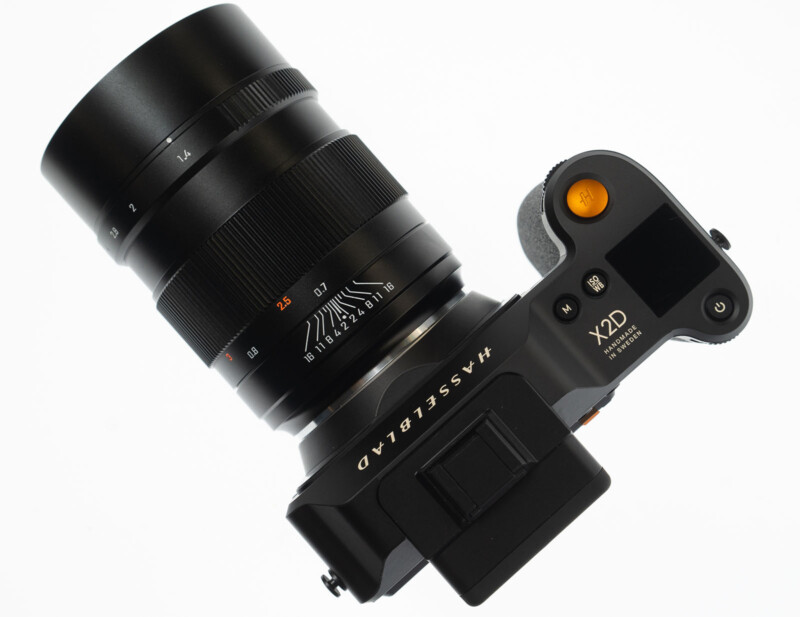 ZY Optics says the lens, therefore, allows for enhanced low-light capabilities and greater control over an extremely thin depth of field. Specifically, the company claims the "prolonged focus throw" combined with the metallic housing design further allows for precise control over focus accuracy, making the lens ideal for photographers who seek "optimal image quality in challenging shooting scenarios." Additionally, that shallow depth of field offers "unparalleled control over depth of field, allowing for dreamy and isolated subject matter that is set apart from the softly blurred background."
Since it is equivalent to a 50mm lens, the company says that the Mitakon 65mm f/1.4 offers photographers a more portrait perspective that is in line with human eyes. It also produces its bokeh pattern thanks to a nine-bladed circular diaphragm that ZY Optics says makes for background defocus that is akin to butter in its texture and appearance.
While bokeh pattern is important, so is overall lens performance. To that end, ZY Optics says the lens delivers "exceptional" images across the entire frame even when wide open. The construction of 11 elements arranged into seven groups includes two ultra-low dispersion glass elements and two high-refraction index elements which the company says are precisely arranged to deliver optimal sharpness and clarity.
"As a result, the lens is capable of capturing images with sharp details and minimal field curvature, ensuring the highest possible resolution is retained along the edges of the frame," ZY Optics claims.
The company adds that the aperture and focus rings feature clear and precise scaling that are "discreetly" embedded on the metal barrel. With a particularly long focus throw, ZY Optics says that the lens has enhanced precision when focusing on specific objects.
The new Mitakon Speedmaster 65mm f/1.4 for Hasselblad XCD is available directly from the ZY Optics website for $599.
---
Image credits: Zhong Yi Optics