Mitakon Speedmaster 135mm f/1.4: $2,999 Gets You the World's Fastest 135mm
The Chinese company ZY Optics just opened up pre-orders for quite an unusual lens. It's a Mitakon Speedmaster 135mm f/1.4 that boasts one of the largest apertures you'll find for the focal length. It'll also be quite expensive and extremely rare: the price tag is a hefty $2,999, and less than 100 units will ever be made.

ZY Optics tells PetaPixel the lens is a pre-production prototype that it's planning to show off at the PhotoPlus Expo this week alongside a Mitakon Speedmaster 25mm f/0.95, Creator 135mm f/2.8 II, and Speedmaster 35mm f/0.95 II.
"The development and material cost is extremely high," ZY Optics says. "It's currently the fastest 135mm lenses in the market which is still in production. It is not necessary a retail item but a collectors item."
Specs of the lens include a minimum focusing distance of 1.6m (~5.25ft), 11 elements in 5 groups, an 11-blade aperture, a clickless aperture ring, a 105mm filter thread, and a weight of 3kg (~6.6lb).
Here are some more photos of the lens that were posted to Weibo last week: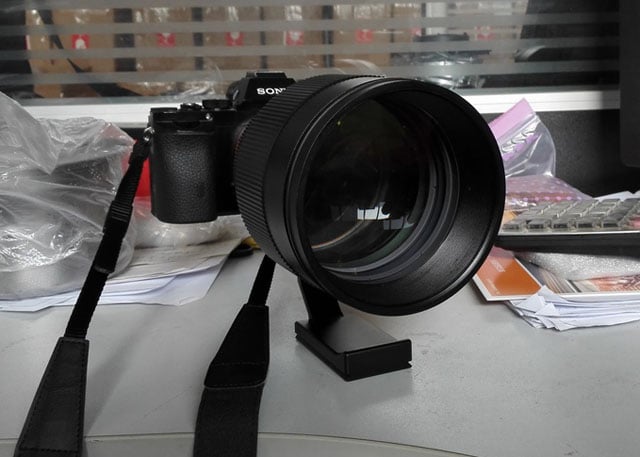 ZY Optics just posted these sample photos showing what the lens can do.
The Mitakon Speedmaster 135mm f/1.4 will be available for Canon, Nikon, and Sony FE mounts. If you're interested in being one of the <100 lucky owners, you can place a pre-order with a $500 deposit on the ZY Optics website.