The Instant Box Camera is an All-In-One Mobile Film Photo Studio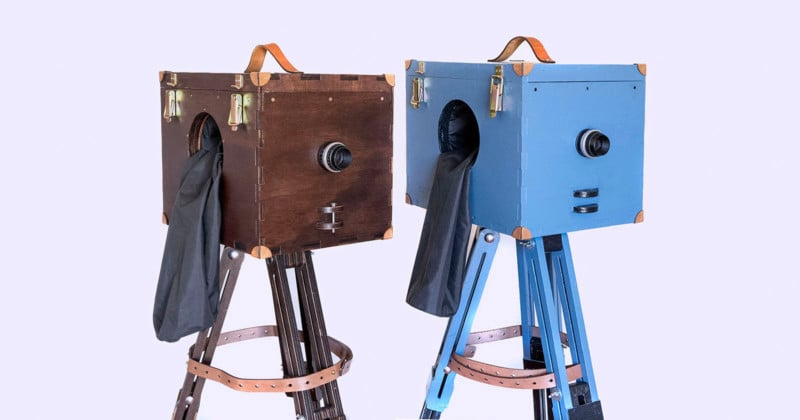 The Instant Box Camera is a portable camera and darkroom all in one. It features a 110mm f/4.5 lens attached to a box that allows photographers to capture a photo and process the film all in one mobile photo studio.
The system is developed by Lukas Birk, who was the founder of the Afghan Box Camera Project which was an early model of basically the same concept. That project from 2012 has now matured into what Birk is calling the Instant Box Camera, which he says lets those who want to expand their photography skillset work with traditional photo techniques without needing access to a darkroom.
"You can see it in the eyes of those who experience them for the first time, especially if they are not aware of how photography works," Birk says.
"I have collected stories about the magic of this camera from Afghanistan to Turkey, from Pakistan to Mexico, and I am still fascinated by the simplicity yet wonderful flexibility the camera has to offer."
The Instant Box Camera is designed to take photos directly onto photo negative paper, although Birk says that photographers can expose negative sheet film or other light-sensitive surfaces as well. Behind the 110mm f/4.5 lens and inside the box are the trays for chemicals that are necessary for developing and fixing a photo that has been taken right on the spot.
Speaking of the lens, it is a 110mm f4.5 Industar lens, an optic from the Soviet era that Birk says is very well built. While the camera comes with this lens, the box has a M39 mount which allows it to be swapped out for any other lens that works with M39.
Birk says that all the materials needed to develop a photo are easily available and do not require going to a specific manufacturer or brand to support the hobby. He also says that taking photos with readily available darkroom paper and associated chemicals is chapter than any other instant camera film on the market. Birk also says that taking a photo with the Instant Box Camera does not require any specific skill or training.
Birk highlights three main ways that the Instant Box Camera can capture a photo. First is the negative-positive process, which he says is the cheapest and allows the most flexibility.
"Using regular darkroom paper with the Instant Box Camera, you get a negative image first. The negative is then photographed with the negative holder to obtain a positive photograph," Birk says. "Through this method, you can create multiple positive images from the same negative. You can also manipulate the image when taking a positive by cropping, tinting, or montaging the negative. You can use fix either grade or multigrade paper."
To take color photos, the Instant Box Camera can shoot to RA-4 paper, though a photographer will need an extra set of color developer and fixer on hand.
For faster photos, it is possible to use direct positive paper where each exposure results in a positive image. This method is slightly more expensive, but Birk says it is manageable if photographers stick with a smaller finished size.
"The Instant Box Camera can be used with any light-sensitive surface. You can coat your own paper, expose it and process it in the box," Birk adds. The same goes for sheet film: you just need film developer instead of the paper one."
The Instant Box Camera is an all-inclusive system outside of paper and chemicals. It comes with the lens, the box camera itself, and tripod legs. There are two options for the camera on Birk's Kickstarter: assembled and non-assembled. The latter is cheaper at 395 euros (plus shipping) — about $373 — while the fully assembled camera is 650 euros (plus shipping) — about $694. Full details on all backing options can be found on the Instant Box Camera Kickstarter.
---
Image credits: Lukas Birk, The Instant Box Camera
---
Disclaimer: Make sure you do your own research into any crowdfunding project you're considering backing. While we aim to only share legitimate and trustworthy campaigns, there's always a real chance that you can lose your money when backing any crowdfunded project.