Pinsta Instant Camera: An Analog Micro Darkroom and Negative Enlarger
Pinsta Instant Camera is a new pinhole camera that can shoot directly onto positive 4×5 inch photographic paper where it develops internally, eliminating the need for a darkroom.
The selling point of the new pinhole camera is that it can shoot and print analog photographs in any location. Project creator, Oliver New who started his career fabricating parts used in analog photography print processors says this system makes analog photography available to everyone, letting photographers preserve, engage in, and show others the magic of analog photography. New also says the system would be excellent for educational and photography courses and help amateur photographers learn more about the traditional processes.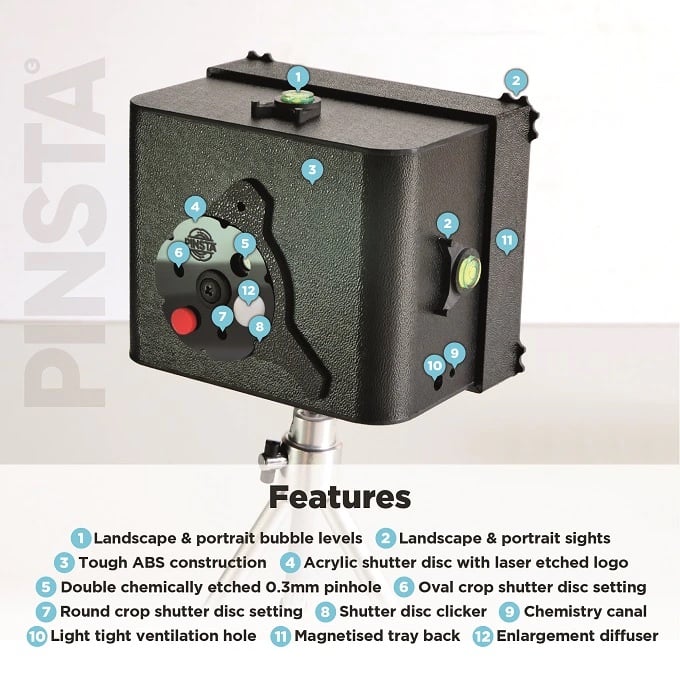 The camera not only shoots instant images but also doubles as a mini-enlarger. Simply load the (35mm, 6×45, or 6×6) negatives into the internal enlargement slide and you can enlarge them onto 4×5 inch paper. It is even possible to create prints with what New describes as fun and creative frames and overlays using Pinsta's internal slide system. The only additional "darkroom gear" investment customers will need to acquire is a dark bag for loading the next shots into the system. Once this is done, capturing the frame is simple and follows the standard pinhole photography rules.
Position the camera to get the shot you want and open the shutter. On a normal sunny day, a typical pinhole exposure will take about two minutes, and then the prints are developed with regular photographic chemistry that is inserted and extracted with a set of included syringes using the camera body as the darkroom and the camera back as the developing tray.
New says a set of the included syringes will develop around four to five shots depending on the type of photographic paper that is being used. Once the syringes have been used, photographers can simply reload them using their own chemistry to continue shooting and developing on-site.
For extra creativity and fun, the team says the internal light baffle can be used as a filter slide for customizing the photos or enlargements with overlays, textures, double exposures, or shaped exposures.
New says they see the Pinsta as a fun tool for hobbyists, an excellent tool for artistic creators, and a brilliant learning tool for educators. He hopes the system will be used all over the world in education and recreational photo workshops, and he hopes to expand on its usability by adding film backs for 35mm and 120 film, a wide-angle back, 10×8-inch back, a narrow-angle extension back, as well as a dedicated smartphone app for automatic exposure calculations when on location.
Below are a few sample images taken with the system: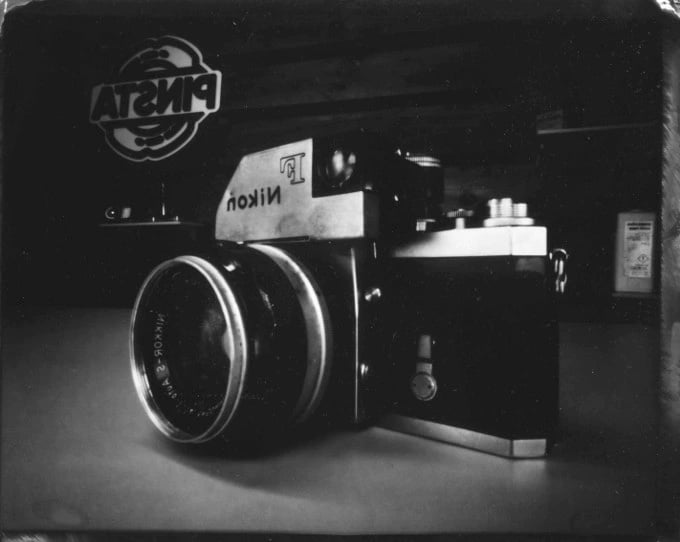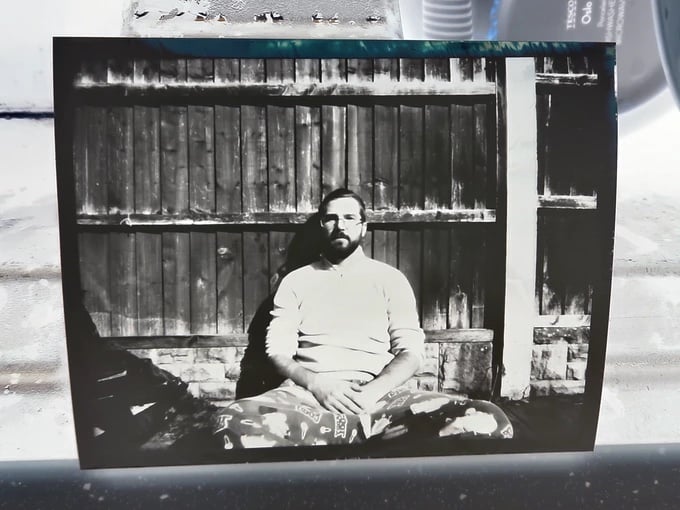 Pinsta can be backed on Kickstarter starting at approximately $215 for the Earlybird Camera Basic set which includes the Pinsta Camera, 3x chemistry syringe and a Light Baffle/Filter slide, or up to $4000 USD for the Super Multi-Camera Kit (ideal for workshops and schools) which includes 20 Pinsta Camears, 60 Chemistry Syringes and 20 Light Baffle/Filter Slides. Shipping of the cameras is expected to start in February of 2022. The full set of backing options can be found on the Pinsta Instant Kickstarter.
---
Disclaimer: Make sure you do your own research into any crowdfunding project you're considering backing. While we aim to only share legitimate and trustworthy campaigns, there's always a real chance that you can lose your money when backing any crowdfunded project.