Meike's New 60mm f/2.8 Macro Lens for APS-C Cameras Costs Just $190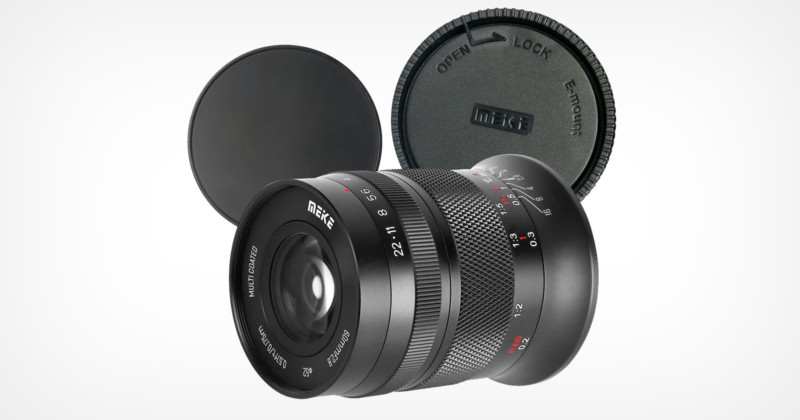 Meike has announced a new 60mm f/2.8 manual focus macro lens for APS-C mirrorless cameras. The lens will be available in various mounts, including Sony E, Fujifilm X, Nikon Z, Canon EF-M and RF, and Micro Four Thirds.
Priced at a very reasonable $190, the lens is an affordable option for APS-C mirrorless photographers looking to capture close-up and macro photos. The lens' effective focal length depends upon the mount, but on APS-C cameras, it will be roughly a 90mm equivalent macro lens, while on Micro Four Thirds, it'll be a 120mm macro prime.
The lens includes 11 elements organized across eight groups and features a nine-bladed aperture diaphragm. The lens features a manual aperture control ring with a ridged grip surface. The lens' focus ring incorporates a diamond-knurled texture and includes focus scale markings. The markings include metric and imperial distance measurements, magnification markings, and a depth of field scale. The lens delivers 1:1 magnification at its minimum focus distance of 6.9 inches (17.5 centimeters).
The lens is reasonably lightweight, weighing just over 10.5 ounces (300 grams). Precise physical dimensions aren't available, presumably due to some minor variance depending upon the lens mount, but the lens includes a 49mm filter thread.
Meike's new 60mm f/2.8 macro lens is the company's only available dedicated macro lens. However, it joins many other Meike lenses for still photography and cine applications. All of Meike's lenses are manual focus designs, save for the relatively new 85mm f/1.8 AF lens for full-frame E-mount cameras. Like the new macro lens, the 85mm prime represents a tremendous value, priced at just $200.
Meike, a Hong Kong-based manufacturer, is a prolific lens maker. The company has also recently released a super-fast 35mm f/0.95 APS-C prime lens for six different camera mounts, a 25mm f/0.95 lens for APS-C cameras, an ultra-wide 10mm f/2 APS-C prime, and an 8mm f/2.8 ultra-wide prime for Micro Four Thirds cameras.
While the manual focus design may limit the versatility of Meike's new macro lens for action photography, it is suitable for many macro photography applications. It should also work well for photographing still life, especially when working on a tripod. There are autofocus macro lenses available for all the same mounts as the Meike 60mm f/2.8 lens, but the dedicated macro lenses will cost more than $190 — considerably more, in some cases. For example, the Olympus M.Zuiko Digital ED 60mm f/2.8 Macro lens for Micro Four Thirds is $550. Nikon's affordable macro lens for Z mount, the Z MC 50mm f/2.8, is $650. Granted, that's a full-frame lens, but it's suitable for use on an APS-C mirrorless camera.
The Meike 60mm f/2.8 APS-C macro lens is available to order now for $190. It will begin shipping on March 10.
---
Image credits: Meike