Picsart is the First Major Editor Able to Generate Two AI Avatars in One Image
Picsart says that its latest update to AI Avatar allows it to generate two people in one image. The company says it is the first major artificial intelligence (AI) photo editing platform to support this.
The company's AI Avatar generator was launched in late December and allows users to generate self-portraits that look like they were created by a digital artist. Like its other AI image generation tools, the platform is based on Stable Diffusion which uses advanced machine learning algorithms to turn users' photos into "unique artistic portraits."
AI Avatar originally only supported single portraits, but an update this week expands that to support two simultaneous people in an image and is intelligent enough to tell them apart.
After uploading between five and 20 photos of two people, Picsart AI Avatar is able to create a set of stylized images of the two parties. The photo editor supports several different styles like cyberpunk, pop art, fantasy, and illustration, and after an image is generated. it is able to be edited further with Picsart's tools.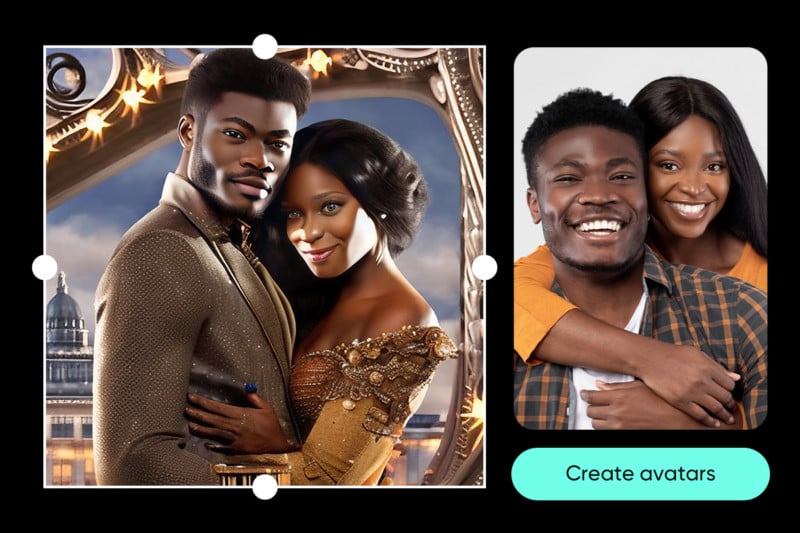 AI Avatar Couples is available now on the Picsart app for iOS and Android and can be purchased in packs of 50, 100, and 200 which cost $3.99, $4.99, and $6.99 respectively.
While the ability to work with two different users per image is a unique and impressive addition, it might struggle to gain widespread popularity as the AI-generated avatar space is beginning to sputter out.
Data from app intelligence firm Apptopia indicates consumer interest in AI photo apps has fallen as quickly as it ascended in late 2022, PetaPixel reported earlier today. While interest in these apps soared around and through December where downloads of apps that could produce AI Avatars jumped to around 4.3 million daily downloads and around $1.8 million per day in consumer spending via in-app purchases.
But since then, the interests has fallen off a cliff and AI photo apps saw only around 952,000 combined downloads and approximately $507,000 in consumer spending and the numbers continue to drop.
Most, of not all, of these apps only have the ability to generate avatars based on a single input person, however, making Picsart's offering unique. That said, it's unclear if that will be enough to hold user interest as the entire segment wanes.
---
Image credits: Picsart