Viewbug Gigs Wants to Reward You for Photographing Strangers
Viewbug Gigs is a new service that wants to reward photographers for capturing images of strangers by providing a way to monetize them.
Viewbug, which describes itself as a photo community and contest platform and recently got in on the NFT game, has launched Gigs as its answer to what it characterizes as an often underappreciated skillset.
The best way to turn your photos into income👇https://t.co/chdgyyckhQ pic.twitter.com/DhnCU32pF3

— VIEWBUG 📷 ❤️ (@viewbug) January 10, 2023
"Photographers capture life moments like these every day. Yet, only sometimes can a photographer be rewarded for taking these images," the company says. "More often, photographers are underpaid or unrecognized for their work. Amazing photos often stay inside the camera; even the heroes in these photographs don't get to see them. Viewbug Gigs wants to change that."
Through Gigs, Viewbug says that it will be able to allow anyone with a camera to profit from capturing and sharing photos of other people, even strangers.
The idea behind gigs is that a photographer may stumble across a memorable moment happening in real-time or position themselves at an event where their services may be needed. After they capture photos, they can provide a QR code to their subjects which will lead to an online gallery of photos.
Once a prospect has a photographer's QR code, they will see their Gigs profile and are able to search through it by date, order prints, and pay for instant downloads of any photos they like.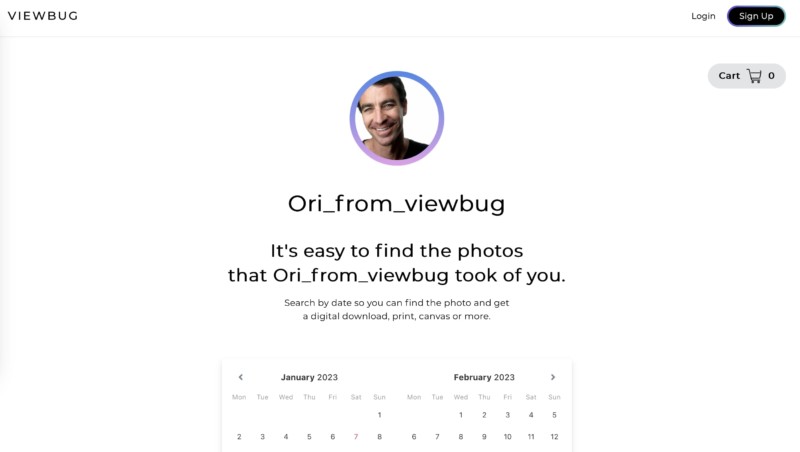 If prints are selected by a customer, ViewBug works with its printing partners to handle production and shipping, so photographers don't need to do anything once a photo has been uploaded and a potential customer has been directed to the gallery with a QR code.
Viewbug members, including Gigs users, get unlimited photo storage and they can choose a markup for printed products such as canvas prints and framed prints (Viewbug recommends 20%, but this can be edited at any time). $15 is the standard pricing for digital downloads. Viewbug charges a transaction service fee for every photo sold (which was not disclosed in Viewbug's media materials nor on its website) and photographers can cash out from the Gigs once their balance exceeds $20. Transfers take five to seven business days to complete and is done through PayPal.
Viewbug clarifies that Gigs users can delete any photos that have been uploaded to the platform at any time and digitally downloaded photos paid for by customers include the right to fully use the photos as they see fit, but photographers retain the rights to the photos.
Interested photographers can set up an account for free on Viewbug.
---
Image credits: Viewbug