Hands-on with the Cyber Acoustics CA Essential Webcam Flex: A New Angle
When you set up a webcam, you usually park it in one ideal spot and leave it. The Cyber Acoustics CA Essential Webcam Flex looks to change that by changing all the angles.
That means using articulation, both in the arm and camera itself, to offer at least three different viewpoints from an adjustable arm and swiveling camera module. The idea is to enable faster and smoother orientation during video calls, meetings, presentations, demos, and livestreams.
Cyber Acoustics sent PetaPixel a pre-production unit to test out, as final models won't be available until after the current Kickstarter campaign ends. While it has its kinks, the overall design is very close to the finished product that will sell for $129, giving us a good indication of what to expect from this unique webcam.
Design and Setup
Cyber Acoustics built the Essential Webcam Flex to be versatile out of the box, making it a plug-and-play device that works with Windows PCs, Macs, and Chromebooks. Without drivers to install, the webcam isn't beholden to any dedicated software program or interface to set up or customize its features. Instead, the Flex requires more hands-on mechanics, positioning it however you want as you need to. It has a single cord with a USB-A plug, so you will need an adapter if all you have are USB-C ports.
The base has a rubberized lining underneath to grip when sitting on a monitor, while the protruding lip hooks onto the front. Bend the flexible hinge on the back to push the other half of the base against the back of the monitor for leverage and stability. If your setup is different, you can close the base and use the screw mount underneath to put it on a tripod instead.
Either way, it's going to be a two-handed affair to situate and angle it how you want. Cyber Acoustics reps told me the swivel actions, particularly for the arm, were made intentionally stiffer to ensure more stable placement. Another reason is that the arm (which is 19 centimeters, or about 7.5 inches, long) also slides back and forth to either increase or decrease proximity, say if you're sitting closer or further away from the camera, or if you need to show more or less of the demo area when you angle it downward.
That's the key behind this all. The Essential Webcam Flex swivels up to 90 degrees in either direction, letting you orient it facing you or facing down. You could also point it up, if that's ever necessary.
Cyber Acoustics calls out three distinct viewing angles: Center Cam View, Table Cam View, and Traditional Cam View. Of them all, Center Cam is the most obtrusive because it lays the camera flat along the front of the monitor, made possible by the fact the arm's base also turns 90 degrees, giving you yet another way to set up the webcam's position. That way, you look at both the screen and webcam to give video callers more eye contact. Table and Traditional are probably the more common of the three angles, and where I tended to use this webcam most.
Onboard Controls and Framing
Three buttons make up the onboard controls. Starting with the Zoom button at the top, where a simple press cycles through five preset zooms, which lets you get closer to either yourself or a subject/product you're highlighting. At its widest, the camera has a 75-degree field of view. That would roughly equate to 18-24 inches away in Table View. Given there's no optical zoom here, digital zoom applies, essentially prioritizing pixels in the center of the frame, but also opening the door to more noise.
Press the Rotation button once to flip the image 180 degrees, or press and hold for two seconds to flip it so that everyone on the video call sees the image in a proper orientation — not upside down or backward. This feature alone raised my eyebrows when seeing it in action because it greatly simplified how to show something on a table without worrying about physically reorienting or framing.
The Focus button then comes into play, where a single press activates autofocus from a distance within 2-3 feet, which is ideal for locking on to you as a webcam. The Essential Webcam Flex doesn't have face detection, so if you prefer fixed focus, press and hold for two seconds to switch to that mode. An LED indicates which mode or setting is active, as there is no other way to tell. The autofocus applies at all five zoom levels and is pretty fast honing in on whatever is in frame.
Image Quality
Given this isn't a final product yet, I can only go by what my eyes tell me, and in that regard, the Essential Webcam Flex has its up and downs — not just literally in placement, but also in output. The 5-megapixel camera has 1080p resolution at 30fps, which is fine for video calls, but whether it's good enough for streaming is a bit less cut and dry especially now that 4K webcams like the Razer Kiyo Pro Ultra are available (for a lot more money).
While output was totally acceptable in brighter conditions, low light proved more challenging with grain and noise entering the picture. I could see Cyber Acoustics was stuck in a dilemma and the company acknowledged as much when I asked about it. A larger sensor would've required a bigger housing for the camera, which then would've altered the weight distribution for the arm and base. Company reps told me they experimented with something bigger but ultimately chose not to because it would've increased both the size of the overall product and its current price. So, if you feel like 1080p and a Type 1/2.7 sensor are compromises, that's because they pretty much are.
At the same time, the utility involved here is hard to ignore. If I was video chatting with a relative or friend overseas and wanted to demo or unbox something with a closer look, simply flipping the camera down and adjusting focus was an easy way to do it. That part wasn't surprising because video calls don't always come with expectations for dynamic hands-on show-and-tell like this. For streamers, however, the stakes are different, and Cyber Acoustics believes the Webcam Flex has something for them, too.
With 4K webcams out there, I would say it depends on what a streamer is looking for. Creating content is subjective when it comes to gear, and this is no different. There is no fluid or super graceful way to reorient or switch the camera's view, at least not while streaming live. The only thing this webcam does automatically is adjust focus (when in the right mode) and for low-light.
For educators and those in business, I could see the value add. The pandemic placed huge emphasis on webcams with all things going virtual, and I can imagine the Webcam Flex would've attracted serious attention had it launched in 2020 or even 2021. Even so, virtual health care and schooling is still a thing, and the ability to show or demo something in front of a computer, regardless of whether it's part of a job or simply to help someone in need, can be immensely satisfying.
Tilting and Turning
I'm not sure the Essential Webcam Flex will cater as much to certain streamers, mainly because video quality isn't as uniform when lighting conditions change. I noticed this when trying to show how the menu system works on the Fujifilm X-T5 during a dummy presentation with a friend. The screen reflects light, but to show it properly, I either need to move the camera closer to it, or leave the camera in place and dim the lights a little to make it more visible. Without any granular exposure controls, I can only work with what the cam gives me.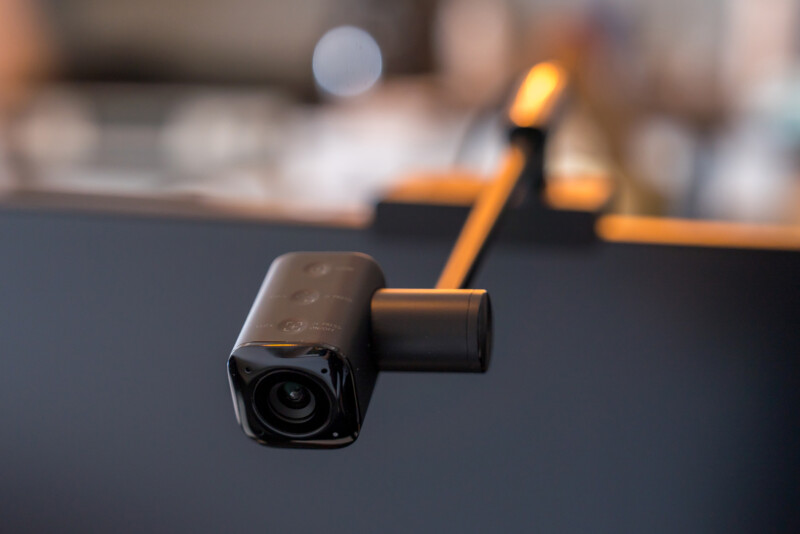 What's more interesting here is how the Webcam Flex offers different angles and perspectives without buying other gear. It's a thoughtful design that addresses real pain points for anyone that needs to get hands-on in a video call or virtual presentation. If the lighting is good, you should be fine. If your content demands the highest possible video quality, no matter the footage, this isn't going to deliver that for you.
But $129 is very reasonable for a webcam that does what the Webcam Flex can. It's in a product category that hasn't pushed the envelope a whole lot on design anywhere near as much as it has on the internal components over the years. Cyber Acoustics says that's why it went the crowdfunding route to start. If they build it, will people come? I would say yes, but perhaps not everyone they had in mind.
---
Image credits: Header photo via Cyber Acoustics, all others by Ted Kritsonis for PetaPixel.
---
Disclaimer: Make sure you do your own research into any crowdfunding project you're considering backing. While we aim to only share legitimate and trustworthy campaigns, there's always a real chance that you can lose your money when backing any crowdfunded project.