Rode's New VideoMicro II is Totally Redesigned for Better Performance
Rode has announced the successor to its compact on-camera microphone, the VideoMicro II. The company says this new iteration adds on to the original with new features and enhanced performance.
The original VideoMicro was introduced almost 10 years ago and Rode says that it provided content creators a way to capture crystal-clear audio in a remarkably compact and lightweight package that was also incredibly simple to use.
"It has since become the world's best-selling on-camera mic and has spawned many imitators, though none have replicated the professional performance of the original," Rode's CEO Damien Wilson says. "Over the past ten years, we have continued to innovate across our entire VideoMic range, and we are excited to now update the VideoMicro with next-generation features for today's creators."
The new VideoMicro II weighs a scant 39 grams and plugs directly into a camera or smartphone and allows the devices to capture higher-quality audio. The shotgun-style design is a true condenser microphone with what Rode describes as a supercardioid polar pattern that it says allows for highly directional audio capture that focuses on what it is pointed at while reducing background noise.
A Totally Redesigned Microphone
The body of the microphone has been redesigned and uses Rode's annular line tube technology, which the company says provides unmatched transparency and natural, full-bodied sound. Rode also says that the mic's circuitry has been overhauled to offer enhanced sensitivity and lower self-noise.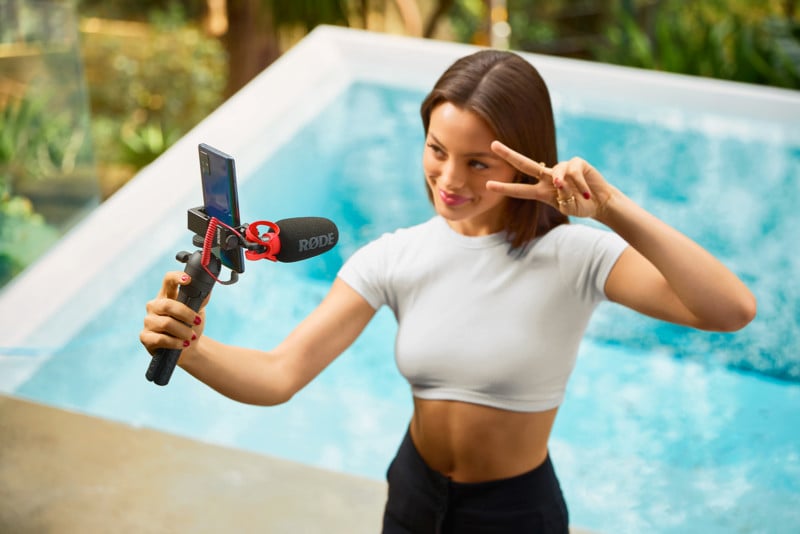 The result is a microphone that Rode promises delivers "incredible" sound quality "never before heard" in such a compact form factor, but doesn't change any of the usability benefits of the original and remains just as simple to use since it requires no batteries to operate and has no "complicated" controls.
Rode says that one of the most noticeable new features is the red suspension mount, which it calls a HELIX isolation mount. This shock mount system was developed in-house at Rode specifically for the VideoMicro II and the design is touted as solving many of the issues that other shock mounts face when used with compact microphones.
"Molded from a single piece of advanced Hytrel thermoplastic, it fully isolates the capsule from vibrations that occur from knocks, bumps, and general handling, which can result in rumbles and other audio artifacts in a recording," Rode claims. "It is designed to the exact size and weight of the microphone, ensuring optimal stabilization and acoustic performance, while being super low-profile."
It also has cable management slots and a standard mount for attaching to a camera's hot shoe as well as a 3/8-inch thread for mounting to other accessories, like a boom pole. The VideoMicro II comes with both a foam and furry windshields and a 3.5mm TRS to TRS cable for connecting to cameras and a 3.5mm TRS to TRRS cable for connecting to smartphones.
Pricing and Availability
The Rode VideoMicro II is available starting today for $79.