Rode's New Wireless ME is a 'Grab and Go' Wearable Microphone
Rode has announced a new wireless microphone that carries the advantages of the company's RodeLink and Wireless Go series but compresses them into a device that was designed to have "unprecedented" ease of use.
The Wireless ME is Rode's solution for creators who primarily operate from mobile devices. The company says it combines the sound quality and "innovative features" found in Rode's previous wireless microphones but houses them in a smaller, "grab-and-go" system that is extremely easy to use.
The new microphone is extremely compact and yet still uses Rode's "state-of-the-art" Series IV 2.4 GHz digital transmission to allow for crystal-clear recording with over 100 meters of range. It also uses Rode's Intelligent GainAssist technology, which the company says automatically controls audio levels to create "perfectly clear" sound in any application.
"This technology is significantly more advanced than standard automatic gain control features found on cameras and other audio devices, delivering incredibly clean audio with no level pumping or background noise elevation," Rode claims. "There are two modes available, 'Auto' and 'Dynamic', allowing users to choose the perfect setting for their recording scenario. The output gain can also be adjusted to perfectly match the recording device."
Despite its small size, the microphones in the Wireless ME are what Rode describes as broadcast-grade and they are present in both the transmitter and receiver for dual channel recording.
In what Rode describes as a world's first, the Wireless ME features a "narrator" microphone built into the receiver unit. Dubbed the "ME Mic," this feature allows creators to record audio from audio in front of and behind the camera simultaneously, making it ideal for capturing two-way interviews or voice overs for video content. A second Wireless ME or Wireless GO II transmitter can also be connected to the receiver, allowing for versatile dual-channel recording, or even a unique three-microphone wireless system.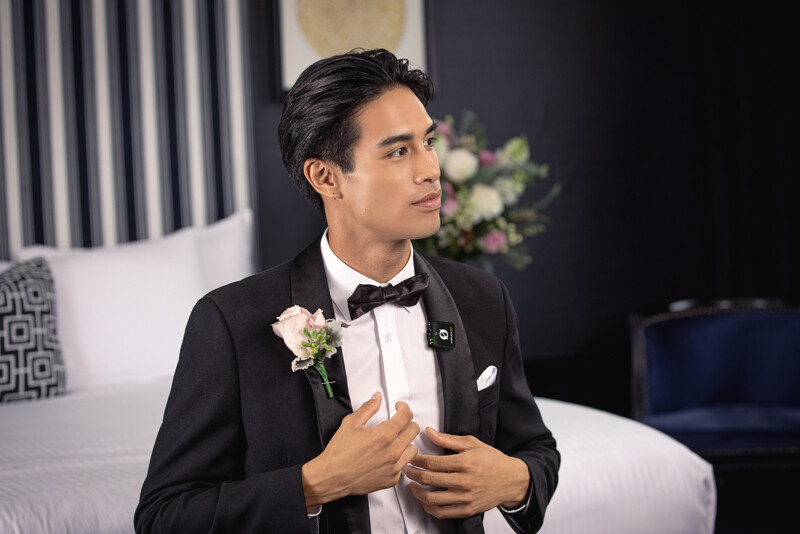 Rode says the Wireless ME can connect with cameras, smartphones, and tablets (either iOS or Android devices) as well as both Mac and Windows computers, and all necessary cables are included. The new microphone is compatible with multiple Rode apps, including Rode Central, Rode Connect, Rode Reporter, and the new Rode Capture.
The Rode Wireless ME launches today for $149.