Synology's New DS923+ 4-Bay is a Compact NAS for Home Businesses
Synology has announced the DiskStation DS923+ network attached storage (NAS) system, the latest addition to its Plus line of storage devices for home businesses.
Following the DS1522+ five-bay NAS it announced in June, the DS923+ is a smaller, four-bay NAS that still offers enough drives for the average home office and is powered by the same DiskStation Manager operating system. Synology says that it can function as the primary storage and data backup solution for a home office and is capable of storing more than 50TB across its compact four-bay setup.
If more storage is eventually necessary, the DS923+ can be expanded to hold 120TB across nine drives through the use of a DX517 expansion unit. That's an absolute boatload of data, even enough to accommodate small video production companies.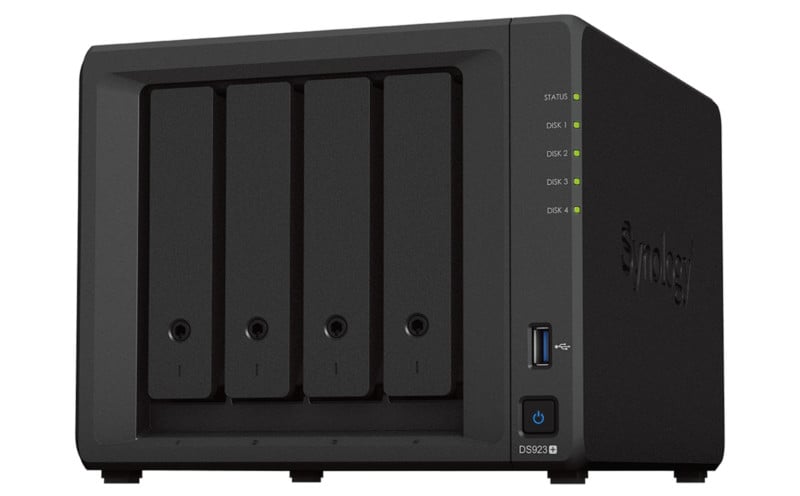 Out of the box, the DS923+ features 625 MB/s sequential read speeds and 559 MB/s sequential write performance. Synology says that it can get a performance boost by upgrading to 10GbE networking and by adding M.2 NVMe SSD drives through the built-in PCIe slot to enable fast caching or create additional all-flash storage pools. That's a solid amount of customization for a relatively compact device that measures 166 by 199 by 223mm (about 6.5 by 7.8 by 8.8 inches).
The DS923+ can mirror Synology devices across multiple locations through Synology Drive. The company says it can also work as an on-site high-performance local storage while simultaneously reducing footprint using hybrid cloud technology.
"Synology Hybrid Share efficiently stores cold data in the cloud and keeps frequently accessed files cached on the device for access at LAN speed," the company explains. "Syncing between cloud storage services and up to five Synology servers enables deployments to benefit from the convenience of the cloud and the speed of local access over LAN. One-way or bidirectional syncing can be configured to cater to each team's needs or requirements."
Finally, Synology's Active Backup Suite allows IT infrastructure — such as Windows and Linux systems, Hyper-V and VMware VMs, and Microsoft 365 and Google Workspace accounts — to be safely backed up onto the D923+ and easily restored when needed.
The Synology DS923+ is available for $600, but be aware that like most Synology NAS products, it does not include hard drives.