Nick Wosika: A Look at the Work of a Top Sports Card Photographer
Nick Wosika, a self-described photo addict with a sports problem, is living his dream life: shooting hockey and baseball sports cards and collecting them too.

Wosika
, from Shakopee, Minnesota, a suburb about 30 minutes southwest of Minneapolis, has been collecting cards since the early eighties and doing photography since he was 25.
Getting photos on sports cards "was one of the main reasons I picked up a camera in the first place," Wosika tells PetaPixel. "I started doing photography about 20 years ago, so it was a no-brainer to merge my two great passions. It was always a goal of mine to get my work onto trading cards, and once that happened via working for a wire service, Icon Sportswire, I've been full throttle on it ever since.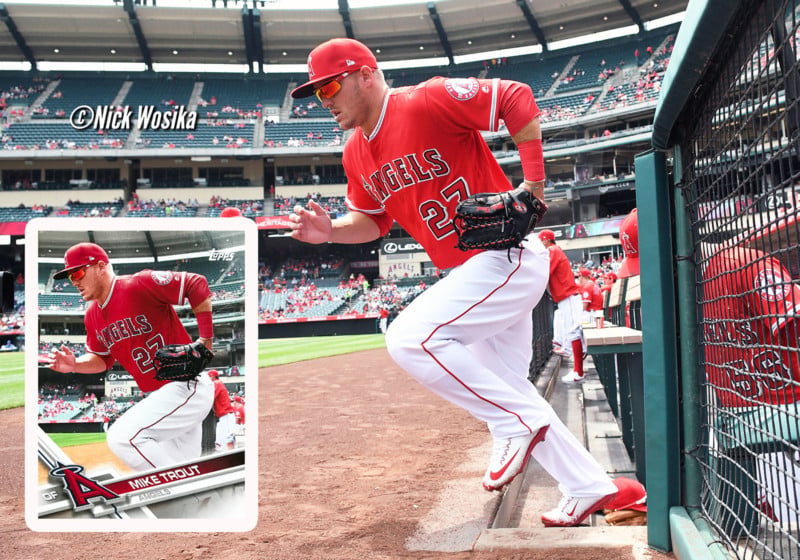 "It was something I always wanted to do, but as I'm sure you know, gear is expensive. So, after I was done with college and that first check from my first "real job" showed up, I bought a Canon Rebel kit and a whole lot of film and just started taking photos of everything."
What Makes a Great Sports Card Photo?
Wosika always looks through his viewfinder for a particular body position, type of action, or expression – an image that will fit neatly into a sports card.
"I have some guidelines I like to go by," says the shooter collector. "For instance, I always want to see two hands. There are two reasons for this. The first is that these are athletes I am photographing, and they use their hands typically, depending on the sport, of course, and I think they should be prominently featured.
"The second reason is when I was a kid, I had a teammate on my hockey team named Craig Mooney. Craig was an only child, and when you walked into his house, you were immediately met by this giant portrait of him in a pair of jeans and a blue flannel shirt with the sleeves rolled up. His arms were crossed, and he was leaning against a tree. Think overused senior portrait pose, but it was an excellent portrait.
"I remember his mom telling me that the photographer who took the portrait came in second place in some photo contest and that he would have taken first prize if you could have seen both of Craig's hands in the photo. That always sort of stuck with me.
"Also, I want to see the eyes. The story is always in the eyes. I like to make photographs that convey movement and show texture. I want people to see my photos and know immediately that the subject is moving. I also want the viewer to feel like they could touch one of my photos and feel the stitching of the jersey or the droplets of sweat dripping off the end of a hockey player's nose as they get ready for a big face-off.
"Topps [major producer of baseball trading cards] pulls most of their images from Getty. Once I realized this, I became a student again. After all, this was the goal from day one. I started studying what types of photos they were using. For example, I noticed that when selecting frames for pitchers, they tend to pick photos that show the ball still in the pitcher's hand. Usually right as the throwing hand separates from the glove hand or somewhere mid-motion.
"I realized they used very few bat-on-ball photos for hitters. It was mainly at the beginning or end of a swing. And if you can get the end of the swing and the player looking at where they hit the ball, even better.
"Upper Deck [major card company] has the exclusive NHL rights to make hockey cards with team logos. They are not authorized to produce baseball cards with MLB logos, as is the same for Topps. They have exclusive rights to make baseball [MLB] cards with team logos and such but cannot make physical hockey cards."
Shooting for Sports Cards
"I didn't even know [shooting for sports cards] was an option until 2017," says Wosika. "I started doing freelance work for Icon Sportswire. It was a slow go for me at first, but then they [Topps] formed a distribution deal with Getty, AP, All Over Press, and a bunch of other wire services. That was when things really took off for me.
"It's super rewarding for me to land a baseball card because a photo editor can go to Getty and search for Mike Trout [MLB center fielder for the Los Angeles Angels] in 2017 and like 3,000 photos are going to pop up. That means out of all those frames of a particular play, they thought my photo was cool enough to be on a card.
"I geek out on this pretty hard! Not only because I'm a collector but because of how I view photography as a profession."
Wosika was doing well with Topps with his baseball photos being used on their cards, but his real passion was hockey and he had to find out a way to break in. With hockey trading cards, photographers are assigned to cover the required games.
"Upper Deck (the hockey card company) contracts photographers to cover games for them," Wosika says. "Once I found this out, I had to figure out to get a hold of them. LinkedIn was helpful, but then I went to Winnipeg, Canada, to cover a hockey game and met the team photographers for the Winnipeg Jets. They had done work for Upper Deck, and I asked if they felt comfortable hooking me up with the photo editor's contact information.
"They said yes. Gave me the info, and it was just like my first newspaper job all over again.
"I emailed John Ibriks, the photo manager at Upper Deck, and said I know that because of who you are and what you do, you probably get hundreds of these emails a day, but I shoot a ton of hockey. I know your product extremely well, and I'd love an opportunity to work for you.
"Turned out that he needed a photographer in Minnesota, and I've been working games for him ever since.
"The way it works is that I am contracted to cover games for Upper Deck. They arm me with a list of the most important players to get photos of for a particular game.
"The trading card hobby is very much rookie driven, so you are always photographing rookies, but you are also capturing images of new free agent signees and players who may have been recently traded.
"In some instances, a rookie can get called up on a moment's notice, or Upper Deck may not have a photographer in a certain market. In those cases, they will lean on Getty, AP, etc. to get the needed images."
Photo on a Trading Card vs. in the Newspaper
"We have an abundance of hyper-talented photographers in this market, as I am sure is the case all over," explains the sports shooter. "I look at the Star Tribune, which is like the cream of the crop. Every one of their photographers has the mettle to be in a hall of fame for their work. And then there is the disheartening part — what we do is pretty disposable.
"It might get a like or comment online, but people just keep scrolling. To land a cover, a double truck, or a full page above the fold is impressive, but that gets tossed out or recycled the next day by most people.
"If you get the right card of the right player, it gets put in a protective case and is cherished or sold on eBay to someone who will cherish it forever. To me, it feels more lasting."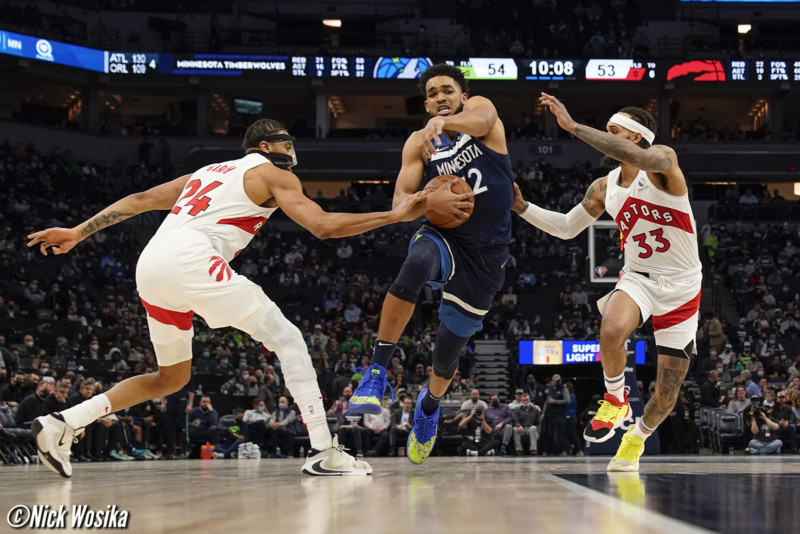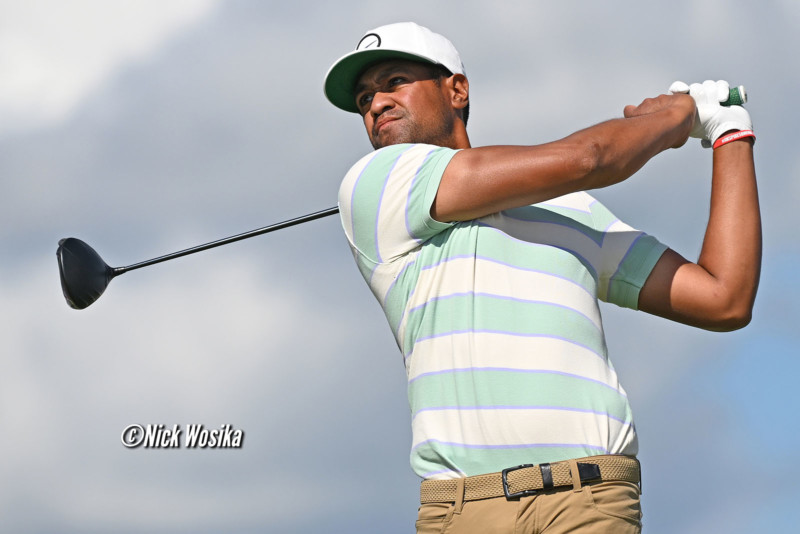 Hockey or Baseball?
Wosika is slightly reluctant to name his favorite sport to shoot between hockey and baseball.
"I like to joke that I am too old to specialize in one sport and that they are like my children," he says. "I love them both equally but for different reasons. Hockey is very much a read-and-react proposition. I've been skating since I was two, playing since I was four, and coaching since I was 18. My hockey background has helped me a ton, but at the end of the day, you are reading and reacting to the fastest, non-motorized team sport on the planet.
"Hockey is such a beautiful game to photograph. The way the players move really lends itself to making solid photographs when done right. I've been playing baseball for almost as long as I've been playing hockey and coaching baseball for six years.
"Baseball is very much a situational game, and covering is essentially a series of if/then statements. If the ball gets hit here, then the play will be here. You're constantly calling on past experiences to come up with solid photos."
Getting Into Digital Photography
Wosika was teaching himself by trial and error the ins and outs of shooting film but did not have much luck.
"It was a trial by fire, really," remembers Wosika. "I went back to school for photography after a handful of unsuccessful trips to the camera store to pick up the photos I had developed. They weren't awful, but they weren't turning out how I saw them in my head."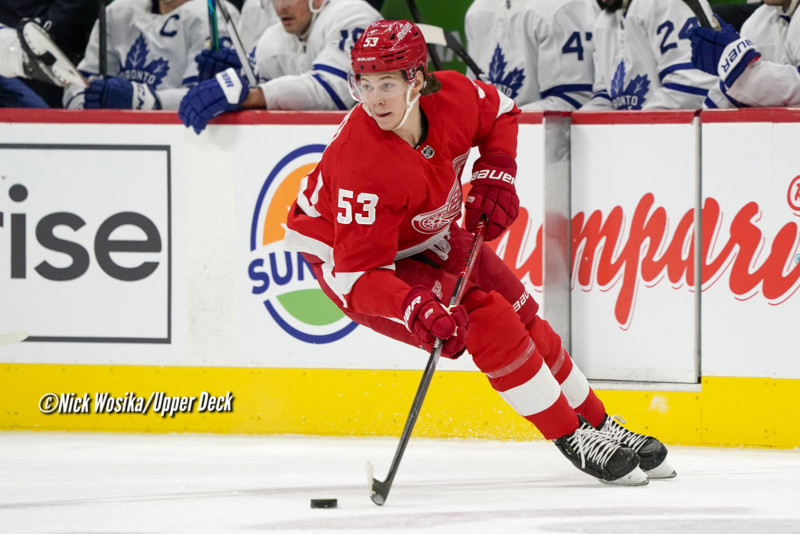 Wosika enrolled in a 2-year program at a local junior college. There were a handful of digital classes, but they were mostly still "rolling and soaking film" because this was right before digital became affordable to the masses.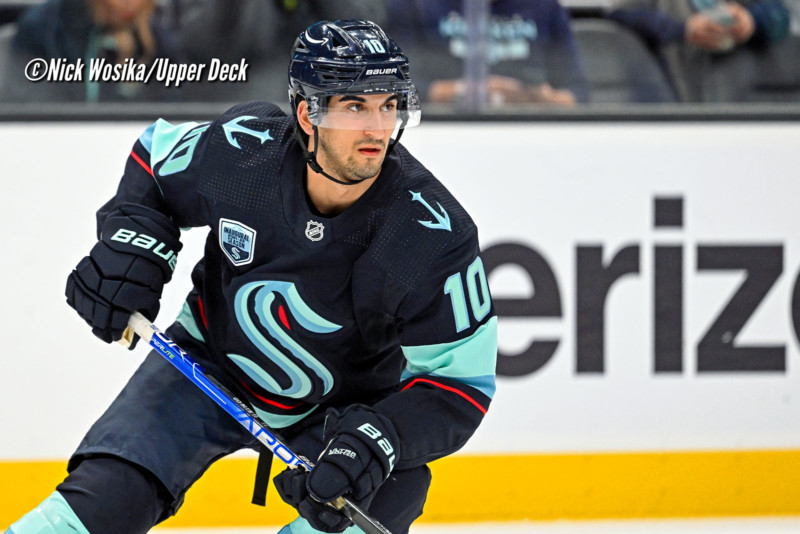 There were two tracks you could take in this program. It was either portraits or commercial, which he jokingly referred to as "glamor shots and bags of chips" in a studio. He wasn't interested in any of that as he wanted to shoot rock stars and professional athletes. He asked if they would offer a class like that, but they weren't having it.
Landing a Newspaper Job in a Weird Way
"So, I left campus that day and emailed every newspaper and magazine I could find a contact and an email address for within a 50-mile radius of my house," says Wosika.
"I asked them if they were hiring. If they needed an intern. If I could follow them around and watch them work. Of the nearly four dozen emails I sent, I received only one reply.
"It was from the Faribault Daily News. The photo editor told me to meet him for lunch the next day and bring some samples. It was a total amateur hour on my end. I didn't even have a portfolio. I went down there with a manilla envelope and maybe ten photos I took at Vikings training camp and Twins games that I shot as a fan that I had developed at Ritz [camera store].
"I met him for lunch, and after our introductions, I handed him the manila envelope. He laughed.
"He started to look through the photos, and after each one, he'd make a little "hmm" type noise. After the fourth or fifth frame, he stopped and said these are pretty good and asked if I wanted to shoot a high school volleyball game that night.
"I told him absolutely but then explained I didn't have any of my gear with me. He said not to worry about it and asked me to follow him back to the newsroom, which I did. When we get there, we sit down at his desk, and he slides over a beige canvas bag and says, 'Here, you can use this.'
"I looked in the bag, and it was a Nikon D1X which at the time was a $5,000 body, and a bunch of glass that made that bag worth more than the car I drove there to meet him!
"I don't know what I looked like at that moment, but I was terrified. I looked in the bag. I looked at him. I looked in the bag one more time and asked, 'You got a manual for that?' He laughed again but reached in a desk drawer and handed me the manual to shoot a volleyball game in the most poorly lit gym in the history of lights and gyms.
"Everything went fine, and after the match, I returned to the newsroom and was like, I'm done; the photos are in the camera. They were like; you must edit them in Photoshop and caption them. I was like, Photoshop, what's that? Luckily another staff photographer was there, and she helped through all that business.
"I submitted five frames in a folder and drove home. The next day two of my photos ran in the paper.
"The day after that, I was offered a job at the Faribault Daily News. The day after that, I quit going to junior college to shoot glamor shoots and bags of chips because my job at that small daily newspaper in southern Minnesota was on-the-job training and a free school for what I wanted to do for the rest of my life."
Shortly after that, Wosika purchased his first digital camera, a Nikon D100, and his first personal computer ("it was a Dell or something") and has "been hustling" ever since.
The Chance Meeting that Led to a Sports Cards Photography Career
Wosika was in southern California for a family wedding and stayed at his grandfather's house at age seven.
"There was this older kid that lived across the street from him [grandfather], and he gave me an old shoebox of baseball cards — mostly stuff from the 70s," explains the sports shooter. "After that, I was hooked. I'd look at them for hours.
"Once we got home, I figured out where the best places were to buy cards — mostly drug and convenience stores — and even found a card shop not far from where we lived in St. Paul, Minnesota."
And just like that, a lifelong passion for collectible sports cards was born.
Today, besides hundreds of hockey and baseball cards, Wosika's photos have also graced Sports Illustrated, USA Today, The New Yorker, Forbes, The New York Times, ESPN, CBS, NBC, and many more publications.
And this chance meeting as a kid has allowed Wosika "never to have to work a day in his life" but just to have fun and get paid for it.
You can see more of Nick Wosika's photos on his website,  Instagram, and YouTube.
---
About the author: Phil Mistry is a photographer and teacher based in Atlanta, GA. He started one of the first digital camera classes in New York City at The International Center of Photography in the 90s. He was the director and teacher for Sony/Popular Photography magazine's Digital Days Workshops. You can reach him here.
---
Image credits: All photographs by Nick Wosika