GoPro Hero11 Black Has Bigger 27MP Sensor and Shoots 5.7K 10-Bit Video
GoPro has announced two new GoPro Hero11 Black cameras that feature a larger 27-megapixel sensor, can capture 10-bit color video, can capture a new ultra-wide "HyperView," have a full 360-degree horizon lock, and more.
The new GoPro Hero11 Black and Hero11 Black Mini both feature the highest resolution, best color, best stabilization, and widest field of view to ever exist in any GoPro Hero camera. The Hero11 Black uses the familiar GoPro shape while the Hero11 Black Mini slims the build down to just the essentials without cutting out performance.
GoPro Hero11 Black
The new camera is built around a new 27-megapixel Type 1/1.9 sensor, which is a somewhat unusual size that features a 34.042 area and an 8.42mm diagonal measurement. That sensor is capable of delivering over a billion colors in 5.7K resolution at 60 frames per second thanks to the newly-added 10-bit recording capability. GoPro notes that this is 64 times the color captured by 8-bit and gives the Hero11 Black a "staggering" leap forward in image quality over previous GoPro cameras.
The new sensor also enables a new 8:7 aspect ratio for video capture for the largest vertical view on any GoPro, which can be cropped to different vertical aspect ratios for Instagram and TikTok in GoPro's Quik app.
It also enables what GoPro calls HyperView, a super-wide 16:9 field of view that the company says makes it ideal for a first-person perspective of action and sports activities.
To support the new sensor, GoPro has included it's HyperSmooth 5.0 stabilization technology which now has a 360-degree horizon lock feature that keeps footage steady even if the camera rotates during capture.
The camera is also equipped with a new Night Effect Time Lapse feature that makes it easy to capture star trails, light painting, and vehicle light trails. Time Warp, which is the company's hyperlapse feature, now can capture at 5.3K resolution from the previous 4K limit, and GoPro says the new Enduro battery has better performance in cold and moderate temperatures which increases the recording times by up to 38%.
GoPro Hero11 Black Mini
The Hero11 Black Mini has all of the features of the Hero11 Black, but ditches the front and rear LCD screens to compress the overall footprint down to the size of a moderately sized ice cube. The back features a set of folding attachment points as well. GoPro says that the design simplifies the control into a one-button system that makes it easy to operate in the field and, combined with its small size, makes it better able to be deployed in more places.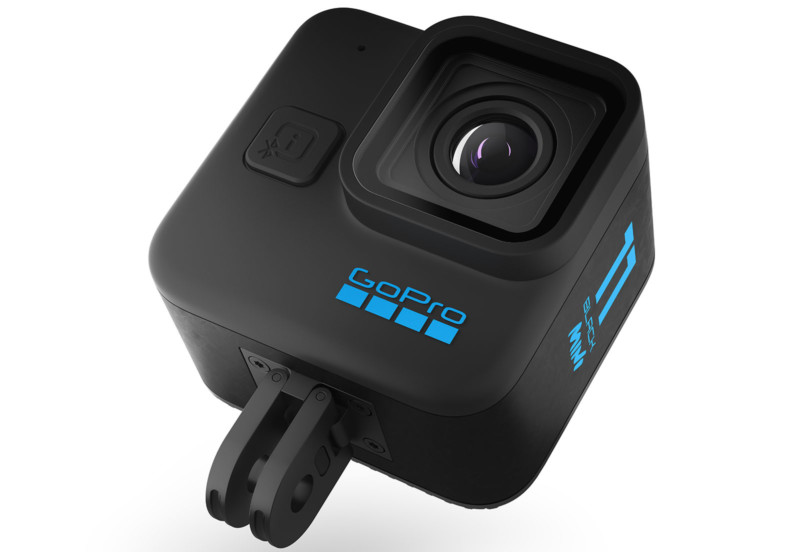 The Hero11 Black Mini doesn't sacrifice any of the GoPro Hero11 Black's performance, and just like the larger sibling, it can capture up to 5.6K 60 frames per second video in up to 10-bit color. The same improved Enduro battery that comes with the Hero11 Black is built-in to the Hero11 Black Mini.
Both new cameras are supported by GoPro's enhanced cloud service which can automatically edit a highlight video from footage that is uploaded directly from the camera and then send the finished highlight video directly to the user's phone.
Pricing and Availability
The new GoPro Hero11 Black is available for $500 ($400 to GoPro subscribers) while the Hero11 Black Mini is available for $400 ($300 for GoPro subscribers).
GoPro is also offering a Hero11 Black Creator Edition that comes with a long-lasting battery grip with built-in buttons for one-handed camera control that extends the record time to four hours. It also includes an optional microphone, external mic input, an HDMI port, an LED light, and two cold shoe mounts for additional accessories and costs $700 ($580 for GoPro subscribers).
---
Image credits: GoPro