Man Turns GoPro into Tennis Ball to Capture POV Shot of his Dog
A man successfully turned his GoPro camera into a tennis ball to capture a POV shot of his dog Ollie catching it.
Luke Maximo Bell wanted to exploit Ollie's love of tennis balls in an attempt to win the GoPro Million Dollar Challenge which invites shooters to submit a raw clip filmed on the Hero11 Black or the Hero11 Black Mini. If the clip is selected, the filmer receives a share of $1 million.
"After researching the size of a tennis ball it became very clear that a GoPro Hero11 would not fit inside," explains Bell.
South African Bell first cut open a porous dog ball but this idea did not work out, providing unusable shots.
"I thought that this idea might not work at all," he says. "I was really disappointed, the shots were really shaky and not very smooth at all."
Redesign
Fortunately for Bell, his Dad is an expert in 3D-modeling and animation. So he asked him if he could make a 3D-printable ball that would be able to control and hold the GoPro Hero11 Mini.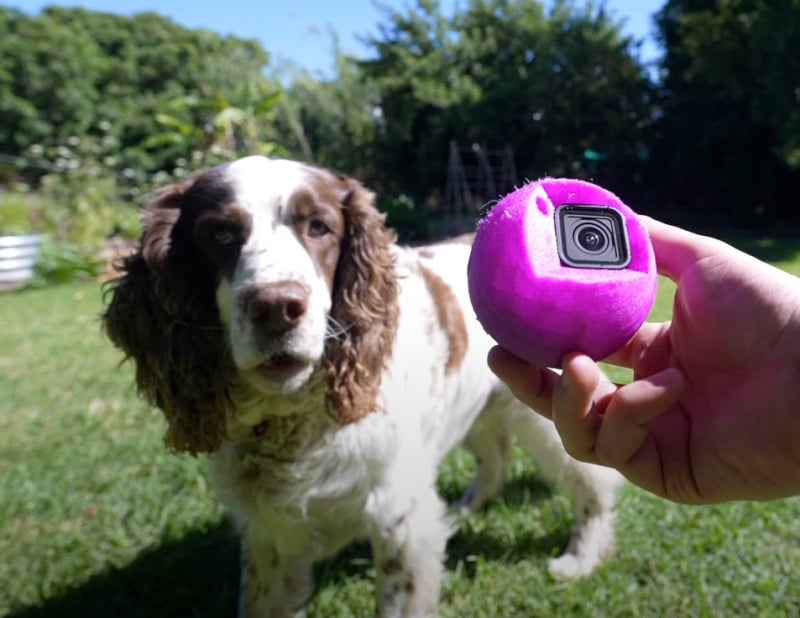 Bell's dad came through with the goods but there was a further snag, Ollie didn't like the ball.
"I think it might have had something to do with the weight of it but I bascially just needed to show him that this was a ball and he could with it."
Once Ollie had made peace with catching the ball, the next problem was throwing the ball straight. Balls tend to spin off-axis so the camera would turn away from Ollie as it was traveling in the air.
After a failed attempt of fixing the ball to a piece of string, Bell attached some fins to the ball in a bid to keep the camrea lens facing the right way.
"This was definitley the most scuccessful attempt yet and this is where I really started to get some decent looking shots," he says.
Bell ended up adjoining three fins to the ball to get it to fly straight, the only issue being that it was now quite big making Ollie sometimes hesitant to catch it.
"Overall I'm pretty happy with the shot I got and I'm going to submit them to the GoPro Million Dollar Challenge and see what happens," he says.
Bell and Ollie will have to wait and see if they win the GoPro Million Dollar Challenge.
In the meantime check out Bell's YouTube channel and Instagram.
---
Image credits: All photos by Luke Maximo Bell.