DALL-E Announce Feature That Allows You to Extend an Image Beyond Border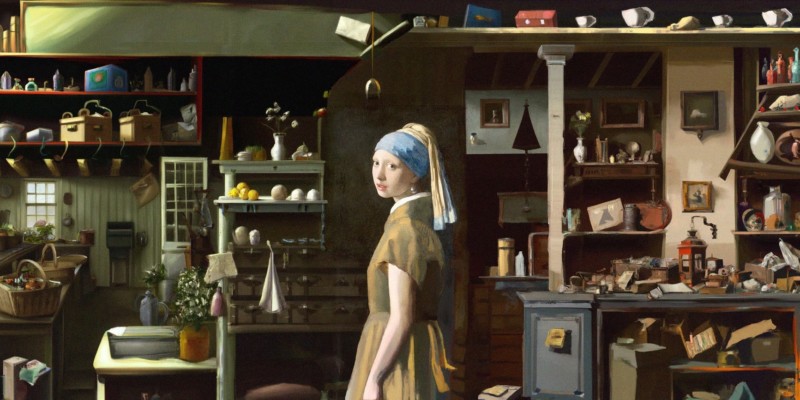 DALL-E has announced Outpainting, a new feature which allows users to extend an image beyond its original border.
The artificially intelligent (AI) text-to-image generator gave an example of the Girl with a Pearl Earring which was extended to imagine a cluttered kitchen surrounding the sitter in the painting's original style.
What is Outpainting?
Outpainting allows the users to extend an original image creating larger pictures in any aspect ratio. By entering prompts into DALL-E the machine will take into account the image's existing visual elements to maintain the context of the original image.
DALL-E will use shadows, reflections, and textures to create an AI background that is designed to blend perfectly with the original image.
Outpainting is different to inpainting, an existing feature on the platform. Inpainting allows users to make changes within an image.
For example, in the image below, created by Nicholas Sherlock, he told DALL-E to insert a baby elephant into this photo of a drainage ditch. And that was after he had already erased an egret that was there with DALL-E.
In fact, Sherlock had already figured out a way of outpainting on DALL-E by uploading an image to it that has a loose crop, leaving space for DALL-E to build on. But now there is no need to upload pictures with extra space around them as DALL-E will create it for you.
Sherlock also demonstrated how to make a blurry photo sharp using DALL-E. By highlighting the area that was blurry and then entering the text prompt "Ladybug on a leaf, focus stacked high-resolution macro photograph."
It miracusolouy sharpened the ladybug image leaving YouTuber Michael Widell blown away with the technology's capability who went so far as to ask if the capability would be the "death of photography."
DALL-E is still in its Beta version with parent company OpenAI selective on who is allowed to use the program. Expect further features, such as outpainting, to be added to the service in the future.