HP Unveils 34-inch All-in-One PC With Dual Video Streams and Swivel Camera
With 75% of their users believing video quality matters for job success, HP has announced a new line of products with the promise of studio-quality video conferencing while at home.
HP 34-inch All-in-One Desktop PC
The new HP 34-inch All-in-One (AiO) Desktop PC allows users to create a studio-like experience with support for dual video streams and camera switching so users can show themselves and their work at the same time.
The 34-inch AiO enables users to move the detachable, magnetic 16MP (4MP Binned) camera to multiple positions on the screen bezel to find the best field of view — and users can also point the camera towards their desk so they can share documents live on video calls.
There is also the option to add a second detachable camera to the 34-inch AiO if desired.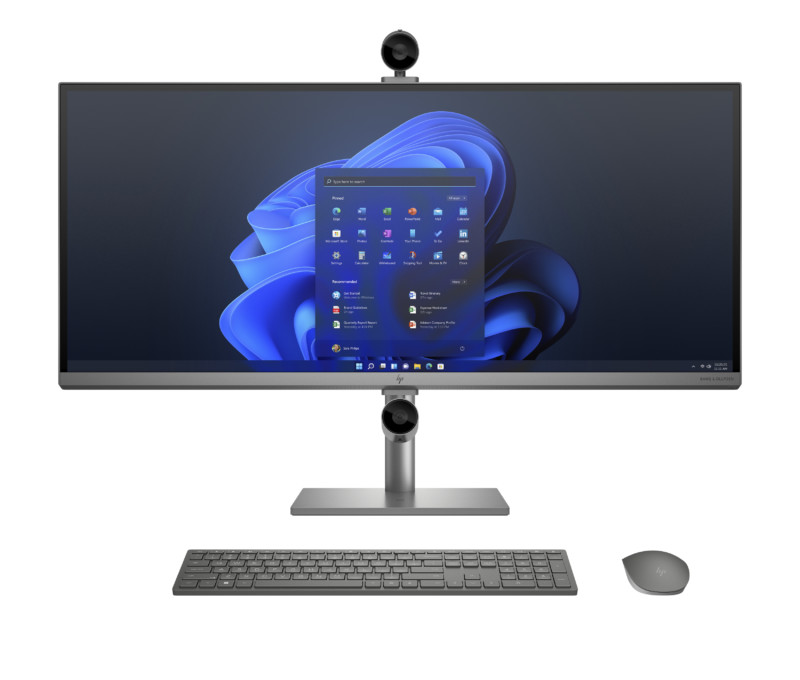 The high-resolution camera, together with new software, HP Keystone Correction, automatically crops and flattens the image of the camera feed which the company says creates a crisp, digital image of pages or a whiteboard to share in real-time.
HP 965 4K Streaming Webcam
With HP Presence and artificial intelligence (AI) built in, the HP 965 4K Streaming Webcam delivers crystal-clear video in up to 4K resolution with enhanced image quality and framing, and audio noise reduction via dual microphones.
The cutting-edge image sensor and 18mm f/2.0 large lens, color correction, and HDR auto-adjust keep images looking vibrant, day or night. AI face-framing and autofocus are intended to make users feel like they are in the same room, while documents stay distortion-free with keystone correction.
Users can also choose between 78 degrees, 90 degrees, and 100 degrees field-of-view. The webcam can be mounted almost anywhere and with a 360-degree swivel and a 90-degree tilt, users can always find the perfect angle and customize their image exactly the way they want it.
The HP 965 4K Streaming Webcam comes with a magnetic privacy cover to ensure users' security.
HP Dragonfly Folio G3
The HP Dragonfly Folio G3 makes brainstorming and whiteboarding ideas a personalized experience with natural and intelligent inking with the HP Dragonfly Folio Pen. The pen magnetically attaches to the device, features three programmable buttons, and can wirelessly charge to 100% in 30 minutes.
The HP Dragonfly Folio G3 also offers collaboration features for more productive and engaging video conference experiences. The 8MP camera ensures users show up naturally and the 100-degree field-of-view makes it easy for a second user to join onscreen when collaborating in person.
HP Auto Frame keeps users in the frame even if they are moving around, while HP Dynamic Voice Levelling automatically adjusts voice volume to maintain consistency whether users are close or far from the microphone.
And when users are working remotely, they can worry less about background sounds with AI-based noise reduction that filters outbound and inbound noises. Meanwhile, the HP Privacy camera allows users to disable the webcam with the touch of a button.
Pricing and Availability
The HP Dragonfly Folio G3 is available now for a starting price of $2,379. The HP 965 4K Streaming Webcam is also available now for $199 on the company's website.
The HP 34-inch AiO Desktop PC is expected to be available in September for a starting price of $2,119.