How a Photo Editor Made $100,000 Photoshopping Dog Pics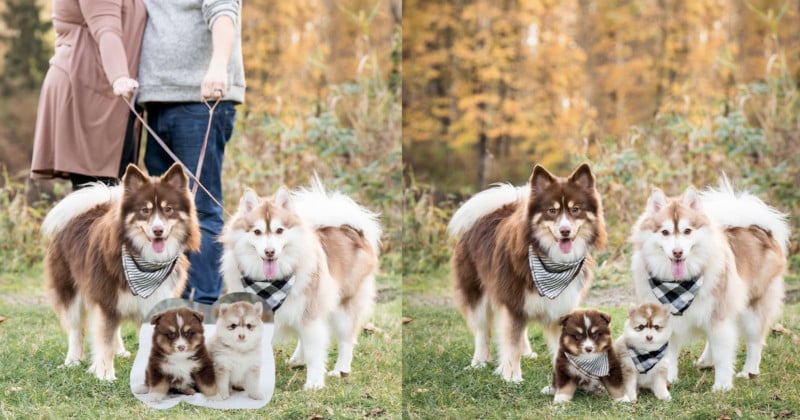 Photo editor Mandy Helwege has made $100,000 so far this year Photoshopping pictures of dogs next to their younger selves.
Helwege began her niche business in 2018 when she was still working in sales. But after posting a viral TikTok video toward the end of 2021, she took it as a sign to pursue her passion project full-time.
After making $4,000 last year, Helwege has turbo-charged her pet picture business, Seeing Double Edits, which only opens up availability once a month, offering 160 to 185 new slots to customers that consistently sells out in 90 seconds.
Helwege tells PetaPixel that despite the adorable output, the work isn't for the faint of heart.
"The average edit takes me about two and a half hours from start to finish but that can vary significantly based on photo quality and lighting similarities. Some edits can take upwards of four to five hours if the quality is poor and the lighting in both photos is the polar opposite. Think back lit adult photo combined with a 12-year-old disposable camera flash photo," she says.
The 35-year-old says that she splits her work time 30/70 between Photoshop and Lightroom.
"All imposing, basic lighting/color/curve adjustments and artifact removal (needed often) are done in Photoshop. While all blending is done using individual masking layers in Lightroom," Helwege explains.
"I can get a photo cut out in Photoshop in 20-30 minutes but spend two or more hours on it in Lightroom with anywhere from 120 to 300 individual layers. The basic Photoshop work is the easy part for me, it's the 'blending' done in Lightroom that brings these pieces to life."
Fully Booked
The overwhelming interest in her business has pushed Helwege's hours to roughly 80 hours per week, causing her to hire an employee. CNBC Make It reports that she pays $55 per month to host a website and run Photoshop and Lightroom, and each piece starts at $125.
"I think I'm not only pretty good at what I do (perfection will never be achieved here) but I have a huge amount of love and passion for animals. I think the heart and energy I put into every piece, how personal the experience working with me is, and how powerful these pieces are for pet owners is what has set me apart from other digital artists," she tells PetaPixel.
"Even when the traction wasn't there, I never stopped creating or putting my work out there. Back when only 20 people saw my work and it wasn't even that good yet, I kept creating because I loved putting these together and being challenged by each piece.
"It's been incredible to find success in the way that I have but why I do them is no different to me now than it was when I first started. I love animals, photography, and art. Seeing Double Edits is the most perfect combination of all three."
Helwege is on the lookout for talented freelancers and urges anyone who has the right skill set to reach out to her with examples.
More of her work can be seen on Seeing Double Edits' website, Instagram, and TikTok.
---
Image credits: All photos courtesy of Seeing Double Edits