Polaroid Launches Limited Edition Green Duochrome Film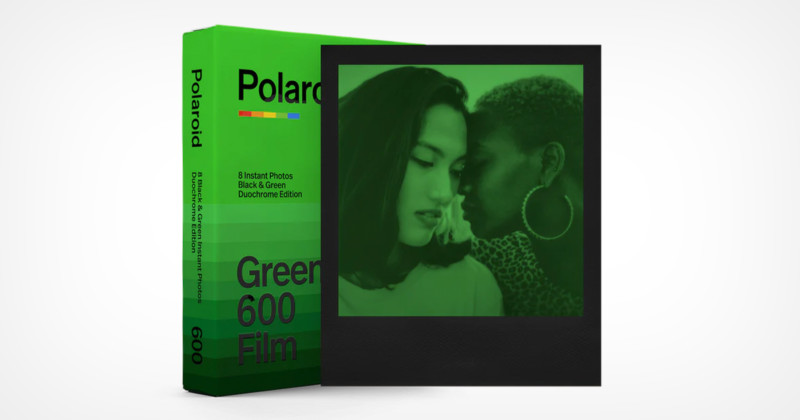 Polaroid and The Impossible Project have announced a new Duochrome Green limited edition instant film in direct response to the ever-growing popularity of the Duochrome film family.
The company says this new film rejects the rules of the ordinary by using black and green Polaroid chemistry, its most experimental combination yet and this green version of the "black & white" instant film brings a unique splash of color. Following the release of the previous yellow and blue color launches, the new black framed "electric" green film launched by The Impossible Project is the first-ever Duochrome film to actually be officially launched by the Polaroid brand.
The style of this film is definitely not for everyone as each image tends to result in striking, unique, and unexpected results. The company says this particular film is incredibly experimental and as such it cannot guarantee stable results. For many people, this may sound like a reason to avoid the film, but for true enthusiasts (especially those who actually seek out expired films), it sounds like a "challenge accepted" moment and an excuse to get creative.
Due to the film's unique and inconsistent chemistry, the company is selling it at a reduced price of $15, which according to users who've discovered the film in the wild, is an even more attractive reason to buy the film in as many quantities as possible.
The film is based on the current line up of monochrome films from the company that swaps the white portion of the "black and white" formulas for that of another color, adding dyes to the chemistry to give the film a signature look. According to the company, it uses a mix of yellow and cyan dyes to create the green duochrome paste in an experimental formulation.
The company's internal tests have resulted in what it describes as interesting "sunspot-mottled" effects that create unpredictable looks with each shot.
Below are a few sample photo scans provided by Polaroid that give an idea of what to expect:
The Duochrome Green 600 Film is available for $15 directly from Polaroid. The film is compatible with vintage (600) and i-Type cameras.
---
Image credits: Photos by Sarah Eiseman, Rayan Nohra, and Francesco Sambati, courtesy of Polaroid