Dzofilm's New Vespid Cyber Lenses Connect Directly to the DJI RS 3 Pro
Dzofilm has announced three T2.1 Vespid Cyber cinema prime lenses that are designed to connect directly with the new DJI RS 3 Pro LiDAR autofocus system. The 35mm, 50mm, and 75mm lenses have a unique data interface function to output focusing and aperture data to the gimbal.
The company touts the Vespid Cyber Prime cinema lenses as compact, portable, nimble, and agile. Each weighs no more than 1.15 kilograms making them ideal for gimbal use. While Dzofilm doesn't go into much detail about the quality of the optics or the internal construction, the company does say that chromatic aberration is limited and the lenses produce an organic look with fine detail reproduction.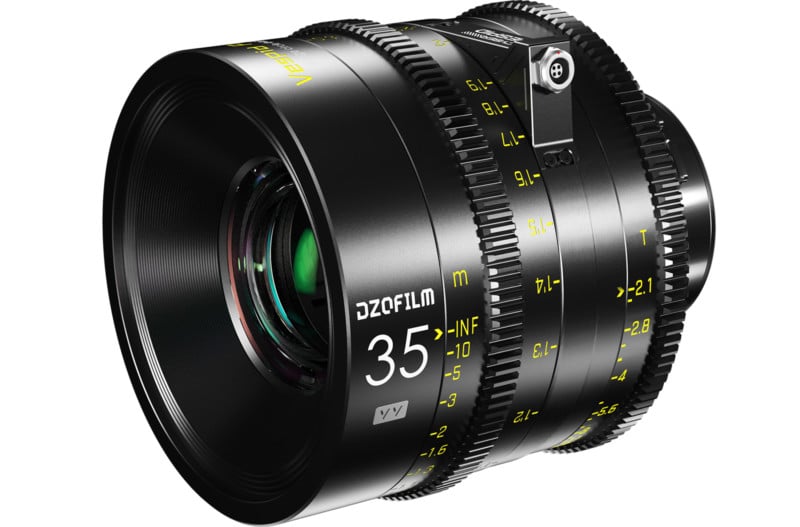 The 35mm has a close focusing distance of one foot, the 50mm has a close focusing distance of 1.6 feet, and the 75mm has a close focusing distance of two feet. All three feature an aperture range of T2.1 through T22 via a 16-bladed iris diaphragm. The lenses all share the same M86 front filter thread size. All three lenses support full-frame cameras.
The lenses are available in either EF or PL mount, which the company says can match most cameras on the cinema market either natively or through adapters.
The main selling point of the three new primes is the data interface function. With a Lemo-Type C converting cable, the Vespid Cyber Prime lenses connect to the DJI RS 3 Pro and provide it with focusing and aperture data almost instantly. Dzofilm says the data error is negligible: 1% within one to 10 meters and 3% over 10 meters. The cable is IP50 rated splashproof and dustproof as well.
The lenses can connect to the RS 3 Pro without calibration to support autofocus in tandem with the gimbal's LiDAR system and, according to the company, will work immediately and with reliability. At launch, the three lenses only work with the RS 3 Pro gimbal, but Dzofilm says that further applications will be supported in the future.
The Dzofilm Vespid Cyber Cine Prime 35mm T2.1, 50mm T2.1, and 75mm T2.1 lenses are available for $2,269 each, or sold as a group for $6,599. The company says the lenses will start shipping in early July.