Oskar Barnack's Leica Sells for $15M, is Now World's Priciest Camera
The 40th Leitz Photographica Auction has concluded with the sale of the most expensive camera ever. Oskar Barnak's Leica 0-Series No. 105 sold for nearly five times the highest estimation: over $15 million.
This particular camera is unique because it cames from a batch of approximately 23 0-Series prototypes which were manufactured before the Leitz Camera — later to become Leica — went into series production in the mid-1920s and made the 35mm format the new standard for professional photographers.
"Only approximately 23 of 0-Series Leicas were produced in 1923 to test the market, two years before the commercial introduction of the Leica A. Only around a dozen survived to the present day," the Leitz Photographica Auction says. "Among these extremely rare cameras, one is of particular historical importance."
While already rare, this camera becomes even more valuable when it is considered it was the personal camera of Oskar Barnack, the inventor of the Ur-Leica, which was the first commercially successful 35mm camera. Barnack's name can be found on the viewfinder of the camera.
"The inventor used the camera until 1930, when he gave it to his son, Conrad, and began using a Leica I Model C with interchangeable lenses. It stayed in the family ownership until 1960, when it was sold to a passionate U.S. collector," the auction house continues.
"The lot includes an original leather lens cap on a string, later aluminium cap, engraved with initials 'O.B.' and heavily-modified Nettel camera that Barnack used for his photographic research studies, as well as numerous documents and letters concerning the Barnack's camera. The Leica 0-Series no.105 we have a pleasure to offer for sale is not only the most distinguished Leica existing but also one of the major historical milestones from the history of photography."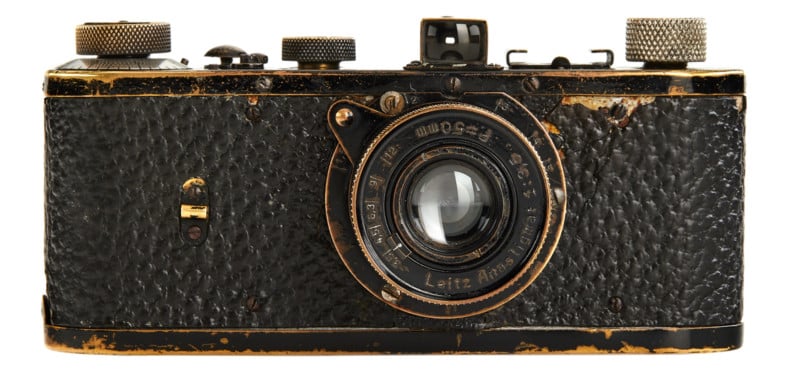 The Leica 0-Series No. 105 was expected to draw considerable attention and a high value — the auction house estimated a price of €2,000,000 ($2,194,640) to €3,000,000 ($3,291,960) with a starting bid of €1,000,000 euros ($1,097,320) — but the reality shattered expectations when it sold for 14,400,000 euros, or $15,035,832.
The bid demolishes the previous record-holder for the most expensive camera ever sold, which also happened to be a Leica 0-Series (No. 122). That camera sold at auction in March of 2018 for about $2.96 million.