Nikon's New 660GB CFexpress Memory Card Costs $727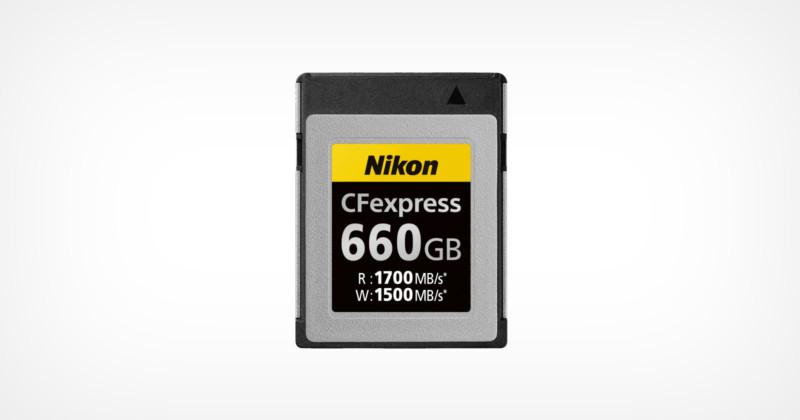 Nikon has released final information on its promised first-party CFexpress Type-B memory card. The new 660GB capacity card doesn't have a listed release date, but it can be pre-ordered for $727.
The memory card, officially called the MC-CF660G, is a CFexpress Type B card with a capacity of 660GB which is a bit unusual when compared to the competition which tends to feature capacities of 325GB, 512GB, or 1TB.
Nikon says that the card has a high performance of about 1,700 MB/s maximum read speed and 1,500 MB/s maximum write speed. While the company initially recommended ProGrade Cobalt memory cards for the Z9, it now positions its own new CFexpress as "perfect" for the flagship camera saying it is "especially ideal" for recording video in the 8.3K/60p N-RAW format and for video recording over extended periods of time.
While Nikon has announced the card's official release, no final shipping date has been revealed.
Nikon originally announced the MC-CF660G CFexpress Type B card in April along with a huge firmware update for the Z9 that added in-camera 12-bit RAW video at up to 8K at 60 frames per second, oversampled 4K at 60 frames per second, and a pre-release photo capture button among other features.
That firmware update significantly improved the Z9, but also caught the attention of RED cinema, which sued Nikon for infringing on its video compression patents in late May. The lawsuit, filed in a southern California federal court, asserts that the Japanese camera manufacturer and its United States subsidiaries have illegally infringed on seven patents that deal specifically with "a video camera that can be configured to highly compress video data in a visually lossless manner."
While that case is ongoing, the Nikon Z9 is now capable of 8.3K RAW video capture at up to 60 frames per second in Nikon's N-RAW format or up to 4.1K at 60 frames per second in ProRes RAW HQ which the new CFexpress Type B card has been specifically designed to support. Nikon says that N-RAW (which appears as a .NEV file) contains all the depth and detail of a 12-bit RAW video and crams it into a file that's half the size of equivalent ProRes RAW HQ files.
The new MC-CF660G CFexpress Type B card can be pre-ordered starting today for $727.