Apple iPadOS 16 Makes the Tablet More Like a Desktop Computer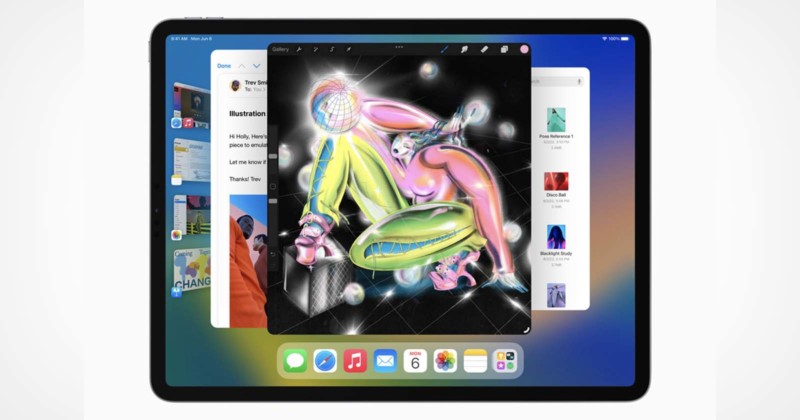 Apple has made a major update to iPadOS, bringing multitasking to the popular tablet and making it work closer to a desktop experience.
With the addition of Stage Manager, the main app in macOS Ventura, iOS 16 enjoys an easier way to multitask with overlapping windows and external display support.
Shared content is the watchword with iPadOS 16, with the ability to manage content across a variety of apps, including Files, Keynote, Numbers, Pages, Notes, Reminders, and Safari, as well as third-party apps.
Users can send an invitation to collaborate via Apple Messages, and their thread is added to any document, spreadsheet, or project. As changes are made, updates are shown at the top of the thread, and users have the option to add a Facetime call when a discussion needs to move beyond the written word.
Getting the Message
Apple has also taken three popular feature requests and added them to messages, with the ability to recall a message, edit a message after it has been sent, or even mark the conversation as "unread" when a user needs to get back to it later.
Email receives a similar update with the ability to recall an email after it's been sent. Email messages can also be "resurfaced" at any date or time with a remind later feature so the user can circle back without losing the email thread and having to search for it. Even then, however, iPadOS 16 has an improved search feature for more accurate results that includes autocorrect and synonyms.
Collaboration
Freeform is Apple's new collaboration app, which enables teams to work together with a flexible, digital canvas to work on projects in real-time during a FaceTime session or through Messages. Users can see, share and make changes to layouts of documents, and page sizes, and with the complete support of Apple Pencil, handwriting recognition keeps the ideas flowing in real-time.
Sharing to the Cloud
Apple is also introducing iCloud Shared Photo Libraries, which enables users to create shared photo libraries and invites users to have access to the collection of memories, featured photos, or widgets.
Users can set up date tools to access some, but not all photos, or facial permissions, and in what sounds like Camera to Cloud for Photos, Apple is offering a direct upload of photo images as they are taken, so sharing can happen faster.
PassKeys
What may be the biggest update in iPadOS 16 is Passkeys. Apple is moving away from passwords, which can easily be phished and hacked through social engineering. Apple says that by making a transition to biometrics and the secure enclave, passkeys will be impossible to phish, or users being tricked into sharing them.
More Screen Real Estate
The iPadOS 16 will offer the ability to connect a larger display through the USB-C port, giving the iPad more real estate when doing higher performance workflows like photo or video editing on the iPad. Users will be able to connect an external display and unlock resolutions up to 6K to manage up to eight apps on both devices.
iPadOS also has a powerful reference mode that can harness the benefits of the 12.9" iPad Pro and its liquid retina display. Reference mode will be able to match color requirements in workflows for color grading, compositing, and photo editing where accurate colors are a must.
Availability
iPadOS 16 will be available in Public Beta starting in July, with a free software update coming in the Fall for all iPads that are fifth generation and later. To participate in the beta, head on over to beta.apple.com.