The Camera That Recorded the First Spacewalk is Up for Auction
A pair of Soviet film cameras that were among the first to ever go into space is up for auction and one of the vintage 35mm cameras captured the world's first spacewalk.
Two Konvas Automat cameras that were involved in early Soviet space missions are up for sale tomorrow, June 2, in Heritage Auctions' Signature Space Exploration Auction.
The current seller is a Soviet camera collector who wishes to remain anonymous but spoke to PetaPixel about the cameras.
The first Konvas Automat 1-KCP was designated to Voskhod-2 crew commander Pavel Belyaevm who used the camera to record Alexei Leonov's historic first-ever spacewalk in 1965.
Leonov was outside the spacecraft for 12 minutes and nine seconds on March 18 1965 while connected to the spaceship by a 16ft tether.
The second camera is the Konvas Automat 1-KCP reserve camera designated to Soyuz-11 reserve crew commander Alexei Leonov. Soyuz-11 famously and controversially swapped crews just four days before the mission when original crew flight engineer Valery Kubasov tested positive for tuberculosis.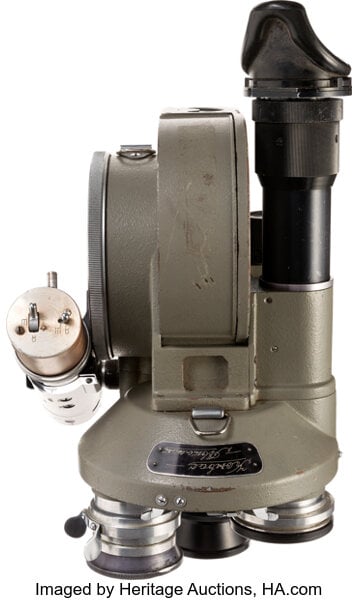 Due to a system error, all three members of the new crew tragically died upon re-entry, and are still the only three people to die outside the atmosphere to this day.
Leonov was intended to be the primary crew commander of the mission, but it was internal policy to swap the entire three-man crew if there were issues with a single crew member.
The auctioneers believe that the Voskhod-2 camera that recorded Leonov's spacewalk is the first-ever Russian space-flown camera ever sold at auction.
The cameras from these space missions were presented to former Red Army general and First Secretary of the Karelo-Finnish Soviet Republic Gennady Kuprianov. Kuprianov was sent to the gulag in 1950 and the cameras were sold by his estate in 1990 to a collector. The cameras were then sent out on loan to cultural and technology museums within the old USSR, before being sold on again.
A Camera from the Space Race Age
The Vokshod-2 mission delivered a significant blow to the United States and turned Alexei Leonov into a superstar.
Leonov was the first person to float freely in orbit and it came during the infamous Space Race when the USSR was competing with the USA to be the first country on the moon.
Despite the success, Leonov had issues returning to the spacecraft after his suit ballooned and he couldn't re-enter the airlock. He had to bleed some of the suit's pressure beyond the safety limits to make it more flexible.
Leonov suffered the bends from decompression and later said he had perspired so much that sweat was sloshing around inside his suit.
---
Image credits: All photos by Heritage Auctions.