You Can Now Publish Content Directly Out of Creative Cloud Express
Adobe has launched the Content Scheduler as part of its Creative Cloud Express platform, a move it says is in response to requests for a unified way to allow creatives to plan, create, and publish content across social media.
The feature comes thanks to Adobe's recent acquisition of content publishing platform ContentCal, which it has successfully integrated into Express.
"Our users want frictionless social content workflows — but they also want to learn how to get better at social media," Adobe says. "We believe that people should have a single place to make, plan, preview, and publish standout content on social media."
Adobe Content Scheduler will enable users to plan, schedule, and publish their social media content from a single app. Through the Plan mode, users will be able to craft a social media campaign with tools to create the theme and tone, as well as manage the flow of the campaign through a single drag-and-drop calendar.
At launch, the platform only supports a limited number of social platforms: Facebook, Instagram, and Twitter, though the company tells PetaPixel it does intend to increase the number of platforms it supports over the coming months.
Through the Scheduling tool, users can choose a date well in advance, timed to the second, for their content to be released. Users can then preview the campaign to be sure it looks exactly as the audience will see it. Content Scheduler will then publish to all support social media platforms at one time.
Adobe is positioning Express as an easy way for more people to gain access to creative tools, and with the addition of the Content Scheduler, it is becoming a one-stop shop for creation and distribution. This flexibility may help Adobe compete with the likes of Canva and PicsArt.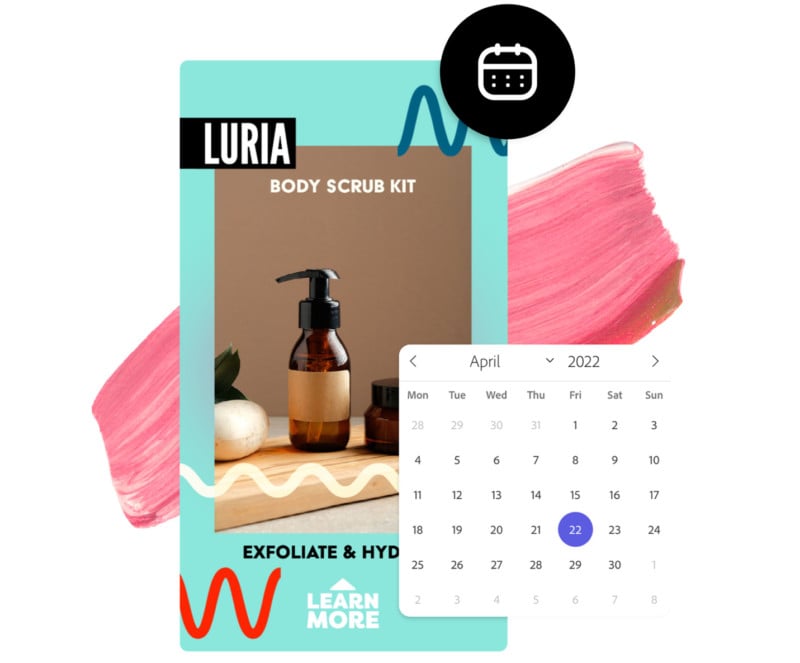 Currently, Adobe Content Scheduler is only available through the Adobe Express web interface, but there are plans for a mobile app. The Content Scheduler is available to Premium subscribers to Adobe Creative Cloud Express.