Adobe Creative Cloud Express Review: Creative Possibilities For Everyone
Although Adobe's new Creative Cloud (CC) Express is designed to make the company's services more appealing to the average person and not just professionals, the premise of the platform mimics both Canva and Picsart. So how does it stand up?
Some users are already familiar with the Adobe Spark suite which has now been replaced by the new Adobe CC Express. Adobe Spark, which included Spark Page, Spark Post, and Spark Video, already offered numerous design capabilities on mobile and on the browser. Arguably, the suite didn't acquire mainstream status beyond the user base already familiar with Adobe's apps due to poor marketing and a somewhat complicated interface.
The new CC Express, same as Adobe Spark, is aimed at users who want to create fast visuals, such as brand graphics, collages, presentations, adverts, photo edits, and much more. The platform offers a large library of different templates to inspire ideas and kickstart projects, but also allows starting fresh with a blank slate.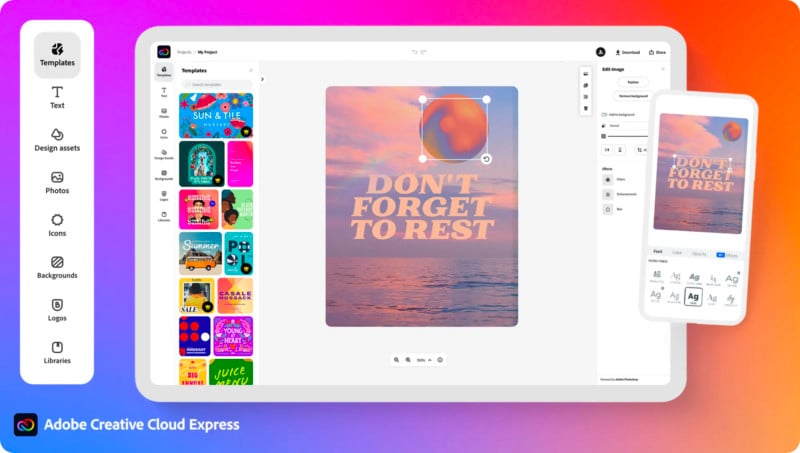 Adobe designed the product to make it super simple to go from ideation to creation, meaning that the drag-and-drop interface comes gives quick and easy tools that anyone can use without any prior design knowledge. The library has thousands of visuals and fonts which makes it easy to design anything at a moment's notice.
The app is available for free on Apple's app store, Google Play, Microsoft Store, as well in a web browser. The Premium subscription is $10 a month and opens up additional features and access to more stock assets, templates, and fonts. The paid version is included with Creative Cloud All Apps subscription and flagship single-app plans over $20 and is free for users with K-12 plans.
Breakdown of Features
The home page of the platform is built similarly to Picsart and Canva. It offers a choice of various templates across different formats, such as Facebook and Instagram posts, posters, flyers, collages, resumes, menus, and many more. Everything you need to get started is there.
The navigation menu on the left of the page shows "Projects," such as recent projects and those shared with the user. A bonus for those who used Spark in the past: CC Express pulls in previous Spark projects.
Same as Canva's premium access, CC Express has a section for "Brands." There, users can add a logo, primary color, and font type. These branded attributes can be applied to projects to maintain consistency across all projects.
At the first glance, Adobe's branding tools appear limited, however, once you add three main attributes — logo, primary color, and font type — more options appear such as the choice of font for headings and body text and the appearance of light, medium, and dark themes. CC Express doesn't have a section for subheading font choice, though.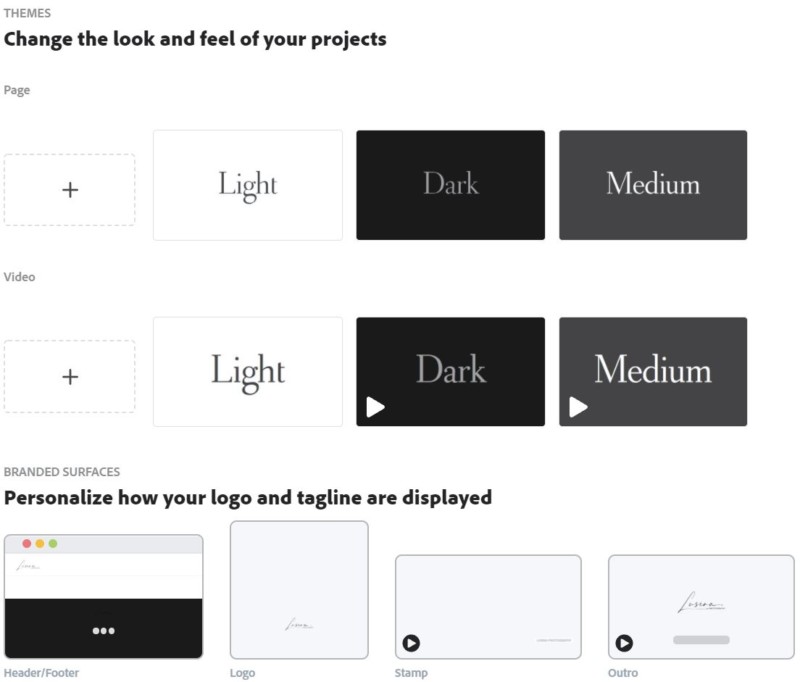 Unlike Canva, CC Express is slightly more limited when it comes to brand colors. For example, Canva gives a library of palettes to discover which consist of six colors, although more can be added. However, Adobe allows the customization of logo and tagline, such as for video outro.
Video Editing is Supported, But Not Well
CC Express's offering for video editing is not as broad as that of Picsart and Canva. CC Express offers several quick actions for video content such as trimming, resizing, merging with other videos, converting to GIF, reversing, and a few others, but it's not particularly robust beyond those.
To create a video from scratch, CC Express uses a design model based on the now-retired Adobe Spark where the user first has to pick one of the seven templates or start with a blank one. In the editor, the user can pick a color and font theme; each theme offers several choices of color combinations.
The available choice of layouts on each slide offers rigid design tools, in comparison to both Picsart and Canva. If you want to add text, it can only be placed in certain areas, such as the center, each corner, and middle of each edge. It's not possible to freely place it nor is it possible to add more text boxes or overlay them.
If you want to have a choice of text design tools, you're out of luck there, too. All fonts are locked-in based on which theme you pick and you can't customize them further. The lack of options continues in the "Resize" section which only offers a choice of widescreen or square, neither of which are particularly beneficial for social media content creators.
The upside is that CC Express allows users to quickly find photos from a library of royalty-free images which saves time downloading them outside of the app. It also has several plugins, such as Adobe Stock, Lightroom, Dropbox, Google Photos, and Google Drive, to make it easier connect assets already owned by the user.
The app also has a voiceover narration feature which can be useful to add audio during the time of edit instead of recording it separately. CC Express video templates appear to be more suited for presentations and slideshows, as opposed to quick social media videos that can be put together on a whim and freely customized.
Those familiar with the earlier Spark product will see that the video editor has not changed, which is a big disappointment. To be honest, what Adobe has implemented here for video feels outdated and extremely clunky. Picsart and Canva can load in an instant and you can just drag and add elements as much as you want on top of your video and it's just as fast as image editing. Adobe, by comparison, is a huge step down and I would not personally use the video editing functionality.
Adobe has historically struggled when it comes to simplifying video editing, as Premiere Clip was a disaster and Rush has been slow to grow into its own. Again with CC Express, it's clear that Adobe has put the majority of resources into other aspects of the platform. The company's failure when it comes to video editing for the masses continues to be a disappointment, and it's something we can't just look past anymore as others in the market have clearly figured it out.
CC Express Shines as an Image and Template Editor
In comparison to the lackluster video features, unsurprisingly Adobe shines when it comes to image editing in CC Express. The background removal tool is fast and offers two brushes to further refine it: an erase tool to brush away anything that hasn't been removed and a restore tool to bring back parts of the background.
The background can be removed for standalone images, such as those uploaded directly from your desktop, or those edited within a template. Both options also allow users to add Filters, Enhancements, Blur, and Color. In addition, the stand-alone image editor has three choices of blending modes: Normal, Multiply, and Screen.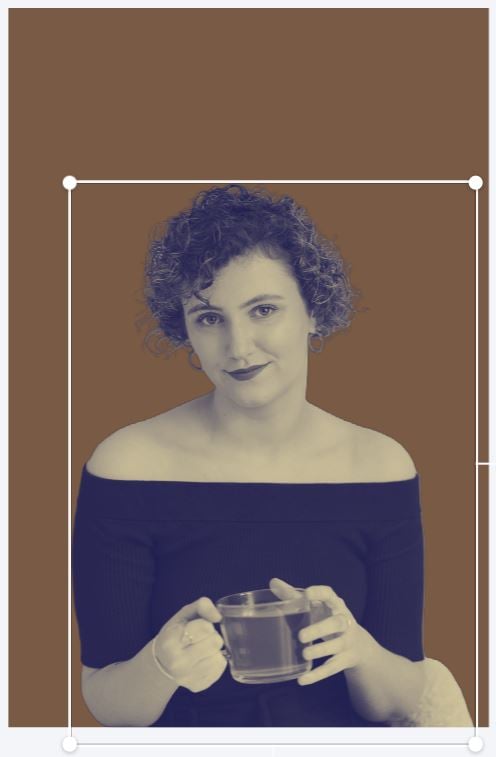 In the Filters section, you can pick out of several toning opinions such as Duotone, pictured above, Grayscale, Darken, Contrast, Matte, Lighten, Colorize, and Multiply. The filters don't have an option to reduce their opacity but are applied to the image fully.
The "Enhancements" tab offers quick edit tools, such as contrast, brightness, saturation, highlight, and others, while Blur adds what appears to be Gaussian blur. For anyone who doesn't want to edit photos in-depth, the given features are more than plenty.
For example, depending on the design, it can be useful to increase the contrast or brightness of one of the images in the design to fit in with the rest. Being able to do it all in the same app saves time and makes it easy for those who don't want to edit images with a separate app.
If the photo has a removed background, all effects are only applied to the subject. But if the user wants to add a particular color to replace the removed background, the Color tab will do that.
Once you begin to add additional elements from the left tab, such as text, other photos, icons, or design elements, CC Express has a neat way of displaying the layers. For anyone new to design, this feature shows the order of layers in a visual way and saves the guesswork. With a simple click and drag, the layers can be moved around, although a traditional "move up" and "move down" button is also available.
Adding text, icons, and other design assets gives great creativity options. For example, if the text includes other elements like shapes and icons, each one of them can be individually edited. Some of them come as "graphic groups," which consist of a mix of stock photo elements and graphic design.
During the editing stage, the design can be resized to fit commonly used sizes such as Instagram story, YouTube thumbnail, Linkedin blog post, and many more.
Download options include PNG, JPG, and PDF. However, there is no indication of file quality or file size. By comparison, Canva Premium offers other file type choices, like SVG, GIF, and MP4, and users can also upscale the file size depending on the output or compress it. Having said that, if a CC Express user animates a design, an MP4 file download becomes available.
For anyone who works in a collaborative way, the designs can be shared with others by inviting them to view and edit. Users can also turn their design into a reusable template, send it directly to Google Drive, or simply publish and share through popular channels.
CC Express Delivers on its Promises, At Least for Images
If you want to get everything done in one place — enhance an image, remove its background, create an easy collage, and add other design elements, including high-quality stock photos — CC Express delivers on this, and more. There is no doubt that CC Express put its focus on delivering a user-friendly workflow with an endless stream of creative opportunities.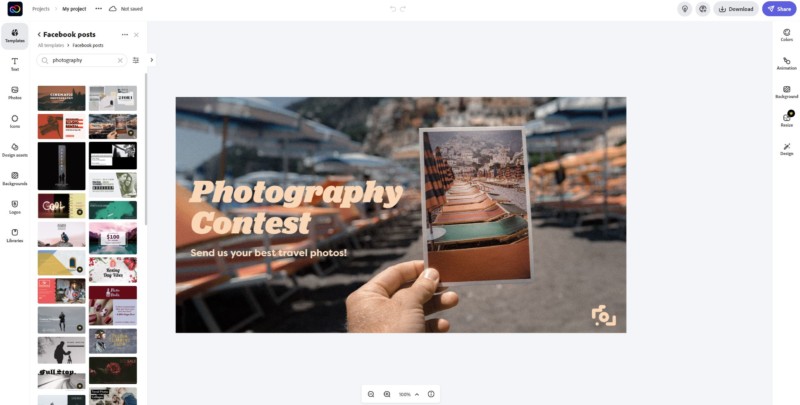 Although CC Express can be a great standalone product, the integration of other Adobe products might appeal to already existing users familiar with the apps. If you already have a subscription that includes access to CC Express Premium features, it seems logical to forego subscriptions on other platforms.
However, video options might be a deal-breaker for some who decide to stick with alternative platforms that have faster performance and more design choices when it comes to video.
For example, as a past user of Adobe Rush on a browser, I had run into problems with the speed of loading a project. In CC Express, the bigger the project grew, the longer I had to wait for it to load to allow me to edit. Speed is still somewhat of an issue when it comes to video, while image-based templates are lighting fast to work with.
That aside, CC Express has emerged as a worthy competitor to Canva and Picsart and can appeal to complete newcomers, seasoned Adobe users, and those who may want to explore the company's other products after getting to know CC Express, too.
Are there Alternatives?
I've mentioned them already, but clearly CC Express is designed to be Adobe's answer to Canva and Picsart. I have had limited experience with Picsart, but what Adobe is offering here appears to be at least on-par with the upstart editing app. Still, Picsart has an entrenched young user base, and it isn't clear yet if Adobe can break into that market. Compared to Canva, Adobe still has a lot of work to do in the video department and some of the other usability features aren't quite as robust as what Canva currently offers. That said, I don't expect Adobe to sit idly by here, and the company has promised to make regular updates which will surely close the gap.
Should You Use It?
Maybe. If you're already happy with both Canva or Picsart, not a lot that Adobe has here is so much better yet that it will tear you away. Given time, though, that could very well change. For those who already have an Adobe Creative Cloud account, CC Express can be a good addition for quick design needs thanks to its seamless integration and is certainly worth checking out.