Leaked Images Allege DJI is Working on a Compact Racing-Style Drone
A series of leaked 3D models appear to show a new DJI design that is reminiscent of popular racing drones. Supposedly called Avata, the leak indicates the first-person-view (FPV) drone will be a smaller option alongside last year's DJI FPV.
As Drone DJ points out, the look of this design is very similar to CineWhoop, a line of custom-built drones that are designed to be bare-bones in an attempt to keep the platform and camera as light as possible. It is for those such drones that GoPro released the Black Bones camera last month.
CineWhoop describes a type of drone that is smaller, lighter, and typically more agile than the popular consumer drones made by DJI and others.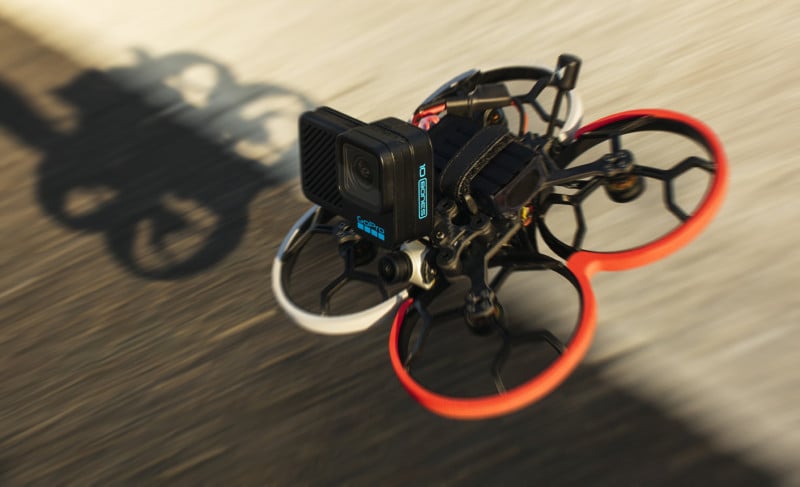 Avata was originally rumored about a year ago when noted drone enthusiast OsitaLV got a picture of the Avata's aeroshell, which would fit around the sensitive electronics. Back then, reports believed the drone would be small enough to fit in the hand and would have cooling ducts to keep the electronics cool while the drone camera was capturing cinematic footage.
Avata is compact and weighs about 500g
Can fly indoors
The photo quality is much better (guess that the Mini 3 Pro is the same)
Greatly improved battery life
Manual mode is not supported
Head chase mode
Vibration function
Touchpad for glasses menu
Glasses can connect to phone pic.twitter.com/WUqpjXXEnK

— 航拍世家 打手 (@DealsDrone) May 15, 2022
A new leaked photo by DealsDrone shows a rendering of the Avata complete with ducted shrouds to protect the drone's propellers and the camera array recessed into the fuselage of the Avata itself. OsitaLV, another source of the leak, has also found mention of the drone deep inside the operating code of the app, with the code name "WM169 – or DJI 03 Air Unit." Furthermore, patent drawings may indicate swiveling rotors for better control, though the renderings don't show this feature.
Model name of DJI Avata is WM169, as the reference, DJI FPV is WM170. pic.twitter.com/XAV8MbUgpE

— OsitaLV (@OsitaLV) May 15, 2022
OsitaLV also doubles down on his analysis and states that DJI's next drone could be an FPV-style offering that would be dedicated to aerial photography.
"The next thing from DJI should be DJI Avata," OsitaLV tweeted on May 12th. "DJI is planning to make a new FPV drone for aerial photographers. So it is a flying thing."
Further evidence was found in a patent application for the Avata, with the mention of the UAV being a class 12 vehicle. According to the Patent Office, this is a classification that includes aerial vehicles like drones and UAVs. The patent was applied for in early April and is listed as being under review.
Meanwhile, others have gotten word that the Avata is more of an aerial camera platform that can be viewed with FPV goggles, though not strictly an FPV piloted drone. A rumored set of specifications also alleges that the drone's weight is in the 500-gram range, is capable of indoor flight, and offers photo quality surpassing that of the recently released Mini 3 Pro.
The rumor also promises an improved battery life of about 20 minutes, would be fully automatic with no manual mode and would support FPV glasses through a phone connection. Lastly, the report promises a "head chase" mode, vibration function, and a touchpad menu for controlling the connected FPV glasses menu.
The leakers believe that the DJI Avata is currently scheduled for an announcement and launch sometime in the summer of 2022.
---
Update 5/16: The initial story indicated that the drone would be for racing, but has been clarified to "racing-style." We apologize for the error.