GoPro Kills the Karma and Exits the Drone Business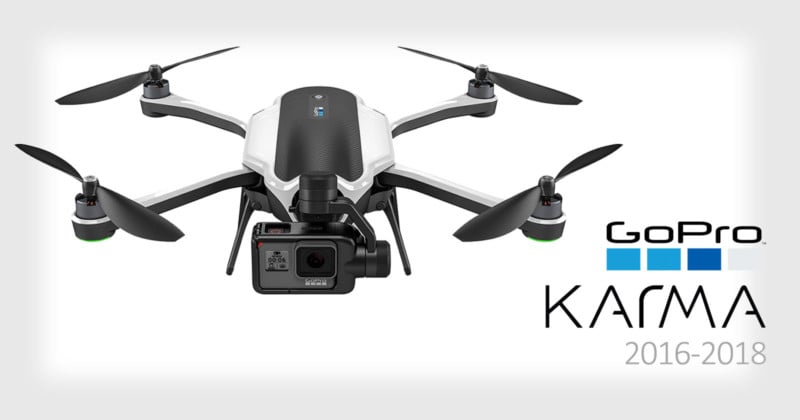 GoPro just announced that it's exiting the drone business and cutting 20% of its workforce, confirming earlier reports of major layoffs in the company's aerial division. The company's stock also plunged after it missed revenue estimates.

Revenue is estimated at about $340 million for the 4th quarter of 2017, way short of its previous estimate of $480 million and Wall Street estimates of $472 million. GoPro's stock immediately plunged roughly 30%, reaching as low as $5.04 at one point before recovering a little. Here's what
the company's stock price
has looked like since its 2014 IPO:
To try and right the ship, GoPro is slashing its global workforce from 1,254 employees to fewer than 1,000, a cut of over 250 positions. CEO Nicholas Woodman is also reducing his salary to $1 this year.
The struggling GoPro Karma drone is also being put out of its misery, leaving the Chinese juggernaut DJI with one less major competitor in the market it dominates.
"Although Karma reached the #2 market position in its price band in 2017, the product faces margin challenges in an extremely competitive aerial market," GoPro says. "Furthermore, a hostile regulatory environment in Europe and the United States will likely reduce the total addressable market in the years ahead.
"These factors make the aerial market untenable and GoPro will exit the market after selling its remaining Karma inventory. GoPro will continue to provide service and support to Karma customers."
Despite these latest failures, Woodman remains upbeat about GoPro's future. He says he'd consider selling the company but is still planning to stay independent.
"GoPro is committed to turning our business around in 2018," the founder and CEO says. "We entered the new year with strong sell-through and are excited with our hardware and software roadmap.
"We expect that going forward, our roadmap coupled with a lower operating expense model will enable GoPro to return to profitability and growth in the second half of 2018."
---
Update: CNBC is now reporting that GoPro is now putting itself up for sale:
GoPro hired J.P. Morgan Chase some months back to help it seek a potential sale, according to people familiar with the matter.

J.P. Morgan helped underwrite GoPro's initial public offering in 2014. No sale is assured, said the people, who asked not to be named because the discussions are private, and GoPro is not in any active talks with a buyer. It's unclear if there is an interested acquiror for the company. GoPro declined to comment.