Instagram Launches Multiple New Enhanced Messaging Features
Instagram has announced several new messaging features including the ability to share music previews, send a message silently, the ability to see who's online and available to chat, the ability to reply while browsing a feed, and more.
The new swath of features significantly bolsters the messaging experience on Instagram and makes good on a promise that the company announced at the end of 2021.
Browse and Chat at the Same Time
Instagram seems to want to break down the barriers between time spent in the messaging pane and time spent browsing content. The company has made several improvements to make the experience more seamless. Users can now receive and reply to messages in the feed without going back to the inbox and losing their place.
The app has also made it easier to share content without "interrupting the Instagram experience," as the company says. Now, users can tap and hold the share button to quickly reshare posts among friends. Users can now also see who is actively online and available thanks to an indicator at the top of the inbox.
Expanded Functionality of Message Threads
Instagram has added additional ways to customize message threads with four new features. First, 30-second previews of songs can be listened to directly from chat windows. These will be enabled by integrations with Apple Music, Amazon Music, and Spotify (coming soon).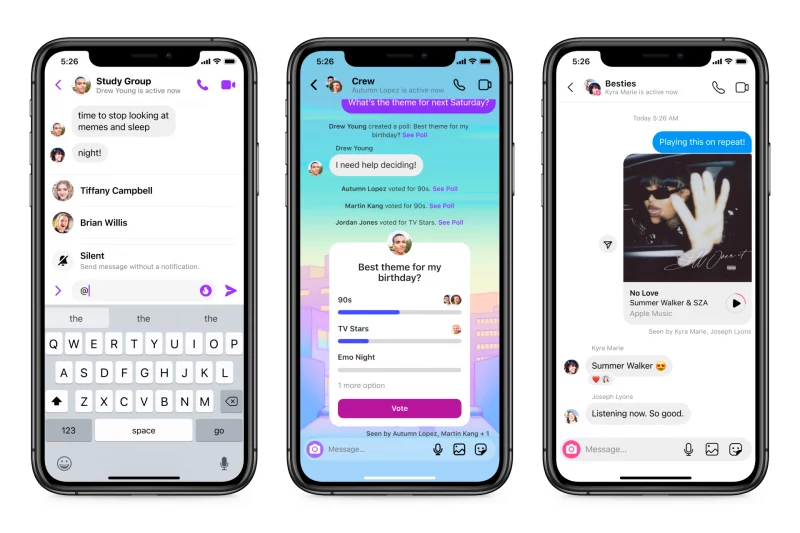 Second, users can send messages without notifications by adding "@silent" to the message. Third, a new chat theme called "lo-fi" has been added to help make conversations "feel more personal." Fourth and finally, users can now create a poll inside group chats.
Instagram says that all the above features are available in "select countries" but the company plans to expand these globally over time. These features join several others that Instagram has made in 2022 as part of its goal to shift its focus on video and shopping.
Earlier this month, Instagram added the ability to tag products in posts to enhance shopping, but also brought back the chronological feed, most likely in response to the allegations that the company's algorithm was making the platform unsafe for young people.
---
Image credits: Meta