Instagram's Chronological Feed is Finally Back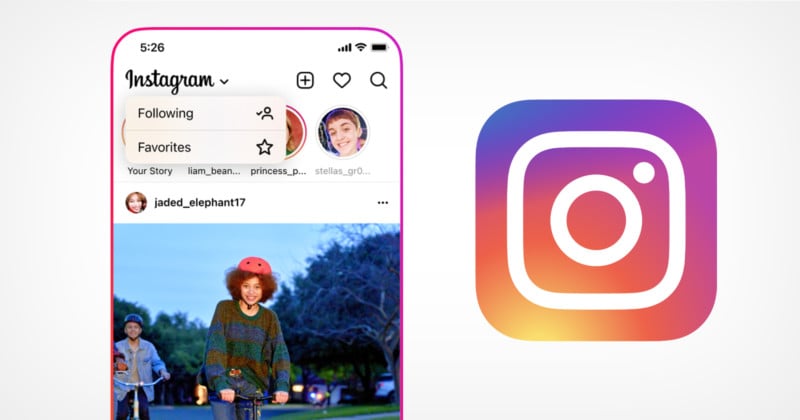 More than five years after the company did away with the chronological feed in lieu of an algorithm-based system, Instagram has officially brought it back after teasing its return yesterday.
Instagram's head Adam Mosseri officially revealed the ability to go back to a time-based, chronological feed in a blog post on the company's website. Mosseri says that Instagram will now feature two ways to choose how a feed is organized: Favorites and Following.
Favorites shows the latest posts from accounts that are selected by a user, such as best friends and favorite creators. In addition to this view, posts from accounts in Favorites will also show up higher in the home feed. Following shows posts from the people who are followed.
"Use Favorites to see the most recent posts from the accounts you've added to your favorites list," Mosseri explains. "You can add up to 50 accounts to your list, and make changes to this list at any time — people are not notified when they are added or removed. Posts from accounts on your favorites list will also show up higher in your home feed, as shown by a star icon."
Critically, both Favorites and Following will show posts in chronological order, but the algorithm-based feed isn't going away and the new chronological options are not on by default. That means there are now three possible feeds that can be viewed in Instagram: Favorites, Following, and Home. The feed that users have become familiar with over the last five-plus years — Home — is still what they will see when the app is first launched.
How to Use the Chronological Feed on Instagram
Favorites and Following both use the chronological format and can be selected by tapping the Instagram logo on the top left corner of the home screen. From there, tap either Following or Favorites to see those respective feeds.
A Response to Pressure
Mosseri originally said that the chronological feed would be coming back during a Senate hearing regarding the safety of young people on Instagram. In a blog post from June, Mosseri explained that the algorithm was added because he claimed users were missing large chunks of their feeds.
"When we first launched in 2010, Instagram was a single stream of photos in chronological order. But as more people joined and more was shared, it became impossible for most people to see everything, let alone all the posts they cared about," Mosseri wrote.
"By 2016, people were missing 70% of all their posts in Feed, including almost half of posts from their close connections. So we developed and introduced a Feed that ranked posts based on what you care about most."
But with algorithmic feeds coming under pressure from lawmakers, Instagram's hand was forced. In January, Mosseri explained the new Following and Favorites options for the feed, which did end up in the final released version launched today basically the same as promised.