Apple Studio Display Review: Accurate and Consistent, Pricey and Aged
I would describe Apple's Studio Display can be best summarized as a great-looking monitor that doesn't specialize in any one thing but manages to hit high notes in many areas instead. It's pretty bright and has accurate, consistent colors. But the display market is competitive, and many will be questioning its value proposition.
Apple has done a very good job shedding the stigma of the "Apple Tax" when it comes to its computers, but that doesn't quite seem to have extended to its accessories. The company caught some shade for its $160 three-meter Thunderbolt 4 cable and its $19 polishing cloth, and the $1,600 base price for a 27-inch LCD display with 600 nits of peak brightness seems in that same vein. That's even before we get to the optional features like the Nano-texture glass and height-adjustable stand which can bring the Studio Display up to a cringe-inducing $2,300.
It's a lot to ask when you look across the aisle and see a 4K QD-OLED display from Dell for $1,300 that promises similar color accuracy but 1,000 nits of peak brightness plus better blacks and therefore better contrast than typical LCD panels can produce.
It is really, really hard to look past the price of this display, something that I generally do my best to ignore when evaluating products. But since the Mac Pro is such a standout product because of value, I feel like I have to look at the Studio Display from the same vantage point. Evaluating the merits of this monitor, there is still a lot to like about the Studio Display even if I'm not a fan of the price. It's a very attractive display that looks great with the Mac Studio, the colors are accurate and consistent, and there are a few added bonuses like good speakers, a webcam, and the extra resolution that comes with this 5K monitor.
Design and Build Quality
As usual, Apple knocks it out of the park when it comes to build quality. Compared to a typical display, the fit and finish of the Studio Display is several notches above. Most computer monitors are made of plastic, but the Studio Display features an exterior made entirely of metal and glass. It's pretty thin but not so much that it feels fragile. It does not feature a traditional power button but instead will only activate when it senses a source and automatically shuts down when that source is no longer detected.
The top and bottom of the display feature a line of perforations that allow the Studio Display to cool itself and they work reasonably well, as the rear of the monitor does get warm but never hot.
For I/O, there is one Thunderbolt 4 port and three 10 Gb/s USB-C ports on the rear of the display. The Thunderbolt port is able to provide 96 watts of power and I can confirm it is enough to charge a MacBook Pro from empty while actively using it. It won't fast charge a larger MacBook Pro, but it will do so on a 14-inch variant of the new Apple Silicon computers. I do wish that one of those USB-C ports was another Thunderbolt 4 port since one benefit of the format is daisy-chaining and without another port, the chain ends with this display.
Apple has been knocked for years for their rather thick bezels and while they are shrunk here compared to its iMacs of years past, they're still not super thin at about an inch all around the display area. My second display is an Acer and three of the four sides of that monitor are less than a quarter of an inch thick. The bezels on the Studio Display are much larger than the ones on the Pro Display XDR, so clearly Apple can make them thinner if it wants to.
I think one argument you can make for keeping the bezels thicker is that you want somewhere to grab to adjust the display. I can see that, except that anywhere on the front of the Studio Display loves to show fingerprints. It's glass, and easily cleaned, but I am not finding that I want to touch the front of the monitor if I can help it.
The review unit we were provided has the standard stand and the standard glass, so I can't speak to if the Nano texture upgrade is worth it. What I can say is that I do with I had height adjustment, since even though I can just barely fit the items I like to store on my desk under the display, I would like it to be a bit higher up.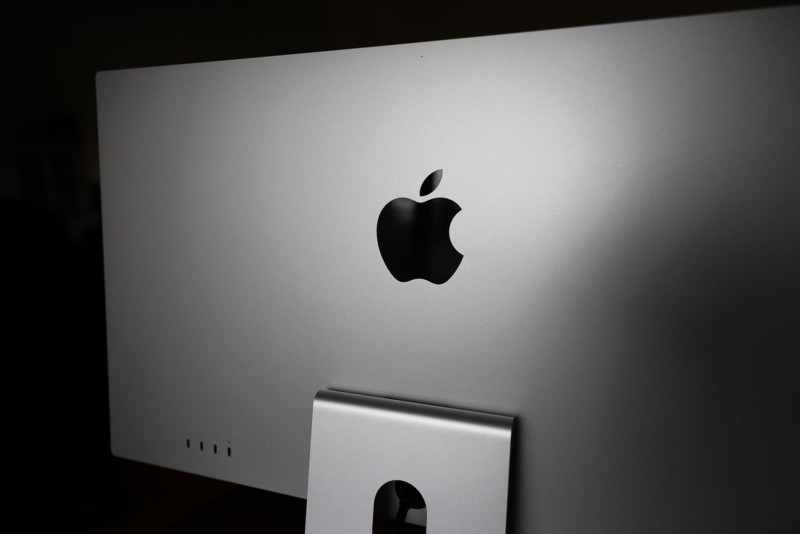 Of note, while you do have to decide what stand you want at the time of purchase and you don't have the ability to change that on your own, Apple will swap it to one of the other two options (VESA and height adjustment, in my case) if you were to bring it the Apple store for service. How much that costs in addition to the cost of the hardware, however, is unknown. Personally, I would have preferred the ability to change it out myself rather than go through professional service.
Gamut Coverage and Uniformity
Unlike most companies that make monitors, Apple actually makes very few claims about the performance of the display portion of the Studio Display. The company only talks about the 14.7 million pixels at 218 pixels per inch, 600 nits of brightness, a "P3 wide color gamut" (which actually doesn't even claim a percentage of that gamut), and support for a billion colors (but doesn't say if it's actually 10-bit or 8-bit with FRC). Of all the companies that make monitors for photography or gaming that I've ever seen, this is by far the least amount of published information.
That's ok, we can get most of what we need by testing it ourselves.
While I don't have the tools to evaluate peak brightness, I'm willing to take Apple at its word when it claims 600 nits, as I have a 400 nit brightness monitor on my desk and the Studio Display appears markedly brighter in comparison.
What I can test is color accuracy. At PetaPixel, our reviews team uses a standard color accuracy testing set of tools and practices. Calibrite (formerly XRite) is PetaPixel's official partner in color calibration and testing and we use a ColorChecker Display Plus paired with DisplayCal 3 software.
Apple has historically provided some pretty color-accurate monitors, and that remains the case here. While it doesn't quite reach 100% coverage of the DCI-P3 color gamut like the Pro Display XDR does, it comes respectably close. It's coverage of the Adobe RGB gamut is less impressive, but in line with the balance we've seen from other displays. For example. the Dell U4021QW ultrawide display managed to cover 95% of DCI-P3 and 88.5% of AdobeRGB, and the very accurate BenQ SW271C provides 99% coverage of AdobeRGB and 90% coverage of DCI-P3. It's always a tradeoff between these two gamuts, and Apple's performance here is right in line with expectations.
Perhaps more impressive is the Studio Display's excellent Delta E of 1.13. Anything less than a Delta E of 2 is basically a must for color-critical work, and the Studio Display delivers.
Beyond that, the Studio Display is remarkably consistent. In our uniformity test, it scored with "recommended tolerance" or "nominal tolerance" across the board.
It is worth noting that the Studio Display has no local dimming, no support for variable refresh rate, and despite having the brightness to support HDR600, no HDR support. That's a big list of items that many other displays at a similar price do bring to the table.
For most photographers and filmmakers, the Studio Display sits at or just above what I would consider to be "enthusiast grade" for a display. Given the price, I'm fairly certain it's not a true 10-bit panel, but those are relatively rare under $2,000 anyway. The Studio Display is not the most color-accurate monitor you can buy nor is it the least, but high-end colorists are likely going to want to pick something like the Dell UP2720Q or go nuts with the Sharp NEC MultiSync PA311D.
Webcam and Speakers
Apple is catching the most flack in this category, namely for the poor performance of the webcam. The Verge's Nilay Patel, in particular, skewered it, calling the headline webcam feature so bad "it's virtually unusable." I think that's a bit of an exaggeration. Is it great? No, it's not. It's not even good, but it's not anywhere close to unusable.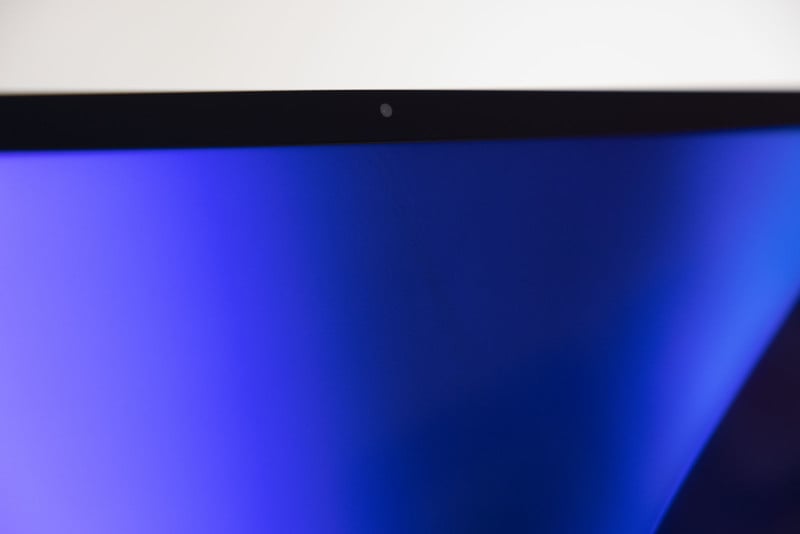 I can confirm that even in good lighting, the camera doesn't seem to be working right as I look washed out, blurry, and extremely noisy. Apple seems to agree, however, and it plans to release an update to fix these issues. When that will come is anybody's guess, but we'll see how much it improves at that point. We can probably expect it to be at least as good as the camera on the 24-inch iMac, I'll wager.
You can be the judge of the webcam quality. More shots in my video: https://t.co/lYQjFnqFI9 pic.twitter.com/sEWkpDIs7t

— Joanna Stern (@JoannaStern) March 17, 2022
I think Apple is getting dragged for its webcam mostly because it put so much of an emphasis on it in its marketing materials, but its webcam performance in other products and the price of the display certainly don't help. I don't know about you all, but a webcam's performance is not high on my list of asks when I'm looking at a new monitor. I don't expect one and arguably don't even want one. Its inclusion here, to me, felt like at most a "nice to have" kind of thing.
The same can be said of speakers, which Apple has also included in the Studio Display and has hyped them about as much as it did the webcam. I like audio equipment and have reviewed a ton of headphones and speakers for other outlets, so my expectations for a desktop experience are pretty high.
I can say that the Apple Studio Display's speakers are hundreds of miles better than the typical speakers you'll find in a monitor, but still quite short of the experience real bookshelf speakers or even a soundbar will deliver. If you don't like to clutter your desk with speakers and also don't use headphones, you'll probably be perfectly happy with the Studio Display's audio experience. Music comes through surprisingly well-rounded despite the tiny and thin chassis of the monitor and I can even detect a nice low-end bass that isn't going to give you a rumble, but does keep audio from sounding too sharp or "tinny."
I cannot say I feel like the 3D audio experience Apple promises in its marketing is coming through to me, however. It can produce "room-filling" sound, but to say it goes as far as providing some kind of surround experience is a stretch.
Accurate and Consistent, Yet Pricey and Aged
The Apple Studio Display is pretty much what everyone has been asking Apple to make for years: just take the display out of the 27-inch iMac and sell it as a standalone product. Apple perhaps took that a bit too literally by choosing to also include the webcam and speakers, but since the 27-inch iMac has been discontinued, it probably felt like it had no choice but to make sure its users still had access to the features that came with that product and aren't offered on the Mac Studio. To assume its users have a standalone webcam and speakers was something Apple wasn't willing to do, I guess.
I think everyone would be a lot more lenient on Apple if the Studio Display was priced differently. It's very expensive for what you get, maybe caused by the inclusion of the webcam, speakers, and A13 Bionic Chip it needs to control them. If Apple chose to eschew these add-ons and just ship a display for around $1,000, I think that would be more in line with the market. Heck, Apple could even keep the additional cost of the Nano-texture glass and the expensive height adjustment stand if it were priced as such.
Unfortunately, the display tech in the Studio Display isn't new (it's actually pretty old) and doesn't even come close to comparing to what it has made in other products like the iPad Pro with its mini LED display. I can't help but think how wonderful a 27-inch display using that tech would have looked like. Seeing what Apple is capable of in other product lines and looking at the Studio Display in comparison feels like a missed opportunity.
Still, the Studio Display won't be without its fans. It separates itself from the market by not only being color accurate, but also being attractive (despite the somewhat thick bezels) and made of nicer materials. It's also a clean transition for those who have been using an iMac for years (I am one such person) and the experience feels seamless. There are certainly reasons to buy the Studio Display, but they are buttressed up against a great many reasons to look for alternatives.
Are There Alternatives?
I mentioned a few options for those who aren't interested in the Studio Display above, and they include the $1,600 Dell UP2720Q and the $1,600 BenQ SW271C. If you're feeling extra spendy, you could spring for the $3,000 Sharp NEC MultiSync PA311D or the $5,000 mini LED-powered Dell HDR monitor.
We have also put together a list of other options at various prices that are worth your consideration, but Apple has managed to separate itself from all of them with its mix of color accuracy, 600 nits of brightness, and 5K resolution. That combination of features is pretty rare in an updated monitor for 2022 outside of Apple right now, and the Studio Display stands alone as really the only quality 5K display on the market.
Should You Buy It?
Maybe. To get the Studio Display or to pick an alternative is going to come down to what is important to you as a buyer. The Studio Display lacks in many areas that competitors will offer at a cheaper price, but there are features found in it that you just can't get anywhere else.
---
Note: After publication, we became aware that the calibration results were generated using a White LED instead of the one designed for retina displays. New readings have been taken and are shown above, which show better color gamut coverage than the previous testing. These results do not change our evaluation of the display.