Samsung's M8 4K Smart Display Blurs the Lines Between TV and Monitor
Samsung has announced the 32-inch M8 Smart Monitor which features 4K resolution, support for a billion colors, 99% coverage of sRGB, and looks very similar to the Apple Studio Display. It is also a smart TV.
Both a Monitor and a TV
Samsung's "Smart Monitor" line was first launched in 2020 and is designed to be both a computer monitor and entertainment center all in one. It has the traditional trappings of a computer monitor but also comes with a built-in smart television system that allows for direct support for services like Netflix, Amazon Prime Video, Disney+, and Apple TV by using Wi-Fi and doesn't need to have any connection to a PC or a television.
It does this thanks to its built-in Tizen smart TV operating system, and while Tizen isn't everyone's favorite, it does have support for pretty much all of the most popular streaming services.
Thanks to this functionality the M8 blurs the line between television and monitor. It also appears to be gunning for Apple's audience thanks to a design and build that is very similar to the Apple Studio Display.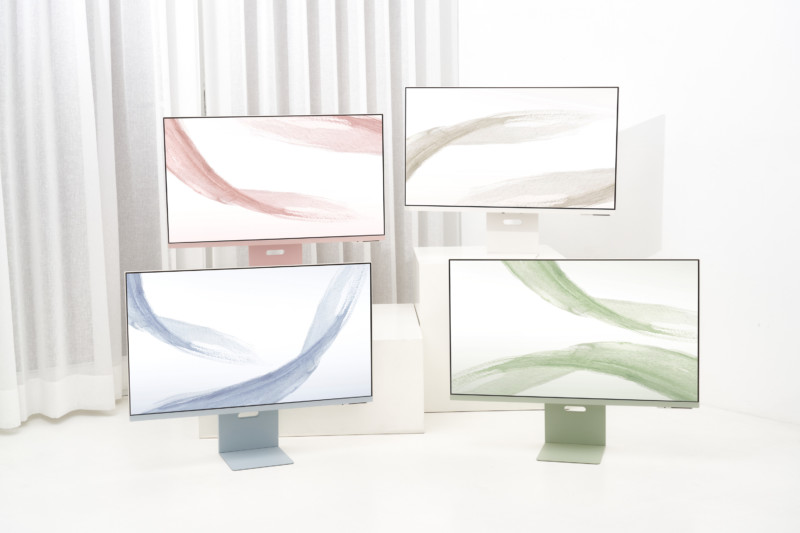 While Samsung isn't clear what material the display's casing is made of (it is probably plastic and not aluminum like the Studio Display), it looks very similar to Apple's new display with its L-shaped foot and single-point tilt functionality. Apple does offer the ability to upgrade to a height and tilt adjustment stand, an option Samsung doesn't seem keen to do.
While the Studio Display is only available in its one color, the M8 took a page out of the new M1 iMac's book and comes in a variety: white, green, pink, or blue. Samsung's M8 is also larger than the Studio Display at 32 inches.
Similar Feature Set to the Studio Display
The M8 doesn't just look like the Studio Display, it even has some features that make Apple's newest monitor attractie.
For example, it features a set of built-in 2.2 channel speakers that Samsung promises deliver "realistic sounds" for an "immersive" experience. It uses Samsung's Adaptive Sound+ technology to adjust sound based on the type of content and noise level within its environment and delivers audio that is tailored and adapted in real-time.
It also has an included Full HD webcam, so while it is more obvious that the Studio Display's mostly hidden webcam, that does have some benefits. It doesn't feature any software like Apple's Center Stage technology, but it is tiltable and also removeable which will be enough for most.
Along with the webcam is the promise of excellent audio performance from its built-in microphone, which also allows it to work as a controller for Bixby and Amazon Alexa. The microphone supports an Always On Voice function and will display conversation information on the screen when voice commands are detected, even if the screen is turned off.
Because it is also a monitor, it features the I/O one would expect to find on a desktop display. It has two USB-C ports (one up and one down) and a micro HDMI port (it also ships with an HDMI to micro HDMI cable, gratefully). The monitor also supports up to 65 watts of charging through its USB-C connection. The display is not particularly bright at just 400 nits at peak, but Samsung does rate it for HDR content. The panel also offers a 60Hz refresh rate as well as support for a billion colors (likely 8-bit plus FRC).
The Benefits of an All-in-One Display
It should not be understated how many living environments benefit from one display that can perform double duty; those living in dorms or studio apartments, in particular, can appreciate the saved space. While televisions and monitors each have their benefits, rarely is there crossover. It was possible to see the Roku Streambar as a way to bring smart TV functionality to a monitor, but Samsung is neatly wrapping it all together into one seamless, attractive display.
It might not be the most color-accurate monitor, but it would be perfectly serviceable as a compliment to one on a photographer's two-monitor desk setup. That's especially the case given the attractive cost: $700 for the white version and $730 for any of the color options. For a device with this much functionality at this size, it's hard to beat that price.