Photo of Strollers Left at Polish Border for Ukrainian Mothers Goes Viral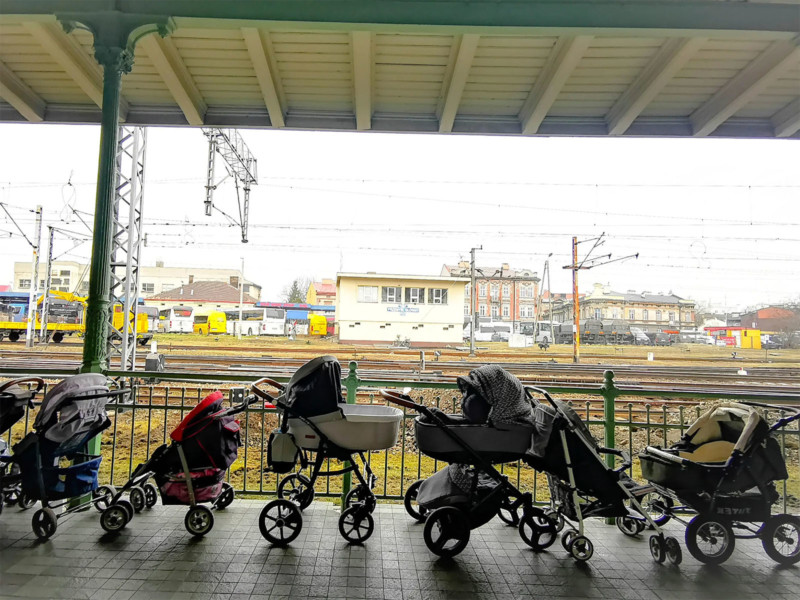 Photographer Francesco Malavolta was at a train station at the border between Poland and Ukraine when he captured a photo of empty strollers left by Polish mothers for Ukrainian mothers fleeing the Russian invasion. That image is now going viral.

Malavolta, an Associated Press photojournalist, was at the Przemyśl train station in Poland on March 3rd when he came across the long line of donated strollers.
"When I arrived at the Przemyśl train station, where there were about 1,000 people, I noticed this corner along the tracks where some women's strollers were left for mothers arriving from Ukraine with babies," Malavolta tells PetaPixel.
Polish mothers of young children had brought their own strollers to the train station as a gift to Ukrainian mothers who were crossing the border with babies in their weary arms.
"The arriving women had left their strollers in Ukraine to speed up the journey and because many of them were traveling without husbands because they remained fighting," Malavolta tells Insider.
After snapping a photo, Malavolta shared the image on social media with the caption "Passeggini lasciati in stazione per le donne in arrivo dall'Ucraina con neonati" (or "Strollers left at the station for women arriving from Ukraine with babies").
Passeggini lasciati in stazione per le donne in arrivo dall'Ucraina con neonati. ❤️
Foto copyright F.Malavolta#RussiaUkraineConflict #ukraine #WWIII #photojournalism pic.twitter.com/rlmXzqkIN0

— Francesco Malavolta (@MalavoltaF) March 3, 2022
The powerful photo soon went viral and was widely shared across social media platforms, including by celebrities. On Reddit, the image received over 109,000 upvotes.
"The thing that led me to take the picture was that feeling of silence and pain around those strollers that would [soon carry] 'victims' of the dirty war," Malavolta says.
His photo has become a symbol of solidarity toward Ukrainian refugees as well as the camaraderie of motherhood.
Malavolta found a similar sight of donated strollers and car seats waiting for Ukrainian mothers at a Slovakia border crossing.
Przemyśl Train Station: A Gateway to Freedom
Przemyśl is a town of about 60,000 residents in southeastern Poland that is located about 8 miles away from the Ukraine border.
The 19th-century Przemyśl train station has become the first stop for tens of thousands of Ukrainian refugees who have fled their homeland since Russia launched a full-scale invasion of Ukraine on February 24th.
"At the Przemyśl train station in southeast Poland, trains pull into platform four, unloading some 10,000 to 20,000 people escaping the Russian army each day," CBS News reports. "Because Ukraine has banned male citizens aged 18 to 60 from leaving, most incoming passengers are women and children. Many have left behind family.
"Once the passengers disembark in Przemyśl, a team of volunteers cares for them. Polish citizens offer soup, hot drinks, free rides — even SIM cards that give cellular access in the European Union and back to Ukraine."
Since the war began, over 2 million people have fled Ukraine, according to U.N. High Commissioner for Refugees Filippo Grandi, and the vast majority have gone to the neighboring countries of Hungary, Slovakia, Moldova, and Poland. Over half of Ukraine's refugees have escaped to Poland, with over 100,000 Ukrainians arriving each day.
---
You can find more of Malavolta's work on his Facebook and Instagram.