Photographer Captures the Strength of Ukrainians in the Face of Suffering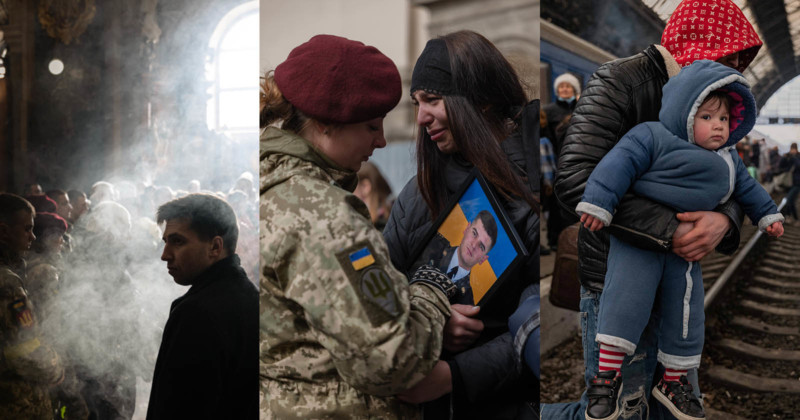 After Russia invaded Ukraine in February 2022, American photographer Gavin Doran visited the country to document the human stories of individuals impacted by the war.

Doran has published a three-part photo series that captures the plight of refugees; families sending their sons, brothers, husbands, and fathers to the front lines; and Ukrainians mourning for those who have paid the ultimate price in defense of their nation.
"In each, [Doran] explores the impact of war not just on the country in the macro but on the individuals that pay the ultimate price for the ideals they hold dear," the project's description reads. "Volunteers help refugees onto the train heading to the border with Poland and away from war. Some get through that border easily while some wait for days. Their lives and land completely upended. Most are women and children and many, if and when they return, will have lost both homes, husbands, and fathers.
"Ukrainian soldiers gather at the railway station in L'viv. Some smoke cigarettes and stare pensively into the distance. Others laugh with comrades. Many say their final goodbye to loved ones. But all board the train to the front lines of the war with Russia. By now, some of the men you see here have likely been killed. The ones who haven't are still out there fighting for those you see in these photos and the very principle of Freedom around the world.
"Civilians and family attend a funeral for fallen Ukrainian soldiers at the Church of the Most Holy Apostles Peter and Paul in L'viv.
"These are the scenes from the Russian/Ukrainian war in March of 2022."
Refugees
"I anticipated the invasion as Russian forces built their troops up along the Ukrainian border," Doran tells PetaPixel. "In the weeks prior, I bought gear, a bullet-proof vest, helmets, and other supplies. I knew I couldn't bring much, but that anything could happen, and deciding to leave one thing instead of another could be very consequential.
"My goal going there was to be a witness to history and to bring awareness to what I anticipated would be a massive refugee crisis. I flew into Poland on February 28th, 2022, and began at the Polish-Ukrainian border in a little town called Medyka. I covered the treatment of people of color, primarily students, trying to cross the border into Poland. Some waited seven days in the freezing weather, with no food, water, or place to use the restroom. Some were beaten.
"After a few days there, I decided it was time to cross the border. So I boarded a supply train from Przemyśl, Poland, into L'viv, Ukraine."
To the Front
"It was tense [in L'viv]," Doran says. "Photographing is incredibly tricky. On the first or second day, I was suspected of being a Russian spy and was surrounded by eight men wearing balaclavas and full military gear. They pulled me into a building through a narrow hallway, and I was sure this was the part where they would beat my ass until I gave them answers I didn't have. Luckily they started in a small dark room with just a few questions.
"Ironically, as I was trying to prove who I said I was, the detectives pulled up articles from years prior that I had written for outlets like PetaPixel and my photos in GQ. This calmed them a bit.
"After 2 hours, convincing both the police and the Ukrainian version of the CIA I was a friend, they fed me some excellent chocolate, we took a shot of American whiskey (all liquor sales were banned at this point), and they let me go. The detectives who initially arrested me have become great friends, and we text fairly frequently, determined to have a BBQ when the war ends."
A Great Cost
"Experts across all serious Western news organizations came to a quick conclusion; Kyiv, the capital of Ukraine, would fall in 'days.' To the world's surprise, Volodymyr Zelenskyy, the country's President and a former comedian, resolved to stay in the country and fight," Doran's project description states. "With his decision came a massive wave of volunteers from not just from Ukraine but all parts of the world, to fight the bigger, stronger invading force. Months later and Ukraine is still standing tall, winning major battles and beginning to switch from a defensive stance to a more offensive posture in an attempt to drive the Russians out with freshly acquired weaponry sent from the United States and NATO.
"Yet, despite Ukraine's surprising success, it has not come without cost. Thousands of men were killed in battle. Thousands more innocent women, children, and elderly slaughtered for doing nothing more than trying to live a peaceful and productive life."
"The Ukrainian people are some of the strongest-willed people I've ever met," Doran says. "They are intelligent, resourceful, and community-driven. It was an honor to meet so many people with such resilience and clarity of purpose. I have no doubt they will win this war.
"That being said, many will suffer in doing so, and I urge you to please donate to the World Food Program if you'd like to help. I'm currently trying to go back to Ukraine to cover what will likely be an even bigger food crisis that is coming to its head in early July.
"The global crisis is primarily due to a Ukrainian wheat shortage caused by Russian blockades. I've written a detailed blog post that outlines the issues. If you are an NGO/Editor who might be interested in partnering, please reach out to me via my website."
Doran stayed in Ukraine until March 20th.
"March 23rd was my 30th birthday, and I flew to Los Angeles to be with my identical twin brother, Chase," the photographer says. "I couldn't celebrate after what I had seen. It felt wrong. However, it was indeed beautiful to be around my family."
You can find more of Doran's work on his website and Instagram, which also includes behind-the-scenes from his time in Ukraine.
---
Image credits: Photographs by Gavin Doran