Photographer Captures 'Miracle' Fog Under Mountains in Japan
Japanese photographer Yasuto Inagaki has captured a dazzling image of the Mount Tate range in Japan with a city below it. Sandwiched between the mountains above and the forest below is a swirling mass of colorful fog illuminated by the town's lights.

Inagaki, who always carries his camera with him, is fascinated by the scenery around
Imizu
(population 93,000),
Toyama Prefecture
, Japan, where he was born, brought up, and lives with his family. His favorite is the beautiful, snow-covered Mount Tate range which reaches up to almost 10,000 feet and is one of the three sacred mountains of Japan.
The Rewards of Shooting on a Cold, Foggy Night
This image may look like an accidental capture of the colorful swirls while Inagaki was focusing on the mountain on a very cold, foggy midnight on January 16, 2022. But that is not so.
"This photo was taken intentionally," Inagaki tells PetaPixel. "The moonlight made the Mount Tate range look beautiful. In addition, there was fog in the city, so I moved to a high place overlooking it and took this picture.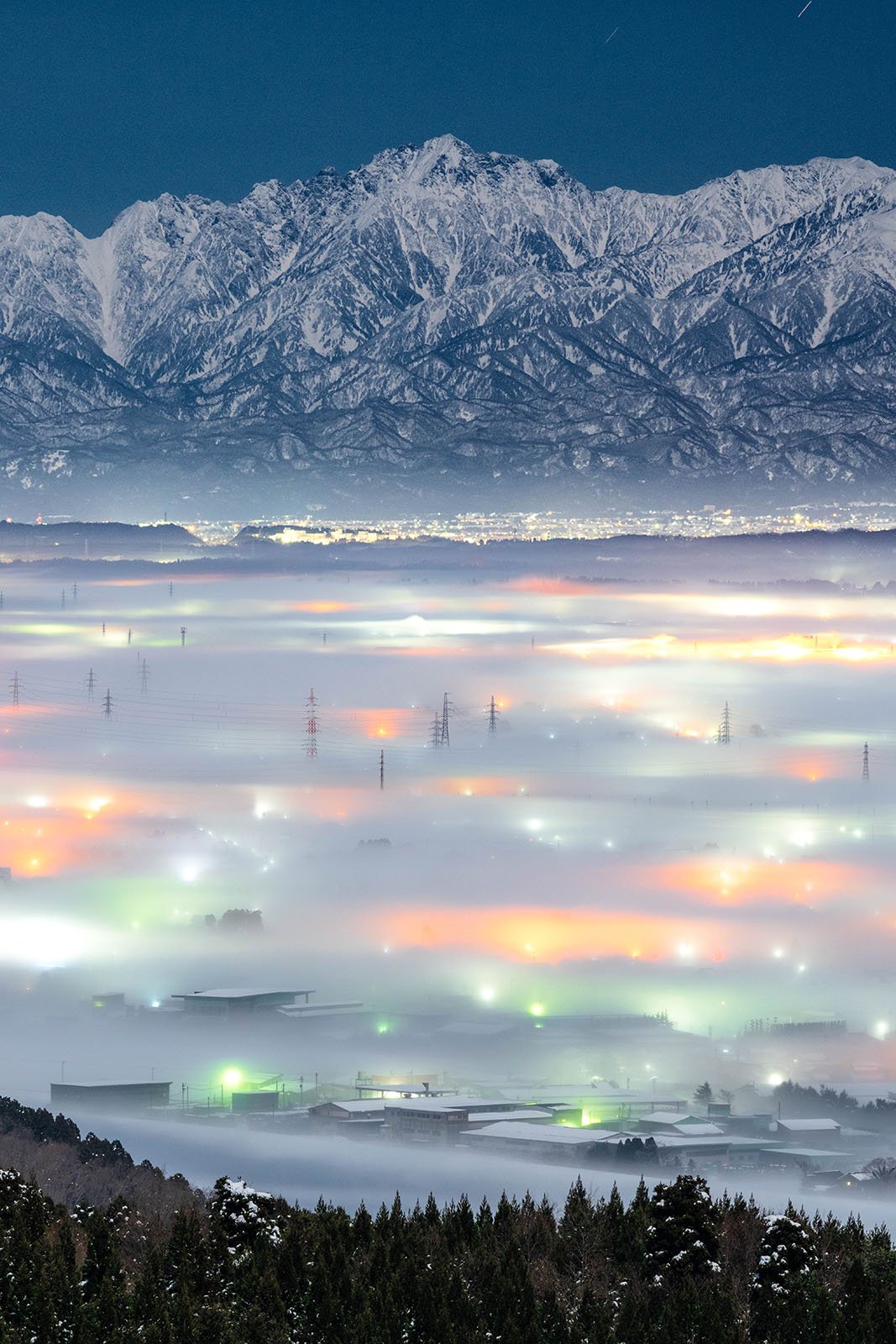 "This photo was taken from Mt. Inaba in Oyabe City," he continues. "Located on the west side of Toyama, it is the best place to see the cityscape of Toyama and the Mount Tate range."
The photographer, who started his career as a hairdresser, shot 20 photos in various directions and angles, capturing "five pictures of this composition" and processed them in Lightroom. It was shot with a Sony Alpha 1 and a Sony 70-200mm f/2.8 GM OSS II.
Visualizing Rather than Seeing the Image
Inagaki says that when he peered through his viewfinder and looked at the dimly lit scene, he could exactly visualize the resulting photo, and it felt like a painting more than a photograph.
"I was able to imagine it clearly," he says. "I was excited because it was a scene that I couldn't see much."
When asked if the image ranks in his top 10 of all time, he responds, "Definitely, in the Top 10."
Inagaki titled the resulting photo The Miracle of Toyoma.
After he shared the photo online, even the governor of Toyoma Prefecture Tweeted lavish praise on the photo, making the photographer's day.
Inagaki first invested in a Canon EOS 5D Mark III, his first pro camera, about nine years ago when his son was born. He then began shooting much more, and it was about three years ago that he started "shooting landscapes in earnest."
Inagaki has advice for the beginning photographer.
"Even in the same place, the appearance will change depending on the season, weather conditions, and time of day," he says. "If you are aware of that, I think that the variations of landscape photography will increase."
You can see more of Inagaki's work on his Instagram, Twitter and Facebook.
---
About the author: Phil Mistry is a photographer and teacher based in Atlanta, GA. He started one of the first digital camera classes in New York City at The International Center of Photography in the 90s. He was the director and teacher for Sony/Popular Photography magazine's Digital Days Workshops. You can reach him here.
---
Image credits: Photograph by Yasuto Inagaki