An In-Depth Look at the Rebuilding of Notre Dame Cathedral
National Geographic has published an unprecedented look at the Notre Dame cathedral reconstruction two years after the fire that devastated the historic building.
The feature includes incredible 3D graphics that outline in detail the plans for restoration as well as on-the-ground interviews with the architects and the team behind its reconstruction. National Geographic tells PetaPixel that it is the only foreign media outlet (that is to say, not French) that has been given such a high level of access to the efforts to rebuild the masterpiece that is the Notre Dame cathedral.
Captured with Multiple Photography Disciplines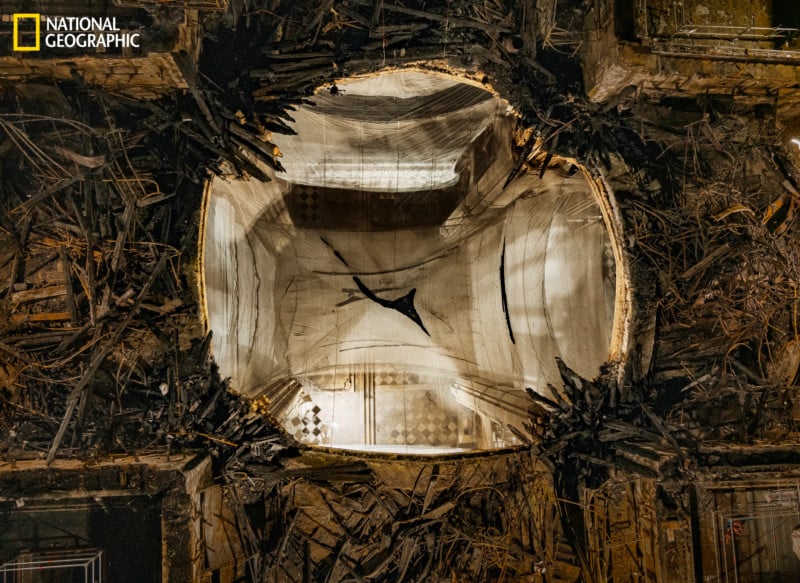 National Geographic photographer Thomas Van Houtryve was the only photography who covered the reconstruction who brought in a 19th-century wooden camera and portable darkroom to the cathedral and made images on glass plates. Working in partnership with National Geographic and the public institution in charge of the reconstruction of Notre Dame, he created a series of images of the cathedral using a wide range of techniques: traditional photo reportage, 19th-century wet plate portraiture, and aerial drone videography.
Below are two examples of his wet plate photos:
The full story, which can be read on National Geographic's website or found in the February 2022 printed edition, was written by Senior Environment Editor Robert Kunzig who, along with Van Houtryve, spent a month reporting on the efforts inside the cathedral, during which time they were covered in special suits from head-to-toe, complete with respirators.
The Efforts for a Historically Accurate Restoration
Kunzig reports that preservationists, architects, and other experts spent the year and a half after the April 2019 fire investigating the best methods to save the cathedral. Modern machinery will assist, but traditional methods, materials , and hand finishes will ensure the result closely matches its previous state. Work will begin with the spire, then move to the roof and vaults, with the goal of completing the restoration by 2024.
The architects are restoring the church exactly as Viollet-le-Duc, the original architect, left it. They are rebuilding a framework of oak roof supports, in part using medieval hand tools—even though it was those wood rafters that burned. They're rebuilding a roof of lead as well, even though the fire melted the old one and sent a cloud of toxic lead over Paris.
The copper statues of the apostles that were removed from the spire for restoration just days before the fire and copper rooster from the top of the spire which miraculously survi ved the incident will be included in the restored building. The fire and subsequent collapse of the structure somehow did not destroy an iconic 14th-century statue of the Virgin Mary, and it will also be returned.
For more on National Geographic's coverage of Notre Dame, read "Notre Dame Rises Again" on NatGeo.com.
---
Image credits: Photos by Tomas Van Houtryve/National Geographic.