Great Reads in Photography: January 2, 2022
Every Sunday, we bring together a collection of easy-reading articles from analytical to how-to to photo features in no particular order that did not make our regular daily coverage. Enjoy!
---
New Year's Celebrations Around the World – CNN
New Year's Eve 2021 Around the World – in Pictures – The Guardian
Embed from Getty Images
In many cities across the globe, New Year's festivities were scaled back. In New York City's
traditional Times Square celebrations,
everybody was expected to wear a mask, and the crowd was limited in size to 15,000 instead of the usual 58,000.
Embed from Getty Images
---
TIME's Top 10 Photos of 2021 — TIME
Embed from Getty Images
Each year in November, the TIME photo team comes together to narrow down the thousands of images made by photographers around the world since January. The ones that make the final cut for our top 10 can be striking in composition, shocking to experience, news-making moments, or all of the above. We find ourselves pausing to honor these images and their creators because we know there is so much more to the photograph than just the click of a shutter. — TIME
Embed from Getty Images
Read also:
TIME Has Published its 100 Best Photos of the Year
---
2021 in Pictures: Striking Photojournalism from Around the World – BBC
Hover your cursor over the photo to read the story of the orphaned mountain gorilla, Ndakasi, who passed away after this photo was taken.
Embed from Getty Images
This selection includes some of the most powerful pictures taken by news agency photographers around the world in 2021.
The principal deputy press secretary, Karine Jean-Pierre, became the first black woman in 30 years to host a daily press briefing at the White House. Jean-Pierre is the first openly gay spokeswoman and second Black woman to give the briefing.
Embed from Getty Images
---
Other 2021 Photo Stories & Lists:
The Best Photographs of 2021 – and the Stories Behind Them – The Guardian
17 Of Our Best Photo Stories From 2021 – BuzzFeed News
Vanity Fair's Year in Photographs – Vanity Fair
---
Pixel Peeping: The 12 Biggest Camera and Photography Trends of 2022 — TechRadar
1.) Photographers enter a post-Instagram world
2.) Deepfakes go deeper
3.) New camera manufacturers enter the game
Check out nine more trends and details at the link above.
Read also: PetaPixel's Bold Camera Predictions for 2022
We're starting a new tradition here at PetaPixel, where our staff (we are over a dozen strong now) gets together to discuss the things they know, not just think, will transpire over the course of the next calendar year. As bold predictions go, we're almost certainly going to get a lot of this wrong.
---
Street Views — Cabinet
Stanford art historian Kim Beil writes in Cabinet:
City streets seemed eerily empty in the early years of photography. During minutes-long exposures, carriage traffic and even ambling pedestrians blurred into nonexistence. The only subjects that remained were those that stood still: buildings, trees, the road itself. In one famous image, a bootblack and his customer [Louis Daguerre's 1838 photograph] appear to be the lone survivors on a Parisian boulevard…

These static sentinels of early city views were displaced at the end of the 1850s. City streets came to life thanks to improved chemistry and the use of smaller negative plates, which required less light for exposure. The new process was described as "instantaneous" [capturing moving people and horse-drawn carriages]…

During COVID-19 lockdowns, streets and squares truly were plague-stricken and empty. Drones buzzed over the avenues, vacant save for ambulances. Photographers stood in the middle of once-busy boulevards, taking glamour shots of the apocalypse.
---
Annie Leibovitz: Intimidating and Not. She Talks About her New Photo Book' Wonderland,' What Celebrities are Like and How Magazines are Less Glossy – Chicago Tribune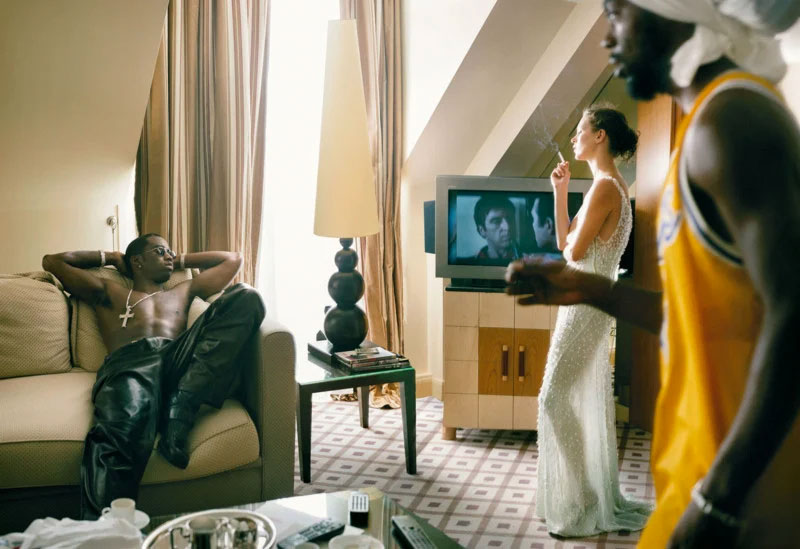 One of the best stories about Leibovitz is that time she photographed Queen Elizabeth II (also in the book) and asked Her Majesty to remove the crown. The Queen was sort of, well … Wait, who are you? The problem, Leibovitz told me, was a BBC crew was filming this and made it look as if the Queen stormed out when actually she stormed in. – Chicago Tribune
---
The First Photo of a Single Snowflake in 1885 — Smithsonian
Smithsonian Institute archives record:
Wilson A. Bentley first became fascinated with snow during his childhood on a Vermont farm, and he experimented for years with ways to view individual snowflakes in order to study their crystalline structure.

He eventually attached a camera to his microscope, and in 1885 he successfully photographed the flakes. This photomicrograph and more than five thousand others supported the belief that no two snowflakes are alike, leading scientists to study his work and publish it in numerous scientific articles and magazines.

In 1903 Bentley sent prints of his snowflakes to the Smithsonian, hoping they might be of interest to Secretary Samuel P. Langley.
Read also: These Are the Highest Resolution Photos of Snowflakes Ever Captured
---
Say Cheese! 5 Simple Tricks to Look Better in Family Photos and Selfies – Kim Komando
Push your face forward to minimize neck fat
Want sparkling eyes? Look toward the light
Check the link above for three more tips and complete details.
When you "smize," you smile with your eyes. This advice from Tyra Banks, the first African American woman to be featured on the covers of GQ and the Sports Illustrated Swimsuit Issue, makes even more sense in a masked COVID world!
Read also: Tell Your Subjects to Say 'Cheeks' Instead of 'Cheese' for a More Genuine Smile
---
Photography In the National Parks: Being Prepared and Knowing Your Limits – National Parks Traveler
During what season will you be doing your activity? Oh, you're headed to bear country? That salmon scented body wash was a bold choice. Good luck. – National Park Service
---
What is Rembrandt Lighting and How to Use It for Portrait Photos — PetaPixel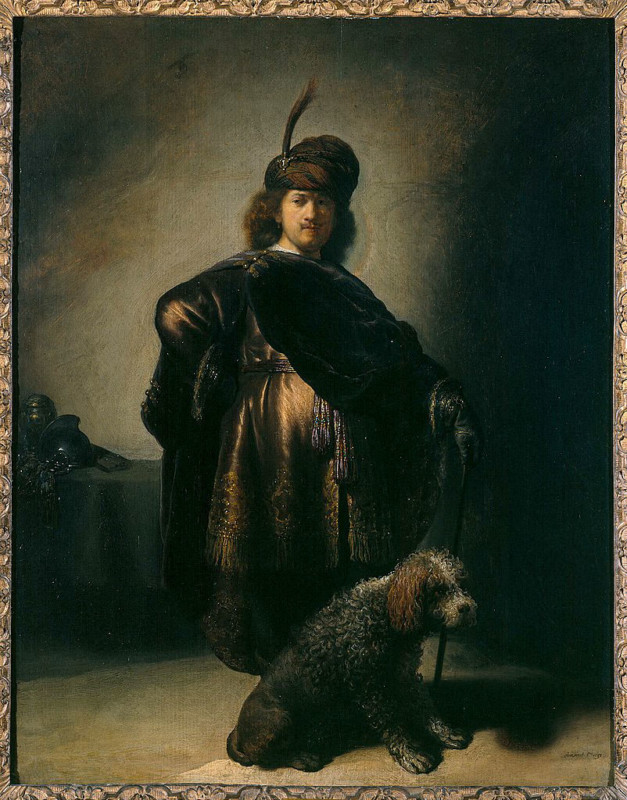 Rembrandt lighting is a photographic lighting style based on the lighting used by Dutch painter Rembrandt in the 17th century.
It is typically achieved by placing the key light high and to one side of the face. It properly lights one side of the face, while the other side uses the interaction of shadows and light coming from the fill light or reflector.
Notable: Origin of use of "Rembrandt Lighting" as a Photographic Term
Pioneering movie director Cecil B. DeMille is credited with the first use of the term. While shooting the 1915 film, The Warrens of Virginia, DeMille borrowed some portable spotlights from the Mason Opera House in downtown Los Angeles and "began to make shadows where shadows would appear in nature."

When business partner Sam Goldwyn saw the film with only half an actor's face illuminated, he feared the exhibitors would pay only half the price for the picture. After DeMille told him it was Rembrandt lighting, Sam's reply was jubilant with relief: "for Rembrandt lighting, the exhibitors would pay double!" — Wikipedia
---
Will AI Kill Stock Photography? – Selling Stock
---
The 7 Most Extreme and Bizarre Lenses I've Ever Tested — Christopher Frost
Check out unusual lenses from the Canon EF 50mm f/1.0 L USM (production lens) to the Canon 400mm f/2 (non-production lens)
---
How a Nat Geo Photographer Selects the Best Images from a Shoot | Whittle Down – WIRED
Steve Winter has been a contributing wildlife photographer with National Geographic for over 20 years. As a wildlife photographer, Winter always has tons of photographs to sift through and eventually whittle down. Watch as Winter lays out how he actually goes about choosing the perfect photograph.
Read also: Steve Winter Gets Up Close and Personal with a Curious Tiger Using a Robot Rig
---
Photos of Animals on Golf Courses — CNN
Embed from Getty Images
So, you are lining up your putt when an alligator strolls by, and the next time it is a giraffe. Really? Yes, really. The photo never lies!
---
Photo of the Week
Burning the Effigy of the COVID Demon in Managua, Nicaragua
Embed from Getty Images
---
Quiz of the Week
1.) The Canon EOS 3 was released as a film SLR in 1998 and the Canon  EOS R3 as a digital mirrorless camera in 2021. Although more than two decades apart, they both have one identical and unique feature, not found in any modern camera. What is it?
2.) Which is the smallest macro lens for full frame cameras? Hint: It can capture 2X life size.
3.) The Nikon Z9 can provide uncompressed RAW
a.) at 20 fps
b.) at 30 fps
c.) The Z9 does not save uncompressed RAW files
Answers
1.) Eye control autofocus.
Notable: Is the R3 named from the EOS 3 as it has the same feature? We would love for somebody in the know to respond in the comments below.
2.) Venus Optics Laowa 85mm f/5.6 2x Ultra Macro APO according to its manufacturer is the smallest. It is available for Nikon Z, Canon RF, Sony E, and Leica M mount.
3.) (c.) The Nikon Z9 does NOT save uncompressed RAW files. It offers a selection of only lossless compression, High-Efficiency STAR (half the file size), and plain High Efficiency (a third of the file size) options. Nikon states, "New RAW format retains the same high image quality … as conventional RAW files with approximately 1/3 smaller file size."
---
Why I Like This Photo – Richard Bernabe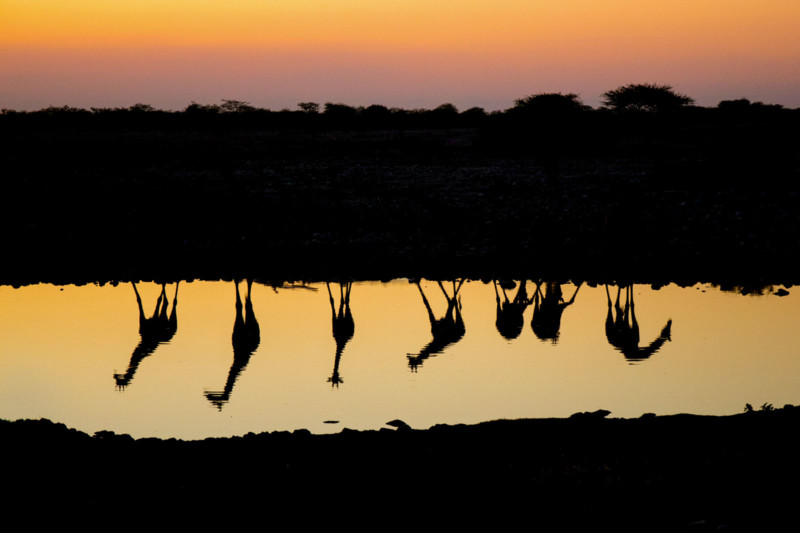 I like this photo because it evokes a sense of mystery. It isn't obvious what's going on at first, but the image slowly reveals itself as viewers engage it as active, rather than passive, observers.
This is a tower of giraffes at a water hole shortly after sunset in Namibia's Etosha National Park. There wasn't much in the way of usable data in the shadowy areas of the image where the giraffes were standing, so I let it all go to black, lending itself to the sense of mystery I desired.
I also liked the balance and spacing of the silhouetted reflections. The giraffe on the far right is "going against the grain" of general leftward energy, which helps provide that balance. There is also almost no merging of reflected silhouettes in the water, so the integrity of their shapes is preserved, which is always important when working with silhouettes. I am always reminded of a Mozart quote about the brief periods of silence between the musical notes being every bit as important as the notes themselves. The same can be said of the spaces between the giraffes and their heads and the near shoreline.
The image was captured with a Canon EOS 5D Mark III and Canon EF 24-70mm lens.
Richard Bernabe is an internationally renowned nature, wildlife, and travel photographer, teacher and public speaker. His passion for adventure has been the driving force behind his life's quest to capture the moods and character of the world's most amazing places, from Africa to the Amazon to the Arctic and countless places in between.
---
Quote of the Week – David Hume Kennerly
I look at having my picture taken in the same way I look at going to the dentist. Also, I am empathetic with subjects. I know most people don't like it unless you're a professional model.* — David Hume Kennerly
*2:04 min in the video above
David Hume Kennerly, a Canon Explorer of Light, won the 1972 Pulitzer Prize for his photos of the Vietnam War and then served as President Gerald R. Ford's chief White House photographer. Kennerly was named "One of the 100 Most Important People in Photography" by American Photo Magazine. He was a contributing photographer for LIFE, then TIME magazines, and later a contributing editor for Newsweek.
---
To see an archive of past issues of Great Reads in Photography, click here.
---
We welcome comments as well as suggestions. As we cannot possibly cover each and every source, if you see something interesting in your reading or local newspaper anywhere in the world, kindly forward the link to us here. ALL messages will be personally acknowledged.
---
About the author: Phil Mistry is a photographer and teacher based in Atlanta, GA. He started one of the first digital camera classes in New York City at The International Center of Photography in the 90s. He was the director and teacher for Sony/Popular Photography magazine's Digital Days Workshops. You can reach him here.
---
Image credits: All photographs as credited and used with permission from the photographers or agencies. Portions of header photo via Depositphotos, middle horizontal (top) giraffe silhouettes © Richard Bernabe, middle horizontal (bottom) Paradise, Mount Rainier National Park © Rebecca Latson.