A Comprehensive Overview of Photo Storage Backup Strategies
The topic of proper backup and storage strategies for creatives has been a heated debate for years. While there are a plethora of best practices to follow, arguably there is no "one size fits all" solution to cater to every photographer's needs. In this 20 minute video, Hendrikus De Vaan provides an easy-to-follow and actionable guide on affordable backup and storage solutions for photographers.
The Different Types of Storage Solutions
De Vaan explains the differences between the different types of storage and backup solutions and which are typically used in high-traffic large-scale situations, comparing them to what most everyday photographers would actually need to work off and safely secure their data should a catastrophe occur. The biggest lesson he tries to convey is that data should exist in a minimum of two paces at once (three is better) and one of them should be an off-site backup to ensure maximum redundancy and safety.
He also explains that, despite what many believe, having a RAID is not an actual backup solution; it is just a storage location. Something De Vaan stresses is how the third or offsite backup should not be "live synced," as it is possible and quite likely that some files will get corrupted over time. If the data is live synced, then the working version of that file will likely be erased and synced with the broken one. It is best to manually copy the data to the third backup to ensure only the working files are migrated, and anything corrupted or lost can be copied back.
Only Manually Update Your Off-Site Backup
The manual copying of files on the third backup can be a daunting task if a user decides to tackle this manually. Thankfully there are many services out there that will make cloning data a breeze. De Vaan mentions using the open-source file synchronization software FreeFileSync as his personal favorite, Carbon Copy Cloner for the Mac since he believes the UI is a little less daunting. Unfortunately, the program is Mac only.
Through the rest of the video, De Vaan covers the different types of storage — Network Attached Storage (NAS) and Direct Attached Storage (DAS) — and the types of storage media that should be used in each. He also explains the various types of cloud-based backup platforms with a few affordable suggestions based on his own usage. He also details several workflow scenarios using different types of hardware and backup solutions, including how both he and his wife use theirs for their respective businesses.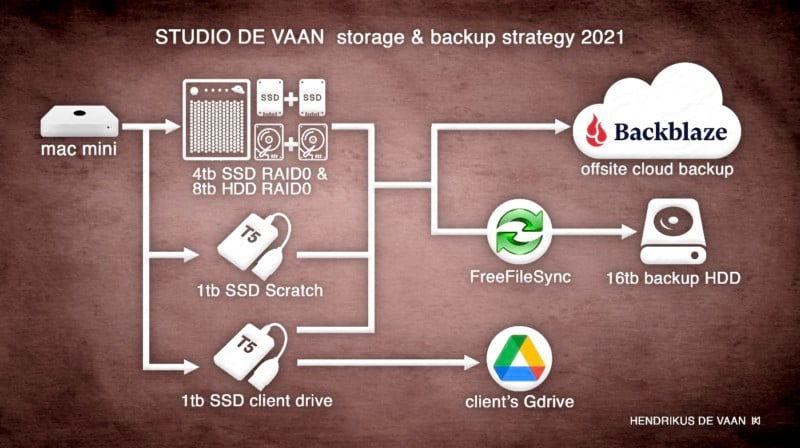 The Best Strategy for Backing Up Your Photos
De Vaan says it is important that photographers perform their own research to decide what their own personal data risk tolerance is and if their current backup solutions meet that tolerance both conceptually, as well as in hardware and service quality. For most people that aren't working on super demanding big-budget projects the ideas, workflow, and hardware suggestions he has laid out should set everyone on the right path.
---
Image credits: Featured photo licensed via Depositphotos.