Don't Use iCloud for Long-Term Photo Backup
My friend Bill just returned from a family vacation in Costa Rica and shot lots of photos and videos on his iPhone, including some killer shots of breakfasts with local monkeys.

No surprise that once he got home, he checked his iPhone storage and found that it was 98% full. Just a few more snaps and he'd be totally out of storage space.
His solution? "I'll just put them all on iCloud, and then delete them off my iPhone," he told me.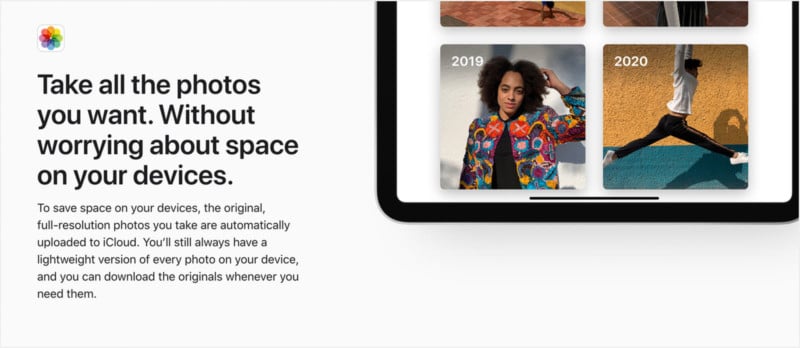 NO, NO, NO!
"Backing up" on iCloud and then deleting the photos locally on the iPhone is actually the worst thing Bill could do to free up space. Because once they're uploaded to iCloud, the next time it scans his phone for an automatic backup, it will notice that the Costa Rica pix are gone and in turn delete them from the cloud backup as well.
Ever notice the fine print when you try to delete a photo? "This item will be deleted from iCloud Photos on all your devices."
For pure long-term photo backup, because of these weird, arcane rules, Apple's iCloud is about the worst place to go because it is not designed for that. Apple's help support reps told me over several calls that iCloud is meant for backup of your devices, not just your photo library, and as a way to have the same data available on all your Apple devices, not just the iPhone.
As Apple puts it: "Automatically upload and safely store all your photos and videos in iCloud so you can browse, search and share from any of your devices." Notice the word backup doesn't appear there anywhere?
How Apple Wants the Process to Work
Remember the old Apple ad asking us to "Think Different?" It's the same thing when it comes to backup. Apple just does it differently. In Apple's world, you don't delete images off the phone, you just convert them to low-resolution copies, and download the high-resolution originals from iCloud.
You can make the switch from high to low by clicking "optimize" in the Settings section, under your name at the top of the screen.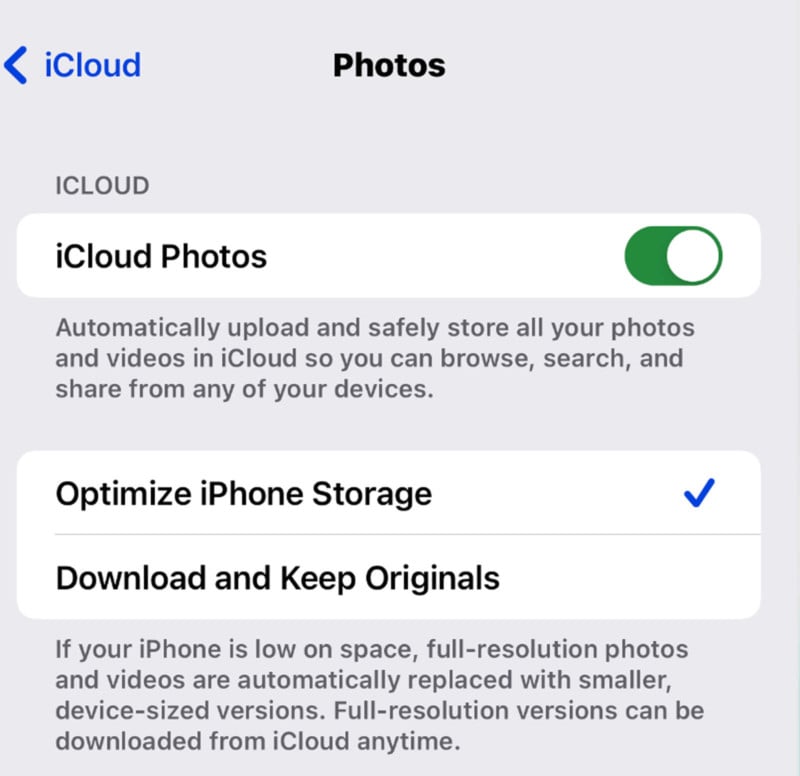 We're all taking more photos and videos than ever before, in higher resolution, and the fact is, we outgrow our phone's storage all the time. All of us need to pay more attention to backup strategies. Amazon, Google, Microsoft, Dropbox, and SmugMug have different plans (they all charge) that don't involve deleting your cloud photos if you've gotten rid of them from your phone.
There is no free storage available anywhere for more than a handful of photos and videos. And no, Facebook and Instagram don't count, as images are ground down to super low-resolution and you'll never get the full-resolution version back.
How to Actually Back Up Photos with iCloud
If he insists on sticking with iCloud, there is a workaround, but it will take more work.
First, he could obviously convert all his iPhone photos to low-resolution, upload them and leave the copies on his phone.
Option 2, the workaround way.
Upload the images to iCloud. And double the effort by backing up the same images somewhere else as well. The easiest is a small portable hard drive. A LaCie Rugged drive with 4 terabytes of storage costs around $150, or about $50 more than 1 year of 2 TB service from Apple.
Now that we're backed up twice, confirm that all the Costa Rica images are there. Then in the iCloud settings, turn off iCloud backup.
This way, iCloud won't be able to do a sweep of the phone and mirror what it sees—i.e., no Costa Rica pix.
After Bill takes a bunch more new images on his phone, he can manually put them into iCloud by putting iCloud Backup on again.
This isn't the proper or ideal way to back up photos, however. Nor is it a long-term solution: Apple will actually delete your files from its cloud 180 days after you turn off iCloud backup, so be aware of that.
Also be aware that you will no longer have your precious files temporarily backed up, so the loss or destruction of your iPhone would result in all your more recent photos being lost forever (unless you very regularly back them up a different way).
The Better Way to Back Up Photos
The better way to back up your photos is to use a cloud service that is designed for long-term file storage. Dropbox and Microsoft charge $9.99 monthly for 1 TB of storage, Google $9.99 for 2 TB of storage, and SmugMug starts at $9 monthly with unlimited storage. Amazon also offers unlimited photo (but not video) backup at no charge to subscribers of the $139 yearly Amazon Prime shipping and entertainment service.
Pure, no-gimmicks online photo backup + at least one hard drive on the desk makes me feel more comfortable. Better would be one drive on the desk, one drive offsite, and online cloud backup.
And in case you're wondering, I have 8 drives on my desk, several more in the closet and I subscribe to SmugMug, Google One, and Amazon.
---
About the author: Jefferson Graham is a Los Angeles area writer/photographer and the host of the travel photography streaming TV series Photowalks. The opinions expressed in this article are solely those of the author. This article was also published here.