Oppo's New 6nm Mobile Chip Grants Huge Leap in Photo Capabilities
Oppo has announced a new 6nm imaging NPU called the MariSilicon X which it says combines an advanced NPU, ISP, and multi-tier memory architecture that can make real-time RAW processing and 4K AI night video with live preview possible.
The company says that the MariSilicon X NPU (neural processing unit) is able to deliver 18 trillion operations per second (TOPS), which is more than enough computing power to support Oppo's AI algorithms, and does so with what the company calls "stunning" power efficiency of up to 11.6 TOPS per watt. In short, Oppo says the NPU can deliver top-level performance without draining the battery.
The chip has a dedicated DDR with extra bandwidtch of up to 8.5 GB/s. Oppo adds that its multi-tier memory architecture greatly minimizes delays and reduces power consumption caused by unnecessary repeated read-write cycles.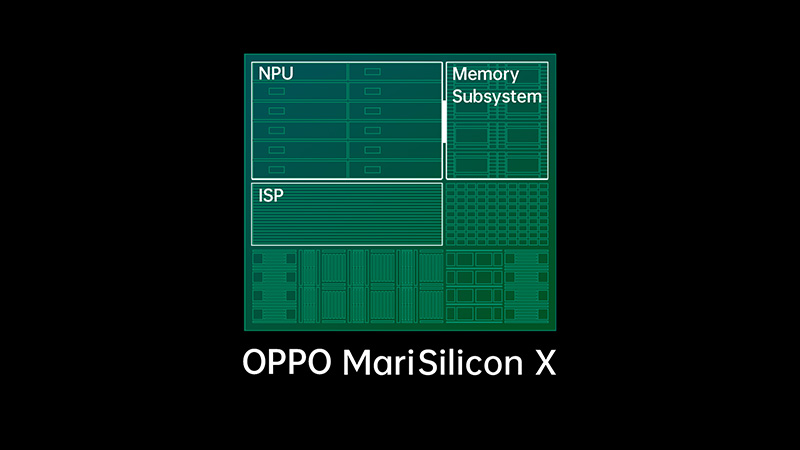 Specifically for imaging, the new chip supposedly boasts a powerful new image signal processor (ISP) that enables it to capture images with 20-bit 120db dynamic range, which is four times greater than that of the Find X3 Pro. Oppo says it gives a contrast ratio of 1,000,000 to one between the brightest and darkest areas of an image as well.
When running OPPO's AI Noise Reduction Algorithm, MariSilicon X can achieve up to 20 times faster performance compared to the Find X3 Pro. The chip also enables capture of 4K AI Night Video by applying complex enhancements to each frame in real-time. Specifically, the chip allows for the Noise Reduction algorithm to work on each individual frame in a 4K to allow for clearer and sharper video in low light and claims that this is the first time 4K AI HDR Night Video capture has been made possible on Android phones.
MariSilicon X can also process RAW photos in real-time. The chip can directly perform real-time 4K AI processing and 20bit HDR fusion in the RAW domain at the pixel level. By processing original imaging data, Oppo claims that MariSilicon X can achieve an 8dB signal-to-noise ratio for images, which it says opens a whole new world for computational photography.
Oppo says that by using a Dual Image Pipeline design and double RAW super sampling, MariSilicon X supposedly able to tap into the full potential of Oppo's RGBW sensor and allow for the separation and fusion of RGB and White signals in order to deliver a 8.6dB improvement in signal-to-noise ratio and a 1.7x improvement in texture quality, making images more expressive in both photos and videos.
Oppo plans to debut the MariSilicon X in the Find X Series in the first quarter of 2022 and promises it will be the most powerful imaging experience on any smartphone.