Apple Releases iOS 15.2 with Nudity Detection and Ultra-Wide Macro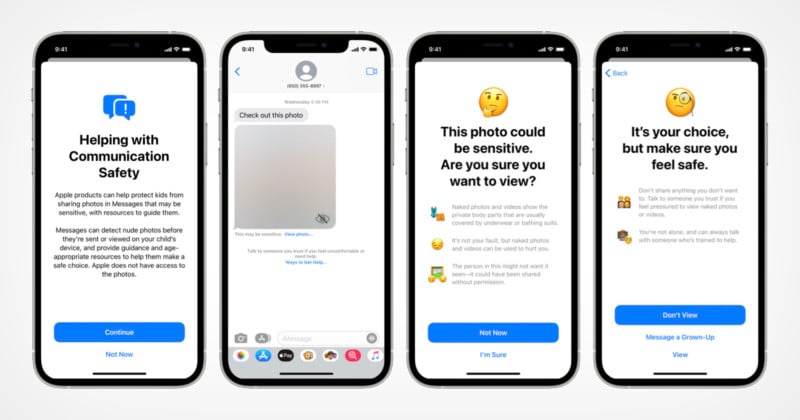 Apple has released iOS 15.2, and at least one photo-centric child protection feature is included: nudity detection for photos sent in texts. Other safety features are still on hold.
Nudity Detection to Protect Children
In August, Apple announced that it was planning to implement a software feature that would scan iPhone photo libraries in order to protect children. Almost immediately, the company faced significant backlash, with many privacy experts citing the possibility that the technology could be abused. Apple attempted to quell these fears, but eventually relented to pressure and postponed its plans in early September.
"Postponed" appears to have been an accurate description of the company's plans, as Bloomberg's Mark Gurman reported yesterday that the company would launch at least part of those previous features in iOS 15.2: nudity detection in the Messages app for devices used by children and a few additional privacy controls. The Child Sexual Abuse Material (CSAM) detection that was at the base of the public pushback is still not part of this rollout and it's not clear when or if that is coming.
Gurman describes the nudity detection feature as a setting that exists just for devices that are in the possession of children, which includes iPhones, iPads, and Mac computers. The software analyzes incoming and outgoing images received and sent through the Messages app to detect nudity, and if one is found it will appear blurred. The child will be warned before viewing it, and if the child attempts to send a nude photo, they will also be warned.
Of note, the system will only work if it is enabled on a family-sharing account, and while the child will be able to contact a parent through the Messages app regarding the situation, it isn't required nor will it happen automatically. Gurman notes that this is a major change from what was originally announced earlier this year.
Apple has also launched a privacy report which shows what was accessed by a user's apps, such as location, camera, and microphone. The company is also allowing a "hide my email" feature which allows users to send emails from a random address if they have an iCloud subscription.
Digital ID cards and the much anticipated Universal Control are still missing, however.
Ultra-Wide Macro Toggle
iOS 15.2 also adds the ability for photographers to enable switching to the iPhone's Ultra Wide lens to capture macro photos and videos. This option now appears in the Settings for the iPhone 13 Pro and the iPhone 13 Pro Max.
Downloading the Update
To download iOS 15.2 on your iPhone just go to Settings, General, and then Software Update — you should be able to download the new update if it has already rolled out to your account.
---
Image credits: Header image by Apple via Bloomberg.