Apple's 'Universal Control' Seamlessly Links Multiple Devices Together
Apple announced the next version of macOS during the WWDC Keynote today and showed off a host of operating system updates designed for the Apple Silicon transition. The company promises even more cross operation with iOS, including the ability to share a keyboard and mouse across a Mac and an iPad.
Apple's next Mac operating system is called macOS Monterey and promises to bring several new connectivity and usability enhancements. With a feature that many Logitech Flow users may be familiar with, Apple's new Universal Control is a vastly expanded version of the concept of Sidecar that will let users simply place an iPad next to a MacBook and iMac and connect the devices. Universal Control will respond to mouse or touchpad movements between them and can automatically tell which device is being controlled and treated as an additional display.
With this new feature, users can drag and drop, or copy and paste files from iPad across up to two Macs, effectively letting the three devices work in tandem as one machine. It goes beyond just sharing a screen and actually brings all the devices together as if they were one machine, including the files stored on each.
Universal Control lets users work with a single mouse and keyboard to move between iPad and Mac for a seamless experience, with no setup required. Users can even drag and drop content back and forth between devices — great for sketching a drawing with Apple Pencil on iPad and placing it into a Keynote slide on Mac.
Apple shows that it can be used to take video from the iPad and drop it into Final Cut (two devices over) on an iMac with one motion. The company did not address if these new features will be compatible with the iPhone, and given that it was presented as part of the iPadOS portion of the presentation, it is unlikely to be available on the smartphone, at least in this iteration.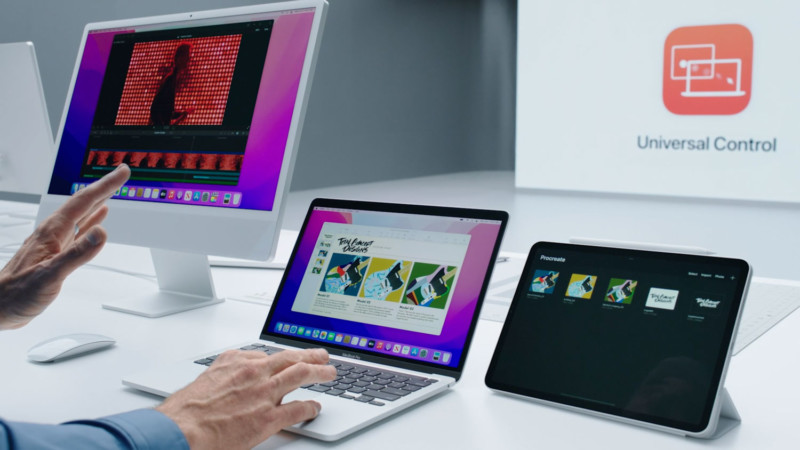 Universal Control appears to be an additional feature on top of Sidecar, which simply allows an iPad to be used as a second display. Universal Control maintains each of the connected devices' displays and content access, which adds another layer of usability to a workflow based around Apple devices.